As the first game to be revealed at Microsoft's Xbox One presentation last night, Forza Motorsport 5 looks set to lead the charge when it launches alongside the console later this year. The latest in the long line of realistic racing games was shown off in trailer form at the event, with a number of screens being released to the world this morning, showing off the shiny cars, shiny towns, and shiny new graphics - as there's precious little other info about it. 
Play quizzes, win prizes! Test your knowledge with our quizzes, and you could win £/$/€ 20 of PSN/XBL/eShop/Steam credit!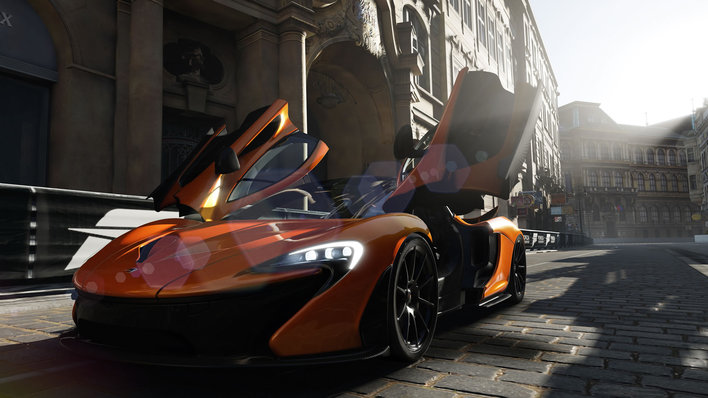 If nothing else, though, the trailer did suggest a potentially slightly different direction for the next-generation Forza, as the cars were shown racing around narrow city streets, rather than an open race track. Previously, racing around accurately recreated cities has been the territory of the other Microsoft racer, Project Gotham Racing - but with PGR potentially being no more since the studio was closed down, and with Microsoft unlikely to launch two racing games competing with each other at the release of their console, could Forza be moving to occupy the middle ground between petrol heads and arcade fun? We'll have to wait and see. One thing's for sure, though - judging by the trailer and the screens below, developers Turn 10 have gone to a whole new level of obsessive detail on the cars for their new game, even down to having individual flakes of rubber break off a spinning wheel. If equal amounts of care and attention have been paid to the gameplay, this could be one to keep an eye on.
With not so much as a press release issued about Forza Motorsport 5, pretty much all we know about this one so far is that it'll be launching on Microsoft's new console, the Xbox One, it'll contain cars, tracks, and lots of carbon fibre. We'll be hoping for the return of the paint mode, which lets you create elaborate designs for your cars, and sell them on online for ridiculous amounts of (in game) money. We ended up almost having more fun with that than with the game itself! Set for release alongside the Xbox One, you can find the first trailer below: