Back in 2009, little-known casual dancing title Just Dance went down in games industry history when it toppled Call of Duty off the top of the charts - written off as nothing but 'waggle-ware' by srs gamez journalists everywhere, kids, teens and moms nevertheless bought into what would become one of the Wii's best-selling titles for just one reason - it was a heck of a lot of fun. Now, some seven years later, Ubisoft have another trick up their sleeve, and a new spin-off is in the works, as everyone's favourite Frenchies have today revealed a new karaoke arm, Just Sing, landing on consoles in September.
Play quizzes, win prizes! Test your knowledge with our quizzes, and you could win £/$/€ 20 of PSN/XBL/eShop/Steam credit!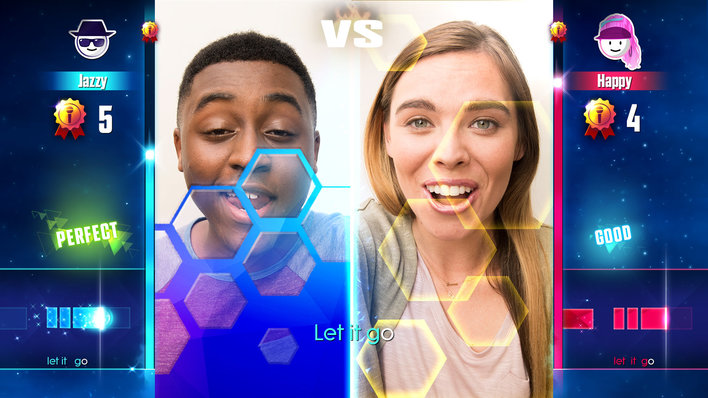 Developed by iNiS, the folks behind both the Xbox 360's Lips karaoke series, and hilarious touch screen rhythm action game, Elite Beat Agents, the game promises to bring Ubisoft's usual high standards to the karaoke genre. Two modes of play have been detailed so far, with Party Mode letting four players sing along to tracks of their choice, recording their own music videos as they go, either with the Playstation Camera, Xbox's Kinect or their very own smartphones, while Battle Mode turns things into a fairly standard scored song contest instead, where points mean prizes - or at least bragging rights.
Following in the footsteps of its sister title, Just Dance, the game won't require players to fork out for extra microphones to play as it can be all done via a downloadable mobile phone app, turning your phone into both an in-game camera and microphone in one. Recording your face as you sing along, you'll be able to apply all kinds of crazy SnapChat-esque filters to you and your friends' mugs, and create impromptu music videos too - singing whilst the cutest Godzilla ever stomps through town, adding cat ears and paws to your friends or crooning along over a Hawaiian beach scene are just some of the ones we caught glimpses of in the trailer, which boasts "tons of filters" you can play with.
Boasting some 45 tracks you can get your karaoke on with, only the first half or so have been revealed so far, showing off Ubisoft's impeccable ability for picking all-round crowd-pleasers. There's One Direction and Disney for the tweens, classics from Queen and Gloria Gaynor as well as some more recent hits from Maroon 5 and Imagine Dragons. We're particularly stoked for 3 Doors Down's Kryptonite ourselves:
Meghan Trainor - All About That Bass
One Direction - Drag Me Down
Justin Bieber - What Do You Mean?
Queen - I Want To Break Free
Sia - Chandelier
Ellie Goulding - Love Me Like You Do
Maroon 5 - One More Night
Imagine Dragons - Radioactive
The Weeknd - Can't Feel My Face
Joan Jett - I Love Rock 'N' Roll
John Legend - All Of Me
Britney Spears - Baby One More Time
Gloria Gaynor - I Will Survive
Pocahontas - Colors of the Wind
Jackson 5 - I Want You Back
3 Doors Down - Kryptonite
Magic - Rude
Ben E King - Stand By Me
A-Ha - Take On Me
Ylvis - The Fox
Shawn Mendes - Stitches
Ariana Grande - Focus
Frozen - Let It Go
OneRepublic - Counting Stars
The Weather Girls - It's Raining Men
Bruno Mars - When I Was Your Man
Just Sing will he hitting the Playstation 4 and Xbox One in just a couple of month's time, on the 6th September. Given Ubisoft's excellent track record for party games - and developer iNiS' music game past - we're expecting Just Sing to be pretty darn good. Why not check out the trailer for yourself below: