With five years of plastic guitar strumming, drum beating, vocal chord straining, rhythm action goodness under its belt, it was only fitting that Rock Band celebrate its anniversary in style - but we don't think anyone could have expected a sale as huge as this.
Play quizzes, win prizes! Test your knowledge with our quizzes, and you could win £/$/€ 20 of PSN/XBL/eShop/Steam credit!
With seven games having been released so far (Rock Band 1, 2, 3, Beatles, Green Day, LEGO and recent arcade offering, Rock Band Blitz), the Rock Band series has gone on to develop a rather dedicated following worldwide, with their addictive mix of pick up and play, air guitar style gameplay, and a decent selection of tunes appealing to players both young and old. We still play Rock Band 3 regularly at Everybody Plays, and everyone, even our grandparents, have had their arms twisted into playing a game from time to time, as a testament to the series' universal appeal.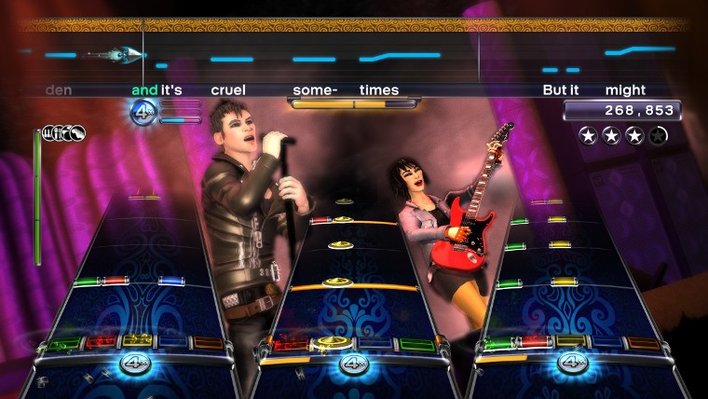 To celebrate its fifth anniversary, developer Harmonix have announced that as of today, some 1,100 extra downloadable songs will be available for half price. Amazingly, having added new songs as downloads for over 250 weeks, as impressive as this figure may sound, it's actually only a small portion of Rock Band's total library, which now totals more than 3,800 tracks. From Green Day to Pearl Jam, from The Who to Megadeth, and from Guns n Roses to the Yeah Yeah Yeahs, there's a huge mix of songs available for half price, spanning all genres, styles, and several decades, with both individual tracks, and full albums seeing their prices cut.
It'd take a long time to write out every single song that's been reduced here, but luckily, Harmonix have put together a handy PDF guide, which tells you everything you need to know about what songs are available - bar the price in Microsoft points, or pounds, which would be helpful, seeing as games aren't priced in dollars on the Xbox Live Marketplace (or PSN, for that matter). Either way, with a huge selection of tracks available, and the ability to use any songs you download in the recent released arcade game, Rock Band Blitz, there's never been a better time to shore up your library of tunes - but make sure you hurry, as the sale ends this time next week!