It may have been one of the worst kept secrets in recent memory, but after teasers and leaks galore, at an exclusive event in L.A. last night, Disney unveiled their upcoming sequel, Disney Infinity 2.0 - or to give it its full name, Disney Infinity 2.0: Marvel Superheroes. And there's a lot of news to cover. As one of those games that has quite the learning curve to get into, with loads of special terms and concepts that no other games really share, it can take some getting your head round to understand what the game's all about - so to help you get up to speed with one of the biggest games of the year, we've broken down all the important points for you, right here. 
Disney Infinity 2.0?
Is it a sequel? Is it an expansion? Is it an upgrade? Well, it's arguably more the former than the latter(s). Disney Infinity 2.0 is a whole new game, that moves the focus away from classic cartoons and films slightly, and on to the superheroes of the Marvel universe. As ever, the game retains its toy/game hybrid mix, letting you use toys you buy in real life as your characters in the game.
Available in a starter pack that'll include the game itself; a Game Base, which you place your figures on; three figures - Thor, Iron Man and Black Widow; 2 Toy Box Game Discs (which we'll come back to a little later); and, perhaps most importantly, a "Marvel's The Avengers Play Set Piece", which unlocks a story driven Marvel world for you and a friend to explore, there's a lot in the box, and a lot of changes.
Before we really delve into things, it's probably best to define at least two key terms. Play Sets are story driven worlds that form the bulk of the Disney Infinity experience. Effectively like a LEGO game, or Skylanders, they have objectives, goals, and a plot, with characters to interact with, and plenty of things to see and do. The Toy Box is a free form creation hub, that lets you put together bits and pieces from a massive library of components to create your own levels, races, worlds, and practically anything else you can think of.
Co-op out the box
Perhaps one of the most important things to note is that the game now has full support for split-screen co-op out of the box. Many players (and parents) were left miffed with last year's game when they discovered that you needed to buy an extra set of figures to play in co-op in the story driven Play Sets, due to a still odd rule that you can only take characters from a certain film into a certain Play Set - so Jack Sparrow couldn't enter the Incredibles Play Set, Sully couldn't race Lightning McQueen in the Cars Play Set, and so on. While co-op was possible in the creation-oriented Toy Box with any mix of characters, the Play Sets formed the backbone of the game - and required an extra £30 purchase if you wanted to play together.
Fast forward to Disney Infinity 2.0, and Disney humbly threw their hands up and admitted they'd made a mistake by not including characters that would let you play Play Sets in co-op. That's why this year, they've included a set of three characters from the same film/property in the box, so you'll be able to play the whole game in co-op - Toy Box and Play Set alike - from the go.
The Characters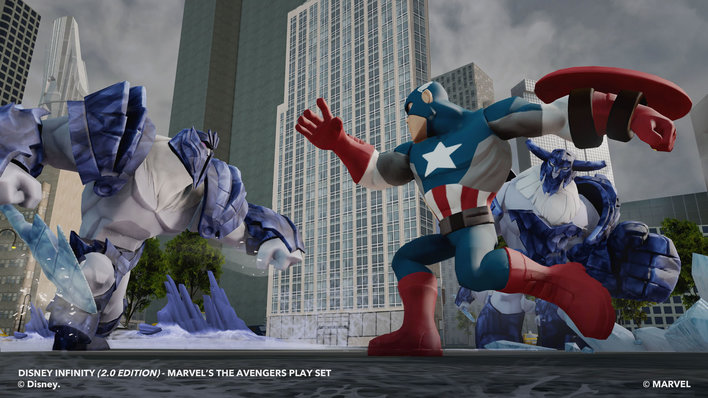 So, we know which characters come in the box - but which other ones will be available to buy? With Iron Man, Thor and Black Widow coming in the starter pack, you've got a pretty formidable super hero team already, but there's plenty more where that came from. Currently officially announced are the rest of the Avengers squad - Hawkeye, Captain America, and The Hulk, but the trailer revealed a few extras that haven't yet been mentioned.  Notable goodies that made an appearance (yet haven't yet been confirmed in figure form) include Spiderman and Rocket Raccoon, with perennial Captain America baddie M.O.D.O.K, and Thor's mischievous brother Loki also making an appearance. It's also worth noting that the show did strongly suggest that smooth talking Marvel fixture Agent Coulson might be making an appearance too, seeing as he's been in practically everything else.
In all, there will be 18 figures available for Disney Infinity 2.0, including some Marvel heroes, and some from classic Disney franchises.
Backwards Compatibility?
But if you're looking over at your growing collection of Disney Infinity figures thinking "Man, I wish I could get Hulk and Frozen's Elsa together in the same game - they'd make a cute couple (or maybe Black Widow and Perry the Platypus? They're both spies!) then fear not - because Disney Infinity 2.0 has you covered. Every figure, every bonus-item-unlocking Power Disc, and better still, every Toy Box you've ever made or downloaded will be fully compatible with Disney Infinity 2.0. Whether you'll be able to make Perry the Platypus the seventh Avenger in the Play Set, we don't know - but we'll be keeping our fingers crossed that you can. After all - why not?
Toy Box Upgrades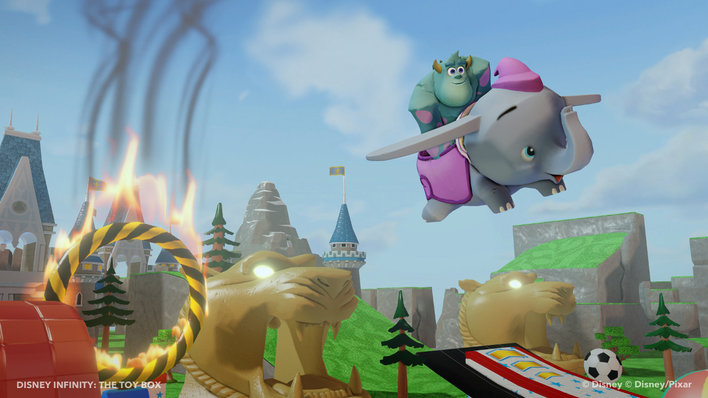 One of the most encouraging announcements of the evening came in the news that the Disney Infinity Toy Box had been given an overhaul for Disney Infinity 2.0, with a focus on accessibility. As anyone who's tried to use the original Toy Box will tell you, giving the ability to create your own levels, worlds and maps using only a game pad and your imagination is about as tricky as it sounds, with some awkward controls, and a less than fantastic tutorial making things that little bit tricky to get into. Of course, as with so many games that open themselves up for community creations, it didn't really matter if you couldn't get the hang of the Toy Box editor yourself, as you could always download everyone else's levels for free - but news that a lot of effort's been put into improving its accessibility has us very excited indeed. We'll be withholding judgement until we've gone hands-on with it ourselves, but in admitting it wasn't as great as it could have been in the first game, the team at Avalanche, Disney Infinity's developers, have filled us with confidence.
Toy Box Game Discs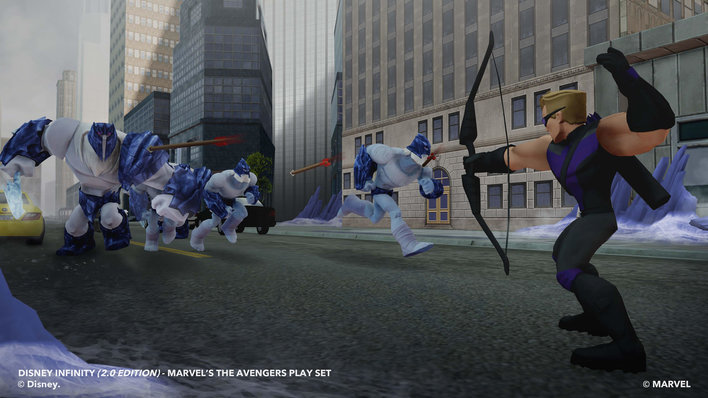 A brand new feature for Disney Infinity 2.0, Toy Box Game Discs work in a similar way to the Power Discs of the previous game - only they unlock much cooler things. While Power Discs previously let you unlock a new vehicle, a weapon (like a pink flamingo) or something else fairly cosmetic, the Toy Box Game Discs unlock entire new modes and levels. Place one of the new pyramid shaped Game Discs on the Disney Infinity base, and you'll be sucked into a new mini-game style level, with each introducing a new genre of gameplay to Disney Infinity, whether it's tower defence, or dungeon crawling.
Next-Gen game, Next-Gen platforms
And, as you'd likely expect, the final news we have about Disney Infinity 2.0 is which consoles you'll be able to buy it on. Abandoning the Wii (much to the chagrin of many families, who still use theirs), Disney Infinity 2.0 will nevertheless be available on Xbox 360, Playstation 3, PC, Wii U, Xbox One and Playstation 4 - a veritable smorgasbord of gaming platforms. While no specific release date was set beyond a vague "Autumn 2014", we're expecting a launch that's slightly later than the last game, which hit the shelves in August.
Still, with plenty more set to be revealed about Disney Infinity 2.0, and the giant gaming convention E3 coming up in just over a month's time, which will undoubtedly see more info about the game being released, it's going to be an exciting few months up until launch. We'll bring you more as soon as we get it!