How long do you think people usually take to come up with an idea, design, and develop your average game. If you say "three years", you're probably about right - but the new Playstation 4 game, Drive Club, from Evolution Studios, is a little bit different. From the studio that bought us the off-road rally game, Motorstorm, Evolution revealed that the concept for Drive Club had been in their heads for 10 years before they got the chance to make it. As Game Director Matt Southern declared "We registered the name nine years ago. [...] (Now,) we're making the game we've always wanted to make." And that certainly came across in their presentation. 
Play quizzes, win prizes! Test your knowledge with our quizzes, and you could win £/$/€ 20 of PSN/XBL/eShop/Steam credit!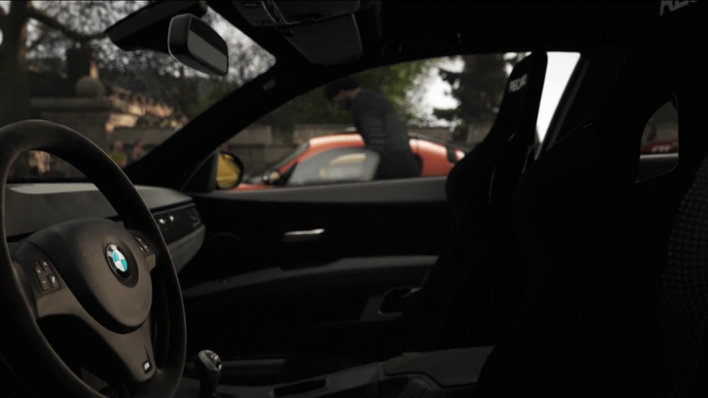 At it's heart, Drive Club is a game that revolves around teams. Letting you, your friends, and players from around the globe form 'clubs', you and your friends will be working together, as you take on other clubs from around the globe. Intriguingly, Matt Southern explains that "every section of every track is packed with challenges," and that challenges can be made by the player - set a particularly decent time on a section of track, and you can set it as an official club challenge, so other players from around the globe can try and beat your time.
If nothing else though, it's easy to see that Drive Club is a labour of love, and if you're the sort of person who wakes up in the morning with oil in your hair, and bits of clutch in your teeth, the chances are you'll find plenty to be excited about here. One of the things specifically mentioned at the recent event was the game's first person view, which lets you walk around your car, open the door, and get in and out to increase the immersion - something that's likely to have petrol heads foaming at the mouth. In fact, when Matt Southern described the developers as having gone "borderline insane", he's not joking - you can adjust the seatbelt to your liking, every thread of carbon fibre has been modelled in the car's bodywork to accurately simulate the way light scatters, and they've even simulated individual hairs on the cloth seats, so that they'll reflect the light differently when you brush again them...
With a mash up of driving, social interaction and beauty (even if it has been taken to slight OCD levels) it seems Drive Club will be an essential purchase for racing fans - but whether it'll hold that much appeal to the wider market remains to be seen. With a talented studio behind it, however, we're going to be keeping a close eye on Drive Club, as more details about its modes, and gameplay, are revealed over the coming months.