The week of gamescom (apparently correctly spelt with a lower case g) is a week of extremes. Extreme tiredness at having gone through four countries to make your way to a games show, extreme crowds, as over 335,000 people descended on to one poor convention centre in Germany for the world's largest games show - and extreme excitement at being able to go hands-on with the game's we're most looking forward to over the next 12 months - and beyond.
Play quizzes, win prizes! Test your knowledge with our quizzes, and you could win £/$/€ 20 of PSN/XBL/eShop/Steam credit!
However, it's all well and good reading the previews of the games - but with an event like gamescom, there's plenty of interesting stuff to talk about that we can't squeeze into a preview. That's why decided to put together a trip report, so you could share with us the ups and downs of going to gamescom - and why we've already booked up again for next year.
The Journey
Seeing as it's kind of expensive to go abroad to events like this, only two of the Everybody Plays team made the journey - the site's two co-editors, Ian and Sarah. But being the rebels that we are, we don't do games conventions the easy way. While most other people would choose to take a plane to get from our little island country to the middle of mainland Europe, we decided to take the scenic route instead, and went by train. While it may sound like a bit of a roundabout way of doing things, it's actually not as much of a dog leg as you'd think. Missing out the airport faff, while dropping you off right in the middle of Cologne, next to the Cathedral (which, incidentally, was pretty much the only thing left standing after World War 2), taking the train's actually a pretty good way to get to gamescom, letting you take in the sweeping countryside and picturesque towns as you go. Apart from Brussels. That place is a dive.
With a journey that takes you underneath the sea and across four countries (England, France, Belgium and Germany), it takes about 4hrs from London, not including making the switch in Belgium - which isn't even twice the time it takes us to get from our local station to London. It may be six hours of travelling in all, spent cooped up on a train - but at least there's plenty to do on the way there, with a packed schedule to finalise, questions to think up for interviews, and the only chance you'll get to make a list of must see games on the show floor. Besides, you should probably appreciate the down time while it lasts, seeing as you won't have any for the next few days.
Having arrived in London just as the heavens opened and monsoon season began, we had just enough time to get a bite to eat at the station pub, before making the journey to St Pancras to hop on the Eurostar bound for Brussels Midi. Having breezed through passport control (but not before picking up our very own make-your-own cardboard Eurostar. The guy on the booth said they were kids, but we talked him round to our way of thinking...), it was off to the train, and the journey to the Belgian capital.
But before we go any further - due to being able to upgrade for a fiver, we decided to shell out the extra cash to have upgraded seats on the train, which also bought us free food. One of the things we got on the Eurostar was a chocolate mousse. Now, if you're serving a chocolate mousse, what's the one thing you want to make absolutely sure it doesn't look like.
Whoops.
Much like trains in the UK, it's very hard to get a direct train to anywhere in Europe. Apparently because of different regulations and fittings, some trains (including Eurostars) can't run across international borders - at least, not beyond France and Belgium. That's why they tend to deposit you in the cesspit of Europe at "Bruxelles Midi", a station which would give Mos Eisley a run for its money in the greatest hive of scum and villainy stakes. Somehow, pictures manage to make it look slightly habitable, so you'll have to take our words for just how bad it is. Underground, and with about twenty platforms to choose from, it's as massive as it is grubby - but at least on the way there, we were just passing through, with a mere twenty minute connection. On the way back, we had a two and a half hour lay-over to pass. Integrated transport system ftw.
Having come through the Chunnel on the Eurostar, you switch to a Thalys train for the rest of the journey to Cologne. Kind of like a Eurostar, only a lot nicer on the inside, the Thalys is usually a much more pleasant ride than on the Eurostar - and that would have been the case this time, were it not for the person behind us smelling like they'd spent the last week bathing in their local sewer. Nausea turned to blind panic when a freak thunderstorm in the middle of the German countryside caused the train to come to a stop. After reading a lengthy announcement out in French, Dutch and German, the train driver managed to mumble something in English about "safety reasons", and that was all we had to go by. After spending a few minutes planning how best to smash the window to let some fresh air in should the train stop for much longer, a rumble of thunder and a flash of lightning later, the train was thankfully on its way again - and before too long, we rolled into Cologne Hauptbahnhof (central train station), and lugged our humongous suitcase off the train, to head to our hotel.
At least, that was the plan. As luck would have it, no sooner had we got off the train than the heavens opened, and we delved into the nearest steak house for some tea. One thing to note if you go to Germany - it's probably best not to go if you're not a fan of steak. Looking for somewhere to eat in the evenings, you're left torn between burger bars, sausage houses and steak restaurants - although they are all rather nice.
Still, some food shoved down our gullets, it was off to the hotel for a kip, to be up bright eyed and bushy tailed for the next day.
Day Two - the calm before the gamescom
Each year, gamescom begins on the Wednesday of the week, kicking off with a day reserved exclusively for "press" (and seemingly anyone who's ever uploaded a video to YouTube), before the doors open to the hordes on the Thursday through until Sunday. Having travelled out on the Monday, you'd have thought we'd have had a quiet day to get our bearings around Cologne before the show kicks off - but not so. With gamescom becoming a bigger and bigger show each year, it's starting to spill out onto extra days, with publishers holding events in and around Cologne before the show begins proper.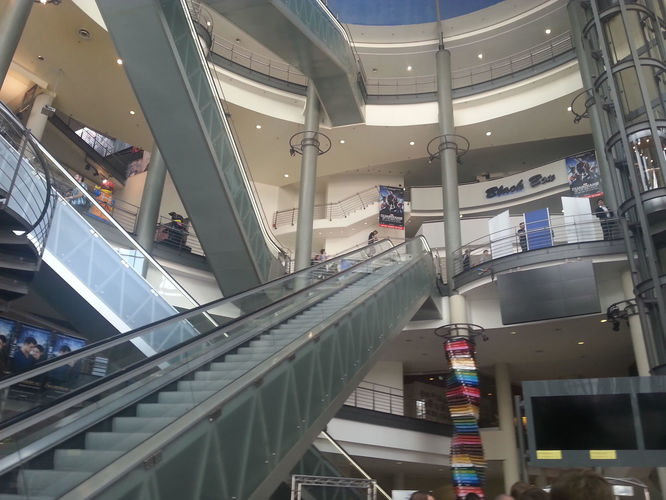 With no rest for the wicked, our gamescom technically began in a pretty much perfect way, with a trip to see Guardians of the Galaxy in Cologne - a film which doesn't open in Germany until the end of August. The first film we've ever seen in 3D (usually, we try and avoid it for headache reasons), it's an awesome film you should definitely go and see if you haven't already (better than the Avengers to boot!) - but this wasn't an entirely unrelated excursion. Before the film began, we were treated to a presentation by John Day, Disney Infinity 2.0 producer, where we saw a lot more of the game's Toy Box mode, and an all new character in the form of Donald Duck.
Guardians of the Galaxy really is a great film, too. You should all go and see it now.
After that, it was off to EA's German offices, conveniently located in Cologne, to get hands-on with a pretty much final build of the Sims 4. You can look out for a lot more coverage of this over the next few days, but needless to say, it's all rather cool. If you're a fan of the Sims, you'll love this - and if you haven't played the earlier games, this is even easier to get into than the games that came before it. Keep your eyes peeled.
Having spent four hours making our Sims' lives a living hell, and building the best house in existence, there was only one thing left on our schedule - the Sony press conference. A few years ago, press conferences made a lot of sense, and caused a lot of excitement, as the world's media were gathered together to see the latest games, and share their opinions online. Now, you can see it all on the internet at home, without having spent six hours on a train, so it's not quite the novelty it used to be. Still, in a gigantic arena with free Kolsch beer on tap (which must be handy if you drink...), we joined the giant queue to get in, and made our way to our seats. Everything seemed to be going swimmingly - even if the show was a bit late starting - until, as seems to be the theme for this trip, the sweatiest (male) betty in Europe came and sat next to us. We know, right? You can read more about what happened at the press conference elsewhere, but all you really need to know is this - at least you weren't sitting next to a whooping, sweating Frenchman for the entire thing.
At around half eight German time, the event finished, and hundreds of hungry journalists started to rumble out, eager to tuck in to the post show food. Last year, Sony laid on a gigantic buffet table with all sorts of grub on offer - and even then, it mostly vanished within a few minutes. This year, despite being busier than ever, the food offerings were somewhat more reserved. As opposed to a gigantic table that spanned the length of the warehouse, we instead had a single, small, circular table, which had on it a vat of buns, a few plates, a canister of ketchup and mustard, and a vat of hot dogs for you to help yourself to. With a ladle. Kind of like hook a duck, but less fun. Either way, starving as we were, we scooped a sausage up and gulped it down, before making a break for the exit, dodging a massive rain shower, and heading back to the hotel. We needed an early night, after all. Tomorrow, the show began proper.
Gamescom begins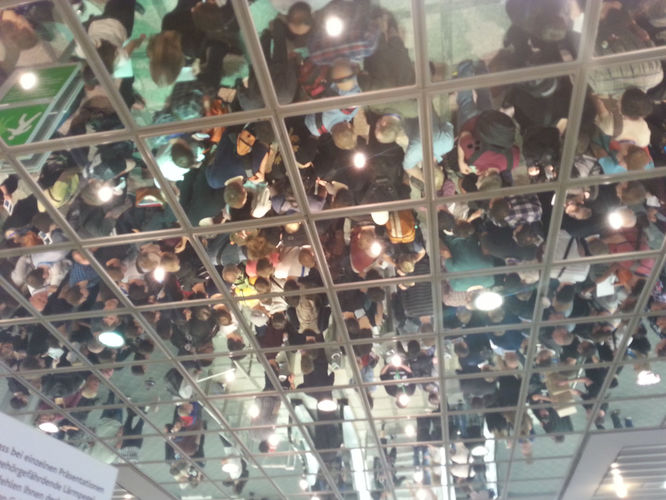 As mentioned above, the first day of gamescom is reserved for press only - but that doesn't mean it's all that easy for the press to get in. With four entrances, each at an extreme end of the humongous convention centre, you tend to have to go with whichever exit's nearest to the tram stop - and hope that you haven't ended up with the busy one.
Before you set out to gamescom, you get emailed a press pass, which gives you access to the show for free, and lets you access the business areas - a Shangri-la of peace and serenity away from the crowds of game-hungry people. A few years ago, they sent you one in the post, but now you're expected to print them off yourself before you set off - queue much fumbling of paper when you finally near the turnstiles to get in. After what seemed like an eternity, we finally neared the front, passes in hand. Ian goes first, and - boop - the light flashes green, and he goes through. Then it's Sarah's turn. She steps up, slides her pass underneath - whoop whoop whoop - the light flashes red. A flustered German runs over to see her, and takes a few seconds to realise what's wrong. "Your pass, it's the wrong dates". The wrong dates. Yes, Sarah had managed to print off last year's gamescom pass.
Cue a wild goose chase.
Whoever invented the phrase German efficiency was clearly either drunk or insane, as getting into gamescom was anything but. Of course, it's usually easier to get in if you've brought the right pass, but you'd think there'd be a way for people who've made similar mistakes to get a new pass printed. And you'd be wrong. What you actually get is a kind of pinball effect, where you walk up to a desk, explain your silly mistake, and get told there's nothing they can do there - but you should try the entrance on the other side of the convention centre. After much backwards and forwarding, we eventually found a place that would print us a new pass, but still - it was a lot harder than it should have been. Even if it was mostly our own fault.
Still, from there-on in, it was gaming heaven. We got to play Skylanders: Trap Team, including going hands on with the new minis, and interview the studio head at developers Toys for Bob. We got to go hands-on with Disney Infinity 2.0, and see the all new Toy Box, along with the Guardians of the Galaxy and Avengers play sets. And we got to see the latest games by a whole bunch of smaller studios that we otherwise would never get to see - for a full list of what we saw, check out our schedule here.
In fact, for the rest of the show, it was surprisingly uneventful. Despite working 9-7 days, and coming out surprisingly shattered after having effectively sat around playing games all day, little else went wrong. Still, there are a few survival tips for anyone who fancies going out to gamescom for themselves.
Firstly, always remember to ask for still water. The Germans have an unhealthy obsession with the sparkling variety, to the point where it's hard to find anything but.
Secondly, never cross over the road unless you cross at a designated crossing when the man is on green. While in the UK it's fine to cross wherever you want, so long as there's nothing coming - and you can happily cross at a crossing if there's nothing coming even if the man's on red - in Germany, this is actually something the police will stop, and fine you for. We know. We found out the hard way. The Police are also pretty much the only place in Germany the accept credit cards.
And last but not least - make sure you print the right year's ticket.