One of the first, and coolest things we got to do during our recent trip out to Cologne for gamescom was to get to go hands-on with a near-finished build of the Sims 4. But while Sarah got to work making a digital version of her and I, giving them a personality of their own before playing God over their lives, I took a slightly different approach, and delved into the pre-built scenario saves instead. Intended to show off the various weird and wacky situations your Sims could find themselves in, one starred two warring scientists, one was a star crossed relationship that would never work out - and the other, was set in a bar. Here, a young male Sim who we'll call Joe Noluck, possessor of a spectacular bachelor pad (more of a mansion if we're honest) and a winning quiff, has his heart set on Hildegard Tuget, a fiery ginger with a temper to boot. We're not making this up either, she really does have a fiery temper - it's one of her traits.
Play quizzes, win prizes! Test your knowledge with our quizzes, and you could win £/$/€ 20 of PSN/XBL/eShop/Steam credit!
Sat next to each other having a casual chat, things were going swimmingly enough. That's when we stepped in, taking over young Joe Noluck, to help him win the affections of his soul mate. Unfortunately for us, she was in no mood for a chat. With a bar at the top of the screen constantly reminding us that we were stuck in an "awkward conversation", the fiery Hildegard seemed frosty to say the least. True to her name, she was playing (Hildeg) 'ard tu get...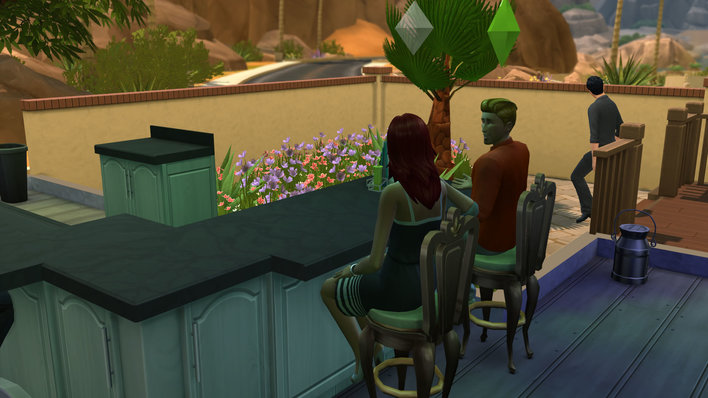 This, would clearly be a challenge. Still, there are a few things you can try when the conversation isn't going well. After clicking on the ginger one to bring up the actions wheel and see what our options were, we decided to keep things simple, erring away from the romantic category, and away from potentially awkward romantic compliments, to stick with a fairly straight conversation. Still, Hildegard is a tough cookie, and it seems even our fascinating story about our day at work won't open her heart - and so there's only one thing for it. If the up close approach has let us down...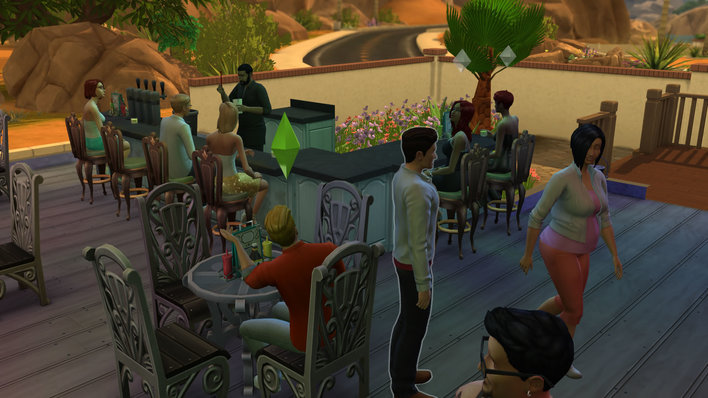 ... we'll try again from a distance.
As every woman knows, there's nothing sexier than a potentially drunk guy yelling at you from across the bar about how great he thinks you are. Surprisingly enough, poor old Joe's new strategy doesn't work all that well either. With Hildegard becoming less and less interested (and certainly not showing any interest in joining him at the table), with the relationship dangerously close to being downgraded from "awkward conversation" to practically being enemies, it was time for desperate measures. With few options in the menu seeming to offer much in the way of hope, we were running out of choices. We needed to do something to catch her eye.
A quick fumble of the mouse and a click or two later, and kablam!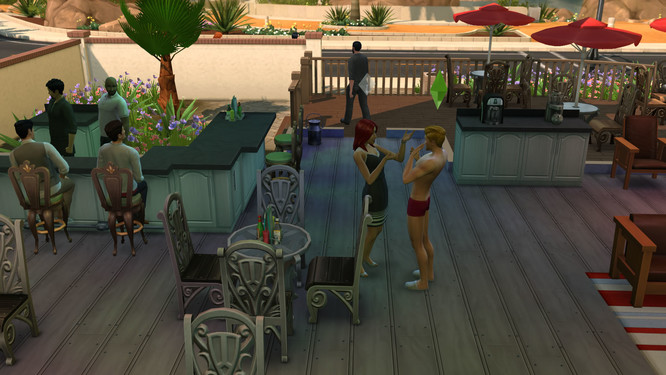 It's pants time!
For an ordinary guy (and an ordinary girl), suddenly stripping off in the middle of a bar may signal a hasty exit. But seemingly, our newly revealed (and nicely toned) flesh seems to have reignited the spark of desire within Hildegard - and suddenly she seems interested. A flirty joke, and a quick embrace, and we may be on to something here...
Or so we thought. As it turns out, it seems Hilda had only really come over to laugh at poor old Joe, despite his flexing. Story of his life. Before too long, Hilda was back at the bar, Joe was fully clothed, and deep in thought about his next move, with the relationship meter having barely budged. With Hilda playing hard to get, and Joe being a strong believer in Newton's third law, there was only one possible option.
To play hard to get as well.
Taking the jealousy route by hanging around with a load of other women is always a risky game to play. Ol' Hilda might decide you were never all that interested in the first place, or - worse still - may end up getting chatted up by someone else while you're busy pretending you're not interested. In an absolute worst case scenario, the flirtatious looks and little winks you keep sending her way may even end up being caught by the wrong person - and that could lead to disaster. But Joe's far too cautious to let anything like that happen, right?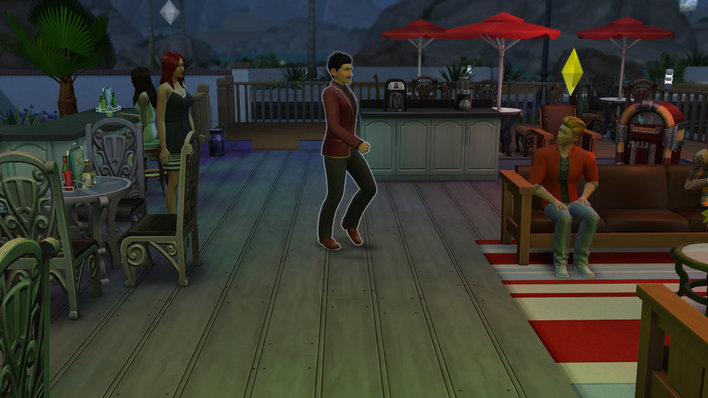 Ah.
Seems Camp Freddie, the most fabulous man in the bar, has a new spring in his step as he skips towards his assumed admirer.
Well, this is going to be awkward...
A few apologies and a lot of "humph"s later, and we were free to return to focussing on our red haired Hilda. Eager to make up for lost time, we decided to take things up to the next level, and really start flirting, with a cheeky kiss of the hands. As seems to be the way with Joe, though, the best laid plans often have a way with going spectacularly wrong, and this time was no different. No sooner had we swooped in and planted our lips on the dainty fingers of our beloved than we realised our mistake.
We'd got the wrong red head.
In our defence, at the time the camera was zoomed out fully, and the object of our affections had hidden herself away, becoming otherwise occupied in the loo, but still. Even by Joe Noluck's standards, this was unlucky. And it made for a pretty tense scene when Hilda eventually emerged to confront her rival.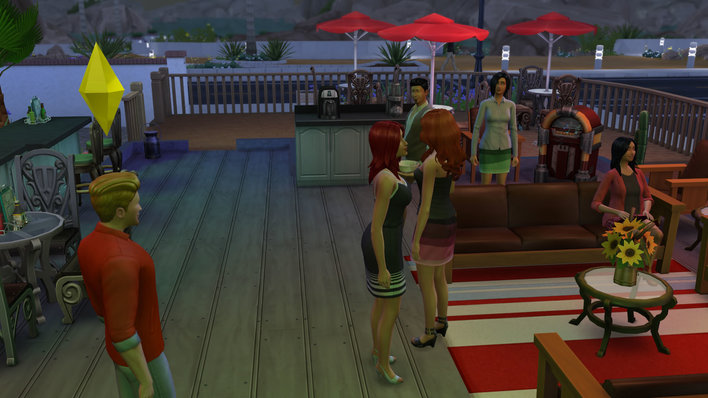 Which is which! Clearly bemused, poor old Joe had no idea what to do - so it was a good job we were there to take him by the virtual hand, and get him back on the right track. With the night getting late, and the bar starting to slow down, it was now or never for Joe and Hilda - so it was time to turn up the charm.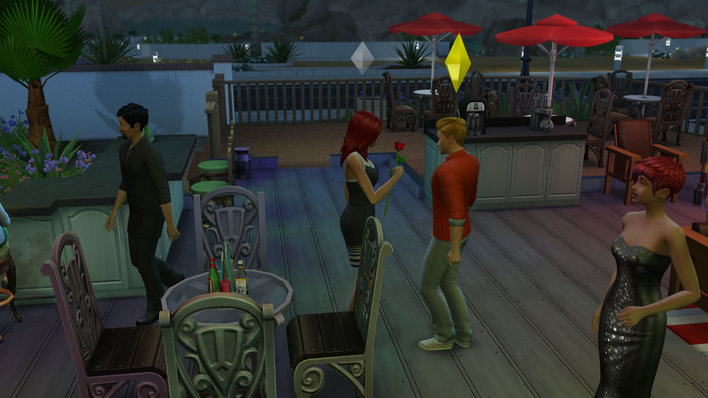 A single red rose, conjured up out of nowhere, helped break the ice, and make our intentions clear. We hadn't just been some drunk over the other side of the bar shouting compliments - we were going for her heart. And Hilda seemed flattered, at least to begin with.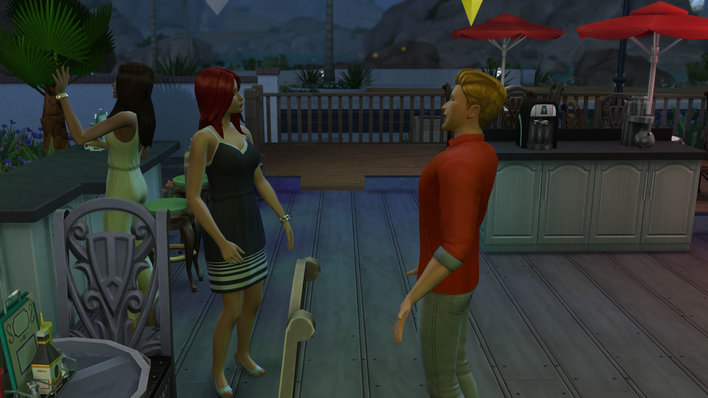 Unfortunately, the dirty joke didn't go down quite as well... Sensing the moment was almost lost, it was time to do something drastic. Giving Joe all the confidence he needs (by issuing a command in the menu), he lent in...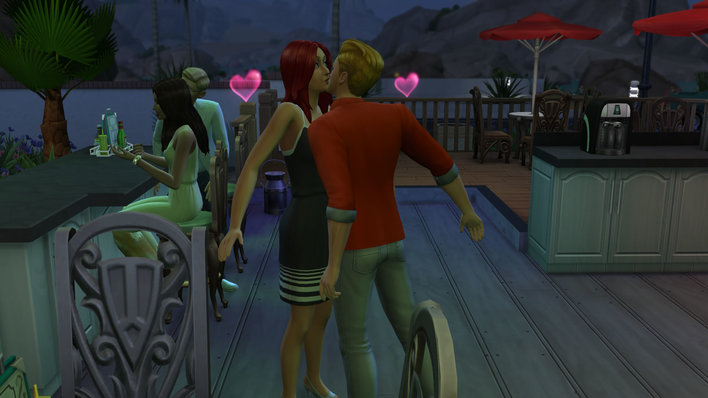 And went for a kiss!
The relationship was clearly running on both cylinders now, and as unlikely as it seemed at the start of the night, they both really seemed to be into one another. Mores the pity for the lady in red, who seems upset that Joe hadn't even noticed her - or perhaps is just having a cough. Either way, who are we to not take advantage of being on a roll? When it comes to relationships, you have to strike when the iron's hot, and despite not even having known each other at the start of the night, Joe is ready to commit.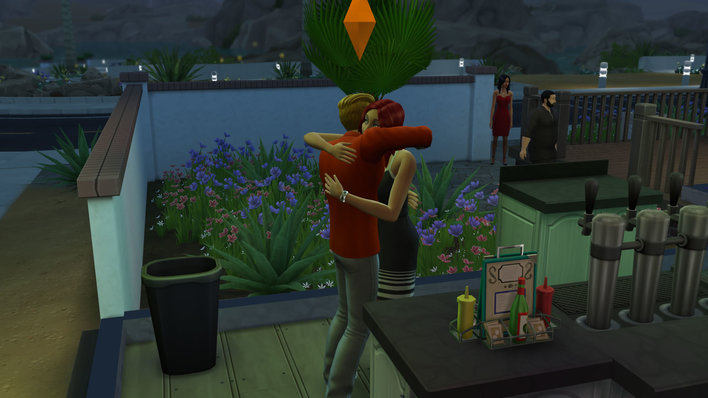 First he goes for a cheeky hug...
... and then he gets down on one knee! While the scorned lady in red looks on, Joe pops the question, and Hilda, despite having played hard to get, says yes!
And what better way to celebrate your new engagement than with a selfie?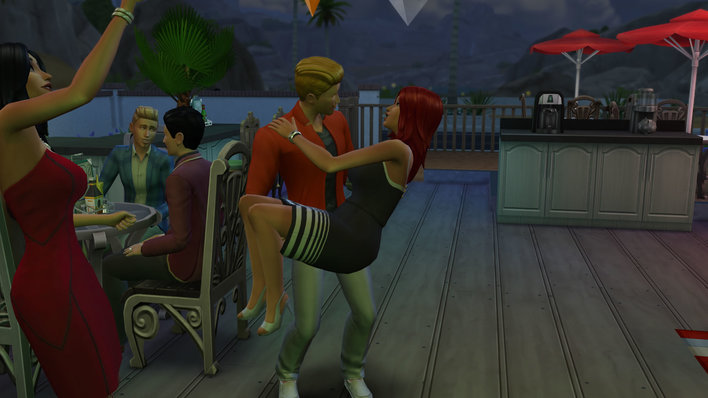 From barely even talking to engaged in the space of a single evening, it seems when it comes to love, anything is possible in the Sims 4. Relationships happen, people come together and fall apart, and life takes place in a nutshell - often with hilarious results. Leaping into the arms of her groom-to-be, the happy couple depart the bar with the flames of love burning brightly, for a night of passionate "woo-hoo".
But flames of passion or not, things don't always go as planned...
The Sims 4 is out on 2nd September - for more hands-on fun with the game, check back soon - and make sure you come back nearer the date for our full review!