Persona is one of those unusual spin-offs which is better than the game it's based on. Blending the monster-like 'Persona' collecting, battling and evolving of your average Pokemon game with some solid dungeon crawling, topped off with a healthy dose of 'life sim'/visual novel style school lessons, day trips with friends and part time jobs, it's a series full of charm - somewhat in contrast to the much more uptight (or even, dare we say it, dull) Shin Megami Tensei series it's based on.
Play quizzes, win prizes! Test your knowledge with our quizzes, and you could win £/$/€ 20 of PSN/XBL/eShop/Steam credit!
A new instalment in the much-loved series of high school dramas has been a long time coming, with the last main game originally hitting the Playstation 2 - and as much as we may not want to admit it, that was a long, long time ago. Still, we're pleased to say the (incredibly) long wait will be over soon, as Persona 5 will be hitting Playstation consoles next February. Yay!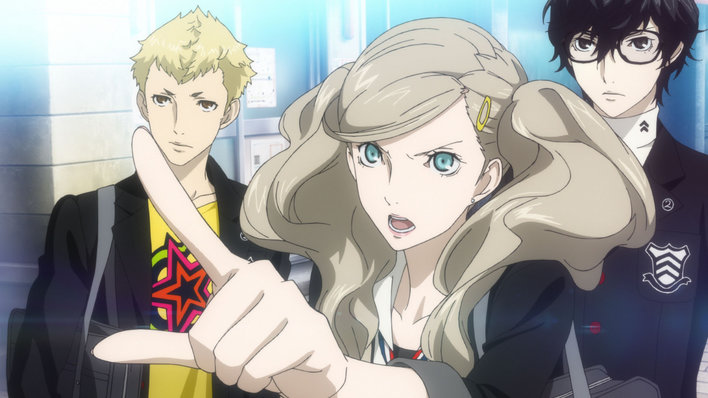 With the game still some way away, many specific plot details remain a closely guarded secret, but the parts are all in place for a whirlwind drama. Persona 5 stars a group of troubled high school students who lead extraordinary dual lives - by day, they're your typical Tokyo high schooler, attending classes, after school clubs and holding down part time jobs. But in their spare time, they also live dual lives as a band of "Phantom Thieves", using their otherworldly powers to enter people's hearts, and steal their seeds of corruption, to help reform would-be criminals and ne'er do wells, in an effort to reform society itself.
Wielding the power of the Persona, the heroes realise that society forces people to wear masks to protect their innermost vulnerabilities, and only by confronting their inner selves, and facing their own fears and insecurities, can they awaken their inner powers - granting them a Persona, a powerful being that's a dab hand in the many battles they'll encounter on their mission.
Those picking up the Playstation 4 version of the game will have a couple of fancier options over the standard game if they feel like pushing the boat out a bit, both of which are up for pre-orders now. If you get in early, a SteelBook Launch Edition of Persona 5 comes with a copy of the game in a SteelBook Collectible Case, for a standard retail price of £54.99. For an extra £25 (bringing the price up to £79.99), you could splash out on the Persona 5 'Take Your Heart' Premium Edition instead, which comes with the game and aforementioned SteelBook case, as well as a soundtrack CD, a 64 page art book, a 4 inch plush keyring of the cat-like companion Morgana, and a mother-chuffing school bag too - along with a humongous collectable outer box to store it all in too. Unfortunately, for us proles still playing on the Playstation 3, there's only a single bog-standard edition of the game, in a regular plastic case, for £39.99.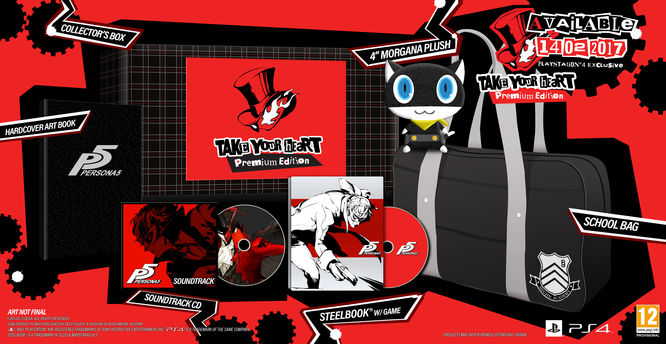 As fond fans of Persona 4, the news of a new Persona game is music to our ears - we can't wait to get stuck into another story-driven adventure when the game hits the Playstation 3 and Playstation 4 early next year, on the 14th February 2017. A perfect gift for Valentine's Day, we think.