The release date of the new Nintendo console, the Wii U, has been announced amongst a whole host of other details about the console at today's Wii U event in the US.
Play quizzes, win prizes! Test your knowledge with our quizzes, and you could win £/$/€ 20 of PSN/XBL/eShop/Steam credit!
The company has revealed that the console will reach European shores on November 30th and will come in two flavours, Basic and Premium. The Basic model will feature an 8GB hard drive, gamepad, HDMI cable and an AC adaptor. However European gamers will apparently have to fork out extra if they want to get their hands on a sensor bar, which we imagine would be pretty important for the whole motion control thing that made the Wii so popular.
The Premium model includes said sensor bar and also comes packaged with a 32GB hard drive in addition to a charging cradle and stands for the console and gamepad. Finally, this model will also come packaged with a Nintendo Network Premium Subscription that will allow owners to get discounts of about 10% on any games that they buy online by granting points for any purchases made that can then be used on other purchases.
Due to past issues with the EU over pricing Nintendo haven't announced a price for the console, but early retailer's listings are putting the cost at anywhere between £249-320 depending on if you go for the Basic or Premium model. The company also revealed that the console, which features a tablet style controller as an important part of its user interface, will be released in the US on November 18th and, finally, its native Japan on December 8th.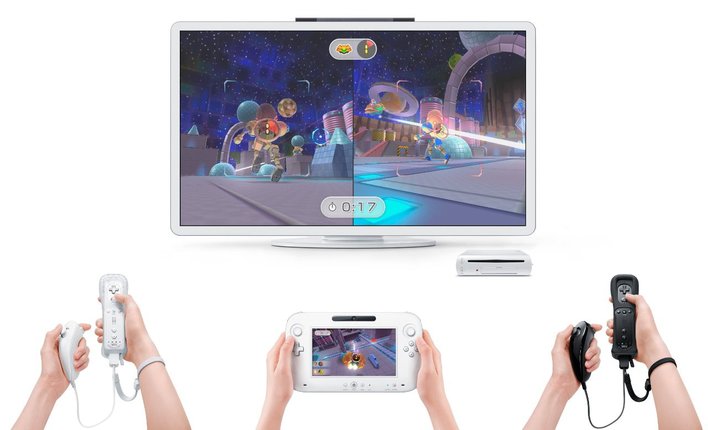 That wasn't all though as the event also made sure to whet the appetites of gamers by promising a whole bunch of release titles, including:
New Super Mario Bros U, marking the first time a Mario game has launched with a Nintendo console since the days of the N64.
Mass Effect 3, which promises a whole host of features that will take advantage of the Wii U's unique control system.
FIFA 13, which will sell like hot cakes as always.
Zombi U, apparently a reboot of the first Ubisoft game, Zombi.
Call of Duty: Black Ops 2, which will look to take advantage of the increased social capabilities of the console to finally provide Nintendo fans with the same experience 360 and PS3 gamers have had with CoD.
Rayman Legends, a direct sequel to the superb Rayman Origins.
Still want more? Well Nintendo and chums also made a few more announcements in regards to what is to come. TVii was featured and promises the ability for users to watch their favourite shows, films and sports through either an Amazon subscription or a specialised service offered by the Big N. Gamers can use the tablet controller as a remote and, in a nifty little move, can also use it to check stats for sports stars and teams. The service will also feature DVR capabilities.
On the gaming front Bayonetta 2, which is the sequel to the madcap action game developed by Platinum Studios and featuring a host of SEGA references, has been announced as a surprise exclusive for the console. Other titles promised included futuristic racing game Wipeout 3 and a version of the fighting game Tekken Tag Tournament 2, which will feature unique content for Wii U gamers.
All in all the event appears to have gone over pretty well. Nintendo have announced a strong launch line up, with new Mario always guaranteed to be a hit, whilst also solidifying a commitment to the more hardcore gaming contingent with the Bayonetta and Black Ops 2 announcements. Whether that will be enough to appease the fans that the company apparently alienated with the Wii will be another issue entirely, but you can't deny that the company has once again managed to create a buzz around its latest creations.