Having initially released in 2010, it's odd to think that free to play online tank game World of Tanks is only just reaching update 1.0. With millions of monthly players, hundreds of tanks available in game, and dozens of maps to play across, it certainly feels like this is more of a 2.0 than a 1.0 update - but then, that's perhaps an indication of the high regard in which the developers hold their game.
Play quizzes, win prizes! Test your knowledge with our quizzes, and you could win £/$/€ 20 of PSN/XBL/eShop/Steam credit!
The big news here is that World of Tanks 1.0 is now confirmed to be coming in March 2018. Along with a few new tweaks under the bonnet, update 1.0 is hugely significant, as it marks the debut of the all new graphics engine, codenamed CORE. With much more advanced lighting, more realistic looking vegetation, and some very pretty water, this is an update that may not change how the game plays, but will certainly change how it feels to play.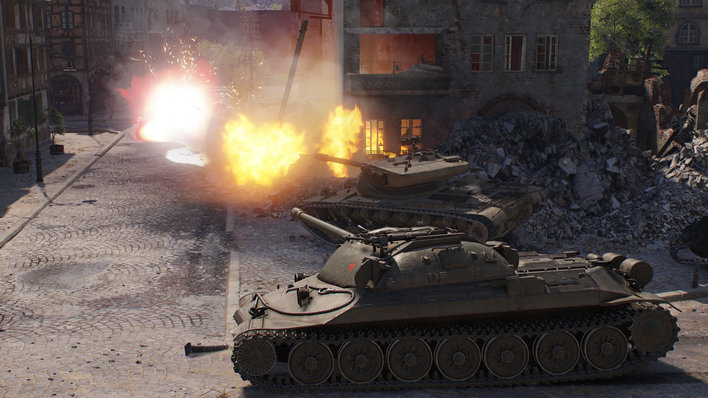 "Update 1.0 is a true game-changer," said Milos Jerabek, World of Tanks Development Director. "Though the spirit of the game remains the same, the introduction of the new graphics engine leads to a far greater boost in image fidelity than a simple resolution increase. It's a staggering difference from the game as you know it, and we can't wait for players to get hands-on with it."
Along with the swish graphical update, 25 World of Tanks maps are being completely reworked, with the developers taking time out to tweak and streamline each map whilst bringing it up to speed with the new graphics engine. Along with a shiny new look, each map will also benefit from brand new dynamic music, which will change automatically depending on what's happening in combat - perhaps getting quieter when you're slinking around in cover, or becoming much more dramatic and fast paced if you round the corner to find yourself face to face with a Tiger.
Although Wargaming assure us that anyone who can play the game at the moment should have no trouble with the new graphics engine, they've also announced a kind of preview program, designed to give players a sneak peak at not only how the new graphics will look, but how they'll work on your machine. Titled enCore, the new benchmarking program lets you view per-set battle replays using the new engine, giving you chance to appreciate the new graphics and music for yourself.
World of Tanks update 1.0 will launch in March 2018, with the enCore program now live - you can sign up to take part in enCore here. As the game's totally free to play, why not give it a download and check it out for yourself?