As a general rule, fighting games are never all that easy to pick up and play. With the possible exception of Smash Bros, if you want to do well at a fighting game, it very quickly boils down to a case of having to memorise lengthy button combos, precise movement frames, and knowing the entire game inside and out. As such, a lot of beat 'em ups have one heck of a difficulty curve - but as we found out from going hands-on with SNK Heroines recently, there's always a few exceptions to the rule.
Play quizzes, win prizes! Test your knowledge with our quizzes, and you could win £/$/€ 20 of PSN/XBL/eShop/Steam credit!
Dripping with a similar aesthetic to the legendary Dead or Alive, SNK Heroines is a game that doesn't take itself too seriously. Offering a roster of lovely lady fighters with not a Y chromosome in sight, this is a game that brings together a collection of characters from King of Fighters, Fatal Fury, and a variety of other comparatively lesser known fighting games for the mother (ho ho) of all brawls. Though few of the combatants may be widely known household names in their own right, it won't take you long to start finding favourites - which in our case, tended to be whoever had the most ridiculous outfit. Mai in a cow print bikini, complete with horns and giant cow bell collar? Don't mind if we do.
But while our time with the game may have been brief, it's looking like this is set to be a brawler that ticks all the right boxes. A game based around tag team contests, SNK Heroines is one of the few recent fighting games that actually lets two players play together on the same team, in local co-op multiplayer, as you and a friend team up to take on the AI, or up to four players split off to take each other on in a 2 vs 2 contest. Already putting it a step ahead of Marvel vs Capcom Infinite - a game which centred entirely around tag team brawls, yet inexplicably didn't let you and a friend play on the same team - it's a really nice thing to see in a fighting game, and yet another way it reminds you of the great Dead or Alive games of old.
Though we're still a long way off mastering its fighting system, it seems SNK Heroines will be easy enough to pick up and play, too. On the controller, you have one button each for light, medium and heavy attacks, with the final face button handling grapple moves. Whether there are combos to memorise or not, it's a set up that means anyone can get up to speed at least fairly quickly - which is surprising, and there's actually a bit of an unusual system at play here.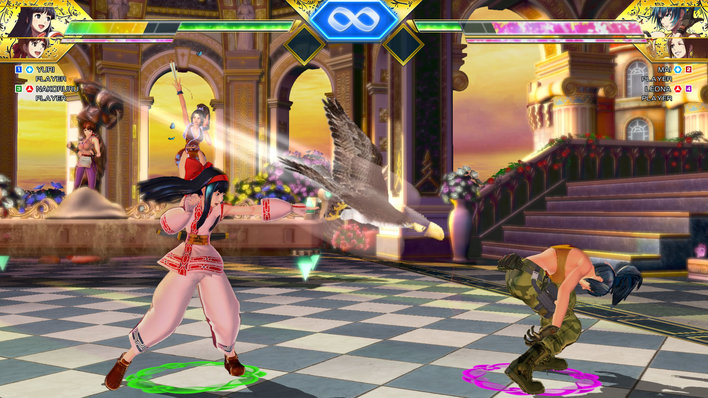 You see, in SNK Heroines, simply beating the tar out of your opponent isn't enough for you to pick up the W. Instead, landing blows on your opponent will charge a bar - and when it's charged enough, you'll be able to finish them off with a Dream Finish. Kind of like a Smash attack in Smash Bros (or pretty much identical to how Playstation All Stars Battle Royale worked) this can lead to some really tense moments as you trade Dream Finish attempts with your opponents in a crazy series of near misses. With each move having a warm-up that gives your opponent just long enough to dodge out of the way, this can lead to some immensely close contests - but the lower their health gets, the more the chance your normal moves will end up leaving them stunned, and unable to dodge.
It's not that there's nothing for the second player to do while they're not in the match, either. Becoming something of a cheerleader, the not-in-combat player gets to stand in the background of the scene, where they can toss items onto the field for their team mate to pick up. Even if you're not the one exchanging the blows, then, you'll be able to change the course of the match without laying a finger on your opponent.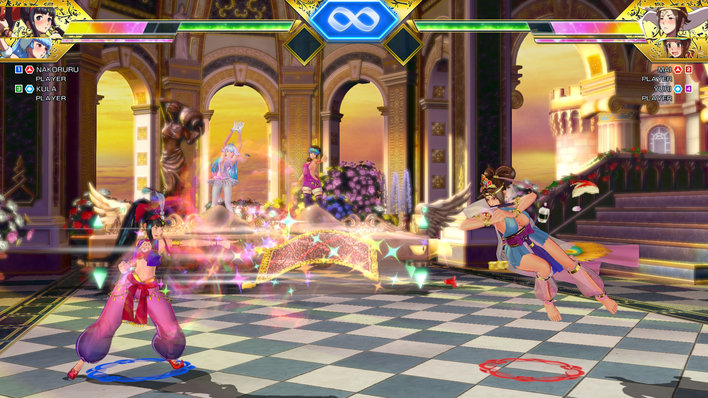 While it's undoubtedly up against some stiff competition in the fighting game genre this year - with Soul Calibur IV being arguably the heaviest upcoming hitter - SNK Heroines looks set to corner a rather different section of the market. If, like us, you tend to choose your fighting games based on the fun (and selection of silly costumes), then this could be right up your street. While we'll be waiting with bated breath to see what the game will have by way of the all important single player mode, the game's hundreds of unlockable costume customisation options should give it at least a fair amount of replay value to keep you coming back for more. After all, who doesn't want to unlock some VR goggles, a reindeer-style red nose, or, well, whatever this is:
SNK Heroines launches this summer on Nintendo Switch and Playstation 4. We're certainly looking forward to it - and now, we hope you are too.