Every day the sun rises. Every year a new football season starts. And every year, just like clockwork, a new "best ever" FIFA game hits the shelves. With more of a focus on pushing the new, more powerful "next-gen" consoles (the PS4 and Xbox One) graphically, FIFA 15 kicks off a brand new era for EA Sports' flagship series. But for long running fans, is this year's instalment worth the upgrade?
Play quizzes, win prizes! Test your knowledge with our quizzes, and you could win £/$/€ 20 of PSN/XBL/eShop/Steam credit!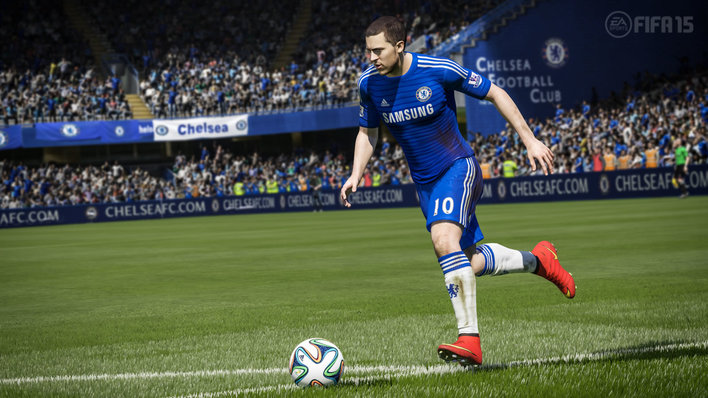 If you're played a FIFA game before, you'll know pretty much what you're in for here. With 16,000 players, 41 licensed stadiums, and over 600 clubs across 35 leagues, from the heights of the Premier League, to more obscure (at least over here) championships, like the Saudi "Abdul Latif Jameel League" and the Turkish Süper Lig, it certainly has some impressive numbers. For fans of domestic football, all you really need to know is that the top four leagues, from the Premiership down to League 2 are included here - so if you've ever dreamt of taking Scunthorpe United onto international success, now's your chance.
In terms of modes, FIFA 15 offers the same selection as in the last few years' games, with only a few new features, tweaks, and menus to differentiate them. From the career mode, which lets you and up to four friends (locally) take a team on a path to glory through the leagues, playing the transfer market, managing injuries, and keeping an eye on your budget as you go, to the eerily popular Ultimate Team, a kind of virtual card trading game, where the cards you get can be used as players on your team (and packs of new players cost real money), there's little in the way of revolution, and only very minor evolution - but there's still plenty for football fans to get stuck in to.
As mentioned, the majority of the improvements here are in the graphics, with FIFA 15 boasting something it's dubs a "living pitch". Along with goal posts that shake, mud and grime that builds up on your players, and even, as the press release gets far too excited about, "corner flag movement" (although sadly, you can't send Father Dougal to go and keep an eye on it), there's an all new graphics engine at work here, making the game look even more like the beautiful game - wrinkles and all. Whether it's the individual strands of hair on Wayne Rooney's head, or the wrinkles under John Terry's eyes (see - wrinkles and all!), FIFA 15 has attention to detail like never before, with over 200 laser scanned player faces giving an uncanny valley level of realism.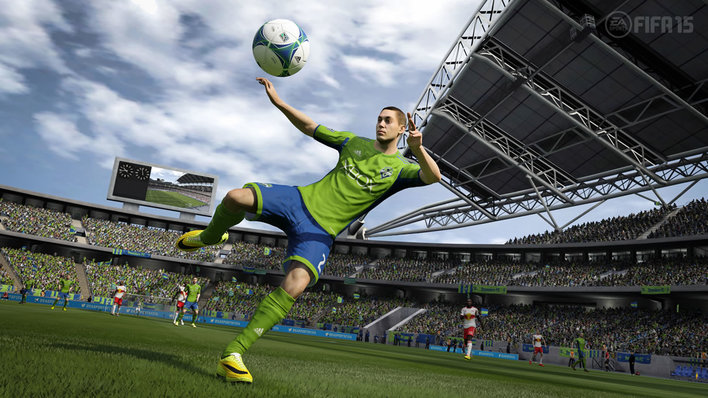 In another first for the series, FIFA 15 is the first game to have the license for every single Premier League stadium, all twenty of which have been authentically recreated in the game. Whether you're walking out as Liverpool at Anfield, Leicester at the King Power Stadium or West Bromwich Albion at the Hawthorns (poor you - Ed), you'll be amazed at how detailed and accurate each football ground is, whether you've seen it on TV, or been there in real life. Even the camera angles are authentic, showing a bird's eye view of the ground from above before swooping inside the tunnel before the players emerge. There's even authentic, regional crowd chants, from "You'll never walk alone" to "Forever blowing bubbles" - although any less savoury chants have been thankfully omitted.
The other big visual change is in a feature dubbed the Emotion Engine. Working to give players that much more, well, emotion, what happens on the field will affect your player's stance and expression. If you're blowing chance after chance as Sturridge, not only will he start to look a bit more dejected, but his team mates may start to get on his back and give him a hard time. The new replays also help in showing off the Emotion Engine, as slow-mo close-ups bring out some great altercations and interactions between players, whether your goalkeeper's just produced a world class save, or someone's getting booked for a dangerous tackle.
Gameplay-wise, FIFA 15 is pretty much similar to past incarnations, with an odd mix of realistic-yet-arcadey controls, and plenty of ways to tweak things to your liking. With a huge number of assists that can be turned on, to have the computer give take over when it comes to judging shot and pass power, or even helping with your aim, things are fairly easy for novices to pick up and play, but it'd still be nice if there was a tutorial to help new players find their footing. For new players, it still all feels like a step back since the heady days of FIFA 11 on the Wii.
There are also a few slight tweaks to make the game harder than before. Goalkeepers have been updated so they'll block shots in a more realistic manner, whether through sticking a foot out to try and save a deflected shot, or their new diving animations. New tactics can be implemented during matches such as 'Park the bus', as made famous by Chelsea, and 'All-out attack'. More usefully, goalkeepers can now order players to push up the field, ready to receive the goal kick and push on for that crucial last second goal. In a nice touch, goal line technology also makes its debut in FIFA 15, following its introduction in real life after we was robbed by the Germans at the 2010 World Cup - even if it is a bit pointless in a video game where it'll know if it's a goal anyway.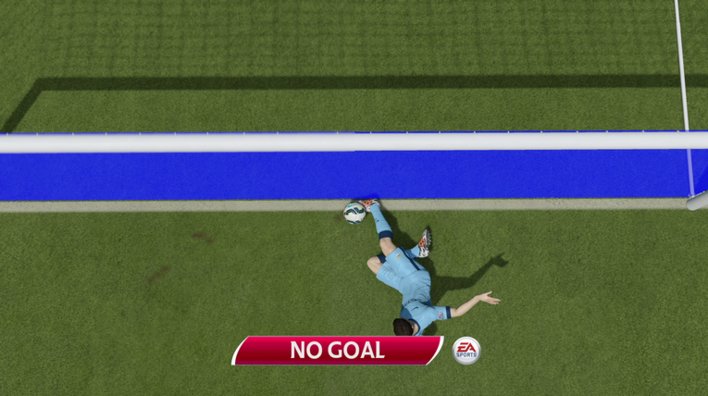 Away from the gameplay aspects and the matches, Match Day Live is an interesting feature within FIFA 2015. After choosing your favourite team, you'll receive regular real-life updates about your club as you play through the game. For example, if you choose West Bromwich Albion, you'll find news and match reports about WBA's last real life match, along with the option to play their next fixture in game, and simulate the result for yourself.
Still, in amongst all the talk of the brand new features, it is worth remembering that while the Xbox 360 and PS3 receive many of the changes found in the PS4, PC and Xbox One versions, FIFA 15 on the Wii is simply a re-release of the FIFA 12 game, with the only difference being updated team rosters. That's not an exaggeration. For our former favourite version of the beautiful game, that's a sad fate to suffer.
In all, while FIFA 15 is the most realistic sports game ever, it doesn't do anything truly new, and stays to the tried and tested formula from the other recent releases. Still the best version of the beautiful game - at least, until FIFA 16.
Format Reviewed: Xbox 360