While Sony are increasingly trying to pretend the PS Vita doesn't exist, for fans of otome games and visual novels, the handheld is very much still alive, and 2018 promises even more story-driven fun for those who prefer to sit back with a good tale. After all, it's still a bit tricky to lug a hulking great Playstation 4 to bed with you each night - and for a genre that requires a heck of a lot of reading, it's nice to have something you can sit up close to.
Play quizzes, win prizes! Test your knowledge with our quizzes, and you could win £/$/€ 20 of PSN/XBL/eShop/Steam credit!
A decade ago, visual novels, and especially their chatting-up-blokes romantically-themed otome sub-genre, were a relatively unheard of genre in the West, but recent years have seen many more localised. While only a few years ago, you'd be lucky if you got one or two games a year, for 2018 we have a whopping sixteen incoming. So prepare to clear out your calendars and make way for samurai love stories, interstellar alien wars, mysterious murders, and much, much more, coming to a PS Vita (and the odd PS4/Switch) near you! Check out the full list below:
Root Double -Before Crime*After Days- Xtend Edition
Format: PS Vita, PC
Release Date: 2018
Genre: Visual Novel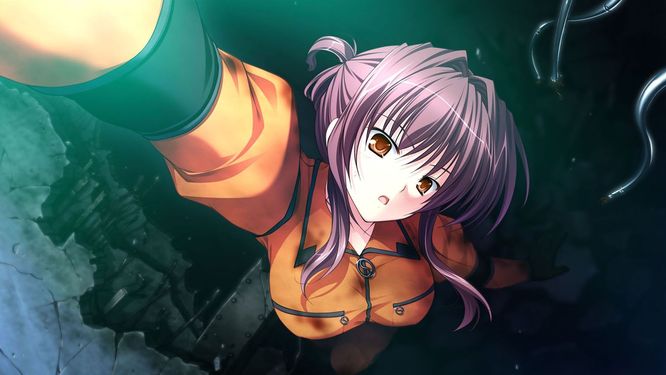 The year is 2030, and it's a day like any other in the nuclear research facility of Rokumei. That is, until several explosions suddenly go off. Sending in the elite rescue squad 'Sirius' to deal with the situation, things quickly take a turn for the worse when the reactor goes into meltdown, trapping several members of Sirius, as well as some survivors, inside. With a lethal radiation leak, and not enough anti-radiation medication to go around, things are looking grim as they struggle for survival. Root Double follows the stories of two separate protagonists - a rescue squad captain who lost his memories following the incident, and a student piecing together clues in the days before - and only by completing both sides of the tale can you piece together the truth, and try to find a way out of the facility.
The 25th Ward: The Silver Case
Format: PS4
Release Date: 16th March
Genre: Visual Novel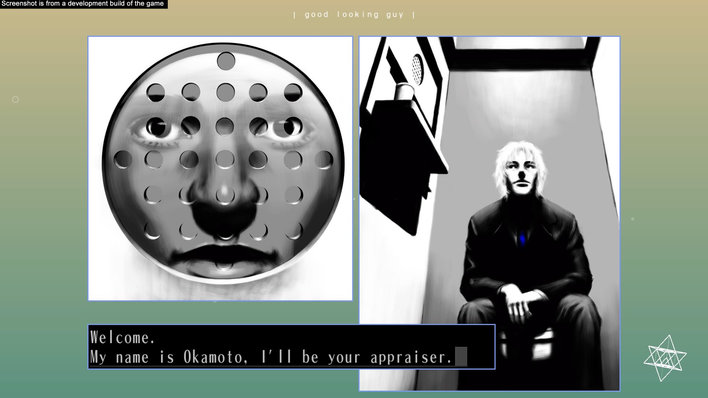 The follow up to last year's The Silver Case, The 25th Ward is set five years after the events of the previous game, and follows the detectives of the new 25th Ward of Kanto as a fresh mystery raises its head. A woman found murdered under suspicious circumstances, with no visible injuries yet an apartment covered in blood, sets a series of seemingly random events in motion, as they try to find the culprit, stumbling on a string of strange murders in the process. Faces both new and familiar collide in this murder mystery visual novel from Suda51, originally released as an episodic game on Japanese mobile phones, which has now been totally remade and remastered for the Playstation 4.
428: Shibuya Scramble
Format: PS4, PC
Release Date: 2018
Genre: Visual Novel
One of the (many) visual novels never expected to leave Japan, 428: Shibuya Scramble - a game from the folks that brought us Zero Escape and Danganronpa - is a suitably strange mystery set in Shibuya, Tokyo. Using live action stills of real actors and locations around Shibuya, it tells the tale of a kidnapping that brings together an unlikely cast of characters to help solve the mystery. There's a hot-blooded detective, a hard-hitting journalist, a former gang leader, a head researcher of a big drug company and a mysterious woman dressed in a cat costume - and together they must work together to solve what originally seemed like a simple kidnapping, but which soon escalates into something much more unexpected and outrageous - something which must be stopped before the day comes to a close...
Steins;Gate Elite
Format: PS4, Switch, PC
Release Date: 2018
Genre: Visual Novel
Unfortunately not a sequel but a 'director's cut' style version of the original Steins;Gate story, Steins;Gate Elite follows the story of Okarin and his chums as they stumble on a pseudo time machine via a modified microwave that can send emails to the past. Soon, their experiments spiral out of control and they find themselves slap bang in the middle of a conspiracy involving SERN, their Large Hadron Collider, and John Titor, a time-traveller from a dystopian future. Fully remastered with animated scenes from the accompanying anime, Steins;Gate Elite promises to be the definitive version of what is perhaps one of the best visual novels of recent years.
Quantum Suicide
Format: PS Vita, PC
Release Date: 2018
Genre: Visual Novel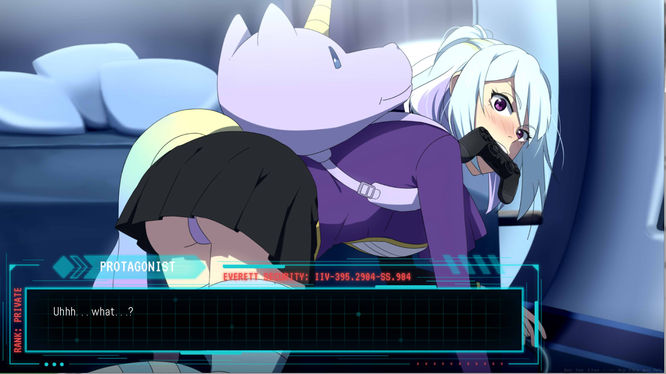 A game of "betrayal, deception and romance in the cold depths of space", Quantum Suicide is a science fiction thriller that tells the tale of a space ship's crew. A collection of Earth's best and brightest are sent off on a mission to search for a new world, but things take a turn for the sinister when a deadly AI decides it's time to start deleting people, forcing the crew to play a deadly game with their lives on the line. Strategy, quantum mechanics and multiple endings await, as romance starts to blossom in space - with the choice to play as a boy or a girl, there's several different eligible characters to romance, as you fight to survive the deletion games.
Muv-Luv
Format: PS Vita
Release Date: Summer
Genre: Visual Novel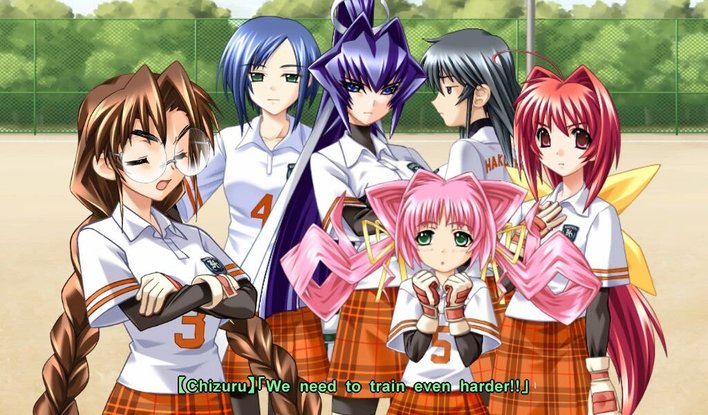 A compilation of the first two parts of the Muv-Luv saga, Muv-Luv Extra and Muv-Luv Unlimited, Muv-Luv introduces players to the weird and wonderful world of Muv-Luv, a high school romance visual novel that segues into an epic science fiction saga with alternate dimensions, giant aliens and robot mechs.
Muv-Luv Extra sees protagonist Takeru waking up next to a beautiful woman he has no recollection of, who insists the two of them are meant to be - just as Takeru's childhood friend and love interest Sukima arrives to wake him up. Which of the two ladies competing for his affections will Takeru choose? The mystery lady and heiress to an international corporation, or the girl next door who's been with him through thick and thin? Or perhaps someone entirely different?
Things take a turn for the strange in Muv-Luv Unlimited though, as Takeru finds himself waking up alone, with his home town in ruins, crushed under the wreckage of a giant mecha. Trapped in an alternate world, where aliens have invaded, threatening to wipe out the human race, Takeru joins the fight - only to find his team members are all eerily familiar, made up of the same love interests, albeit alternate dimension forms who have never met him before.
Muv-Luv Alternative
Format: PS Vita
Release Date: Summer
Genre: Visual Novel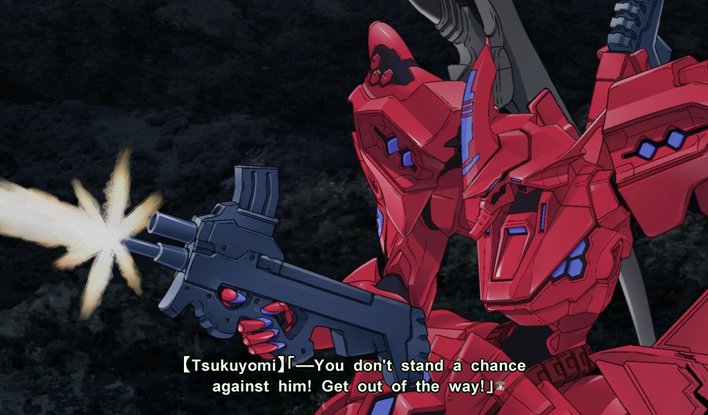 Completing the Muv-Luv trilogy, Muv-Luv Alternative is the final instalment in the series, and sees protagonist Takeru waking up on that fateful day for a third time, except with a crucial difference - he can remember everything that happened in Muv-Luv Unlimited, including all his training, and how everything ended. By powering through the same key events, and doing things differently, he hopes he can change the timeline and alter humanity's fate, taking in everything from political conspiracies and international espionage to quantum causality and genetic modification. Three years have passed since mankind faced extinction - can Takeru use his knowledge of the future to change fate?
Dies Irae ~Amantes Amentes~
Format: PS Vita, PC
Release Date: 2018?
Genre: Visual Novel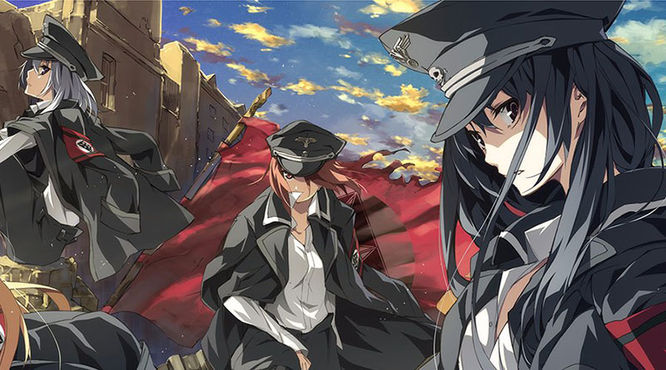 Mixing supernatural sorcery, Nazis and an impending apocalypse, Dies Irae is an interesting one to say the least. During the twilight hours of World War II, a group of officers in Berlin tried to conduct a dark ritual to summon the Longinus Dreizehn Orden - a collection of supernatural beings and harbingers of the apocalypse, to do their bidding - albeit seemingly without much success. Or so it seemed. Some sixty one years later, the Orden appear in Suwahara city, and highschooler Ren Fujii finds himself caught up in a war that will see him fighting for his life against supernatural Nazis, through an epic tale with plenty of twists and turns - and plenty of romanceable anime ladies on offer too.
Psychedelica of the Black Butterfly
Format: PS Vita
Release Date: April
Genre: Visual Novel/Otome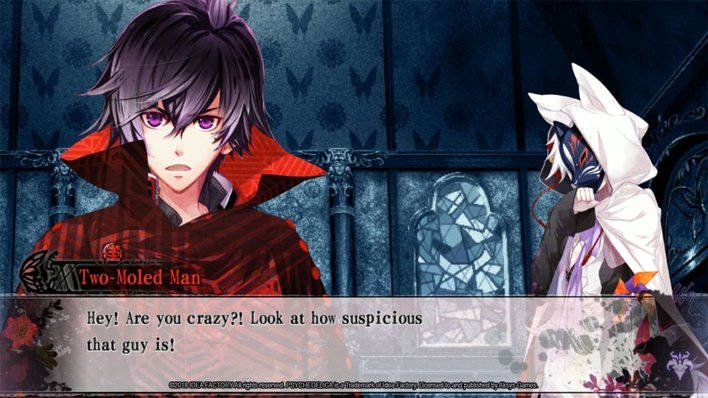 A girl awakes in a strange mansion, with no memories of her past - who she is, what her name is or what she's doing there. But before she has time to collect her thoughts, she finds herself attacked by a vicious monster, as a courageous young man comes to her aid. He too, it turns out, has no memories either, and before too long they meet up with three others in the same situation. A message informs them that they must take part in the 'Black Butterfly Hunt' if they ever hope to leave, collecting all the fragments of a kaleidoscope, which means laying their lives on the line and doing battle with the monsters that roam the mansion. As you play, you'll uncover the mysteries of the mansion, how they became imprisoned, and, most importantly, their identities, as despair and betrayal swirl around in this dark, mystery adventure - to the point where the otome-style romance plays second fiddle to the plot itself.
Psychedelica of the Ashen Hawk
Format: PS Vita
Release Date: June
Genre: Visual Novel/Otome
In a town locked in a power struggle between the two ruling families - the Farji and Wolg - any woman with red eyes is labelled a witch, a bad omen, thanks to a curse believed to have locked the town into an eternal winter. As such, the heroine of Psychedelica of the Ashen Hawk must live her life as a man, as her right eye flashes red with strong emotions, lest she face persecution as a witch. Living her life as a boy known as Jed, her life is turned upside down when a priest asks her to look for a treasure called the Kaleidovia, a legendary symbol of peace stolen from the town. However, during her quest she begins to uncover secrets of the town, the people around her and her own past as she tries to unite the two families - as with the previous Psychedelica game, its focus is more on the overall story and less on romance, but there are still a good few guys to get to know.
7'sCarlet
Format: PS Vita
Release Date: May
Genre: Visual Novel/Otome
The town of Okunezato has been gaining notereity as a bit of a hot spot for mysteries lately, thanks to its legends, folklore and strange disappearances - including protagonist Hanamaki Ichiko's brother, who disappeared there a year ago, without a trace. When her childhood friend finds the members of the 'Forbidden Okunezato Club' website - a site which catalogues all the weird happenings - will be visiting town during the summer holidays, he suggests the pair go and look for clues about her brother. However, whenever they try to follow in the footsteps of her missing brother, they find themselves caught up in mysterious events and strange incidents - and this time is no different.
Hakuoki: Edo Blossoms
Format: PS Vita
Release Date: 16th March
Genre: Otome (female oriented romance)
The continuation of the samurai-seducing series, Hakuoki: Edo Blossoms picks up where last year's Hakuoki: Kyoto Winds left off, catching up with the bachelors after their move to Edo, from Kyoto. Set in 1860s Japan, a tumultuous time in Japanese history where the Shinsengumi - a peace-keeping organisation of samurai - gradually found themselves rendered obsolete, you play as Chizuru Yukimura, as you continue your search for your missing father under the protection of the men of the Shinsengumi, as war rages around you, and a tale of death, demons and deception unfolds. Each of the dozen or so bachelors has their own story to tell, as Chizuru soon finds herself falling in love with them - but all is not as it seems as the Shinsengumi begins to fall apart, familiar enemies return and some demons from Chizuru's past rear their heads.
For more, check out our full Hakuoki: Edo Blossoms Review
Code: Realize ~Future Blessings~
Format: PS Vita
Release Date: Spring
Genre: Otome (female oriented romance)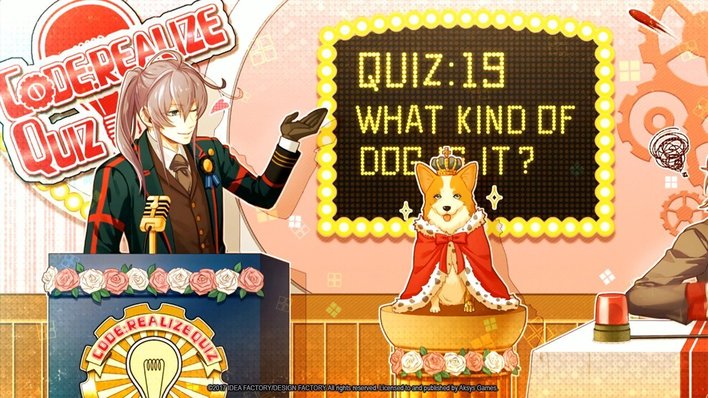 Another sequel, this time to the steampunk Victorian romance, Code: Realize, ~Future Blessings~ (the tildes are actually in the title, for some reason) sees you catching up with Cardia, a girl with a unique affliction that means everything she touches melts from the poison that courses through her veins. Heading out into the world with your new-found friends and a brand new beau, it's up to you to try and unravel the mysteries of your existence, and find a cure for your poisonous touch. New bachelors, including detective Herlock Sholmes and harajuku escapee/general creepster Finis, have been added, while extra scenarios and events from the previous game give you a glimpse into some things we didn't get to see first time around.
Code: Realize ~Bouquet of Rainbows~
Format: PS4
Release Date: Spring
Genre: Otome (female oriented romance)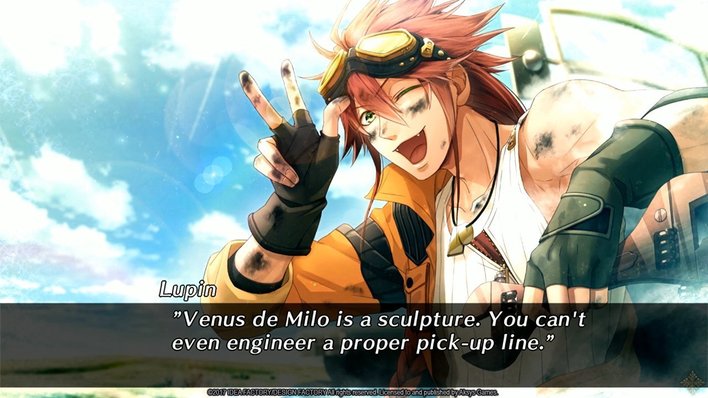 ~Bouquet of Rainbows~ is a bumper collection of Code: Realize goodness, bringing together both the original game, and the aforementioned ~Future Blessings~ sequel onto one Playstation 4 disc. Enter Cardia, a mysterious amnesiac who's been locked in a mansion for as long as she can remember, with a strange crystal embedded in her chest that's left her cursed to destroy everything she touches thanks to the poison in her veins. Pursued by the Royal Guard, 'kidnapped' by the gentleman thief Aresne Lupin and befriended by a myriad of bachelors based on famous literary figures, this steampunk Victorian romance is one of the good ones - and now, you can scoot straight onto the sequel straight after, to spend more time with your chosen romancee. Or perhaps trying out one of the new faces or extra stories instead, to get a glimpse at the goings on you may have missed in the original Code: Realize.
Song of Memories
Format: PS4, Switch
Release Date: 2018
Genre: Bishijo (male oriented romance)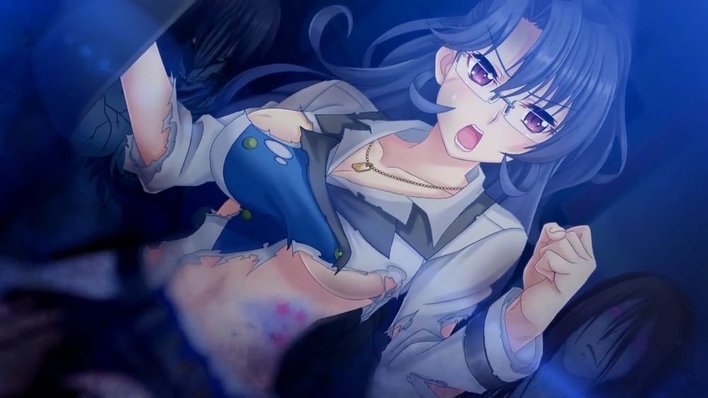 Forget love in the time of cholera - this is love in the early days of a monster apocalypse! On the surface, Song of Memories is a musical love story as you try to win the heart of your chosen waifu, but soon you'll need to fight, as an apocalyptic virus stars to sweep across the globe, threatening to infect those closest to you. Six different bachelorettes, branching storylines with multiple endings, and a unique combination of visual novel story-telling, musical rhythm-action battles and light role-playing fun combine to create what's sure to be a unique game. Oh, and of course a heavy dose of risque scenes, titilating upskirts and cleavage, because Japan.
London Detective Mysteria
Format: PS Vita, PC
Release Date: Autumn
Genre: Otome (female oriented romance)
Another one set in a Victorian London inhabited by famous literary figures, London Detective Mysteria follows the story of Lady Emily Whiteley, a young heiress who has eschewed high society to follow her passion as a detective, studying at the prestigious Harrington academy. On top of her studies, she's also trying to solve the mystery of her parents deaths twelve years ago, in what was originally written off as a simple fire, but actually seems much more suspicious on closer inspection. Along the way, she'll befriend all kinds of famous figures, from legendary detective Sherlock Holmes to the dastardly Jack the Ripper and many more, and, depending on the choices you pick during the course of the story, Lady Whiteley may find love too, or perhaps something a bit more sinister instead.
---------------------------------------------------
And that's your lot. We don't know about you, but we'd better get to clearing our calendars if we stand any chance of finishing even half of the visual novels on offer - and that's not including those we still have to get down from last year (we're looking at you Root Letter and Bad Apple Wars!)... Which games are you most looking forward to - and are there any we missed? Be sure to let us know in the comments below!