It's that time of year again. With just over six months having passed since the last Just Dance game hit the shelves, our thoughts have started turning to the almost inevitable reveal of Just Dance 2019, and what we can expect from the latest instalment in Ubisoft's flagship dance title this time around. With an official announcement likely still a few weeks away, we've rounded up all the information, rumours and speculation in one handy place - so get your dancing shoes on, as we run down the lowdown for the all new Just Dance 2019!
Play quizzes, win prizes! Test your knowledge with our quizzes, and you could win £/$/€ 20 of PSN/XBL/eShop/Steam credit!
Just Dance 2019 Release Date: When will it launch, and on what consoles?
Following the precedent set by previous Just Dance games, Ubisoft officially announced Just Dance 2019 at their E3 conference, with the help of a dancing panda, a marching band and a hoard of neon dancers. So far, so traditional.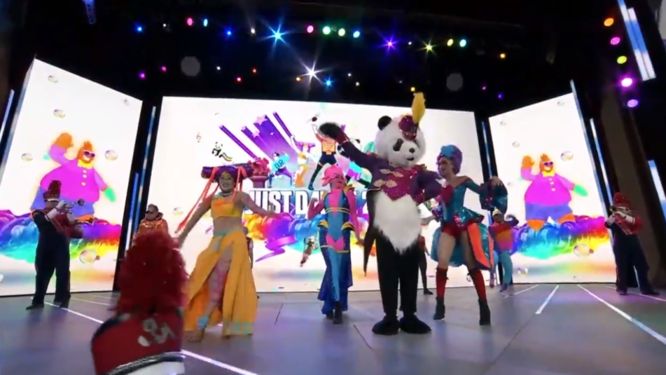 At their E3 conference, Ubisoft also confirmed which platforms the dancing game will be hitting -  Playstation 4, Xbox One, Xbox 460, Nintendo Switch, Nintendo Wii U and Nintendo Wii. According to the E3 reveal, Just Dance 2019 will be hitting consoles on the 23rd October in America, and 26th October in Europe.
While some may be surprised that the Wii is still up there, the ratings body Chart-Track revealed that the Wii is actually still the best-selling platform for the Just Dance games, with the Wii version of Just Dance 2018 outselling the Wii U, Switch and Xbox One versions. As such, we'd be incredibly surprised if Ubisoft dropped support for it any time soon!
Just Dance 2019: Full Song List
As per the traditional E3 conference announcement, details of the full song list we can expect for Just Dance 2019 are coming in. With the conference opening with an instrumental medley of five or so songs (and confirmed by a reveal trailer a short time later), and even more revealed at Gamescom this summer, we've been able to confirm the following songs will be making it to the annual dancing game, as part of its 40-song-strong set list:
Camila Cabello ft Young Thug - Havana
Top Culture (as made famous by Elton John) - I'm Still Standing
Bruno Mars ft Cardi B - Finesse (Remix)
Daddy Yankee - Shaky Shaky
LLP ft Mike Diamondz - Fire
Arash ft Snoop Dogg - OMG
Blasterjaxx & Timmy Trumpet - Narco
Sean Paul, David Guetta ft Becky G - Mad Love
Mayra Veronica - Mama Mia
Hit The Electro Beat - Mi Mi Mi
MC Fioti, Future, J Balvin, Stefflon Don, Juan Magan - Bum Bum Tam Tam
BIGBANG - Bang Bang Bang
Calvin Harris, Dua Lipa - One Kiss
Britney Spears - Work Work
The Weekend ft Daft Punk - I Feel It Coming
Flo Rida - Sweet Sensation
Liam Payne & J Balvin - Familiar
Fergie - A Little Party Never Killed Nobody (All We Got)
Gigi Rowe - New Reality
Ultraclub 90 - Rhythm of the Night
Dancing Bros. - Pac Man
Krewella, Yellow Claw ft Vava - New World
Lizzo - Water Me
Netta - Toy
Michelle Delamor - Fire on the Floor
Ariana Grande - No Tears Left To Cry
Dua Lipa - New Rules
Disney-Pixar's Coco - Un Poco Loco
Maroon 5 - Sugar
Pharrell Williams x Camila Cabello - Sangria Wine
Blackpink - Ddu-Du Ddu-Du
Luis Fonsi ft Stefflon Don - Calypso
Aventura - Obsesion
Stella Mwangi - Not Your Ordinary
Bea Miller - Sweet Little Unforgetable Thing
AronChupa ft Little Sis Nora - Rave in the Grave
Ece Seckin - Adeyyo
Lady Leshurr ft Wiley - Where Are You Now?
Bob Platine - Ca Plane Pour Moi
Slawomir - Milosc w Zakopanem
Drake - Nice For What
What Game Modes and Extras will Just Dance 2019 have?
New for Just Dance 2019!
Taking a closer look at the Just Dance 2018 reveal trailer, it looks like Ubisoft have added a Spotify-style playlist feature, which seems to choose a list of themed songs on a daily basis for you to play through - examples from the trailer include Saturday Night Party, Easy Peazy, Choreos, Perfect Dancing Date Night and a gamescom play list. Also spotted was the ability to create custom playlists, which let you filter out some of the rubbish songs, or create your own workout song list. Apparently, Just Dance 2019 is much smarter with its recommendations this time around, and will tailor its song and play list recommendations based on the sorts of songs you like to play. All of this ties into a swish new redesign for Just Dance 2019's menu, which features a dynamic, regularly updated list of what's going on in the world of Just Dance.
A press release also teases the following as a new feature for Just Dance 2019:
"This year, multiple creative experts from different artistic backgrounds have contributed to creating stunning universes for the game, including street artist Chanoir and stop-motion studio Clay Animation, with more still to be announced."
Most likely, 'Universes' could simply mean the flashy music videos that play in the background as you dance, meaning that Ubisoft are planning on experimenting a little more in that department. In fact, the snippet we see of 'Hit The Electro Beat - Mi Mi Mi' does see you dancing next to a Wallace and Gromit-style adventurer, which could be the claymation they're talking about. As for Chanoir's street art, it's a fairly easy spot if you check out the 'Bum Bum Tam Tam' screenshots, which clearly show a graffiti tag with the name on it in the background.
What else we can expect
Just Dance is a series that's nothing if not predictable, and we're expecting Just Dance 2019 to offer more of the same. Screenshots show that the fundamental dancing gameplay that's been a mainstay of the series since its inception remains much the same for Just Dance 2019, and sees players copying the on-screen stick person prompts in time with the music to score points. From the looks of it, six player local multiplayer, which requires the use of a separate Just Dance Controller App for smart phones is back too - although only for the Wii U, Xbox One and Playstation 4 versions, but all games should do at least four player local multiplayer out of the box. Up to six players can join in on the Nintendo Switch, wielding a Joy-Con each, while Xbox One dancers can squeeze six in with Kinect too, assuming you have a large enough living room. All the bright colours, animal dancers and daft choreographies we've come to know and love from the series look set to make a return too.
As to be expected, Just Dance 2019 will have Just Dance Unlimited, Ubisoft's paid-for song streaming service, where you can jig along to a selection of songs from old games - plus some brand new tracks - for a monthly subscription fee. All copies of the game will come with the now-standard free one month pass, with the option to subscribe to the service once it runs out. Likewise, the online multiplayer 'World Dance Floor' is here to stay too, with the newly redesigned menus working to help draw attention to its regular themed competitions and special events. Sweat mode, the pseudo workout calorie burn tracker, will likely also make an appearance, in some form or another, although this has yet to be confirmed.
Kids mode is also making its return, bringing with it eight new kids-exclusive tracks with their own child-friendly choreographies, all housed in a separate section of the menu. As before, the Kids area will also filter through the on-disc and Just Dance Unlimited songs on offer to pick out only the safest tracks for your little ones to play.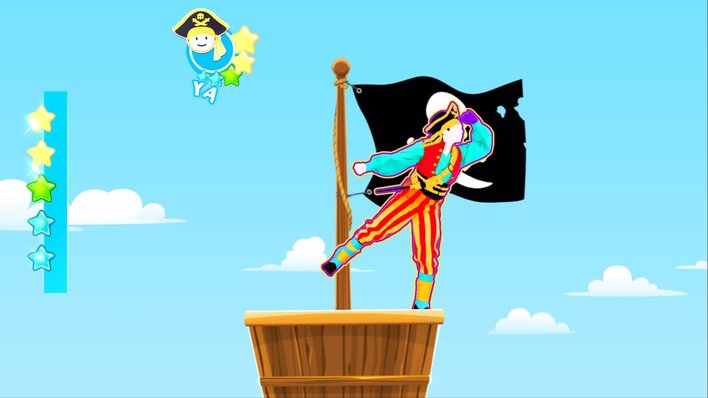 Just Dance 2019 Song List: Our predictions
Seeing as we don't have a complete song list just yet, we've put our sleuthing hats on to have a think about which tracks are likely to come up, which songs are almost guaranteed to come up, and the tunes we'd like to see on our favourite dancing game. Without further ado, here's our pick of the charts - be sure to let us know what you think in the comments!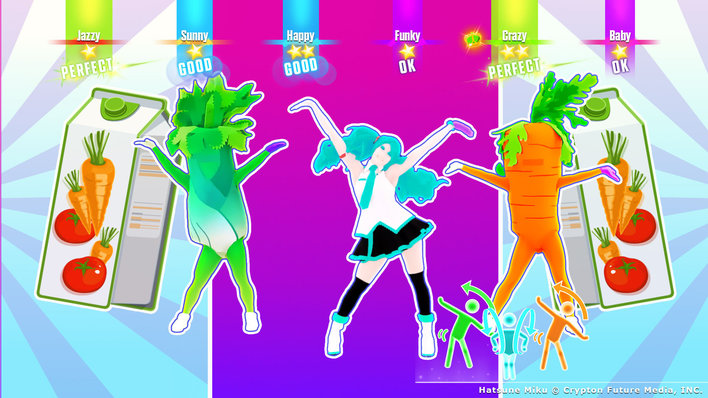 Queen
A popular band for the old favourites that act as a good counterpoint to all the chart hits, Queen have had a fair few of their biggest tracks on Just Dance games already - 'Don't Stop Me Now' on Just Dance 2017 and 'Another One Bites The Dust' from Just Dance 2018 for example. But that doesn't mean we're all Queen-ed out, as the likes of 'I Want To Break Free', 'Killer Queen' and 'We Are The Champions' haven't appeared just yet. In fact, we can imagine a pretty funky choreography for 'I Want To Break Free', in a similar vein to Freddie Mercury's infamously dragged up video - you could even have an unlockable alternate choreography as 'I Want To Break Free: Vacuum Version'.
Shakira
Given that Ubisoft like putting a) Shakira songs and b) non-Engligh language tracks into Just Dance, some tracks from Shakira's recent latin album might kill two birds with one stone - so maybe 'Perro Fiel', 'Me Enamore' or 'Trap' might make it on to Just Dance 2019. Or perhaps they'll go for her debut hit,'Wherever, Whenever', which has yet to make it onto the game, weirdly enough.
Bruno Mars
Given that biggies like 'Uptown Funk', '24K Magic' and 'The Lazy Song' have already been in Just Dance games (Just Dance 2016, Just Dance 2018 and Just Dance 4 DLC respectively),  which of Mr. Mars' hits could be next is a bit hard to call. So, we'd pick something else off his most recent album, perhaps 'That's What I Like' or 'Finesse' - although older hit 'Grenade' is also a possibility.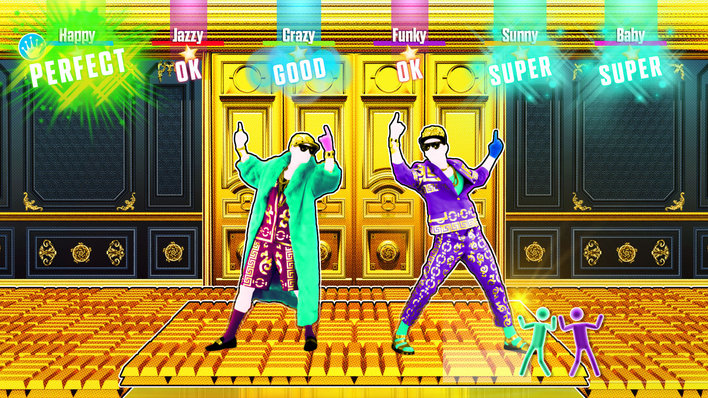 Beyonce
As her new album is a bit of a concept one, with a hell of a lot of random spoken word sections, we're not sure there's that many Just Dance-able tracks on there, save recent single 'Formation'. However, Beyonce certainly has a number of older tracks that have yet to hit a Just Dance game, such as 'Halo', 'Irreplaceable' and 'Best Thing I Never Had'.
Demi Lovato
Another lady who's got a fair few Just Dance tracks under her belt, our Demi Lovato picks are taken straight from her most recent album - perhaps 'Sorry Not Sorry' or 'Tell Me You Love Me', both of which would work well on the game.
We also wouldn't be surprised to see one (or more) of the following:
Taylor Swift
Surprisingly, Tay-Tay has never been on a Just Dance game yet - and it's not as if she's not popular enough either. For her Just Dance debut, we imagine Ubisoft would pick one of her biggies, like 'Shake It Off', 'I Knew You Were Trouble' or 'We Are Never Getting Back Together', although recent single 'Look What You Made Me Do' is another possibility.
A Disney Song
Another Just Dance tradition of recent years is to have a Disney song or two thrown in for good measure - like last year's 'How Far I'll Go' from Moana. In a similar vein, we wouldn't be surprised to see a song from recent Day of the Dead-inspired Coco (maybe 'Remember Me' or 'Un Poco Loco'?), or perhaps an old favourite from Beauty and the Beast, given the recent live-action remake. 'Belle' is one possibility, as is 'Tale As Old As Time' for a slow, romantic dance for two - unfortunately, 'Be Our Guest' has already been done on Just Dance Disney Party 2, so is unlikely to make another appearance. However, our pick would have to be 'Gaston', as a bit of a silly song, full of muscle flexes and other manly moves.
A Dodgy Christmas and/or Halloween Themed Song
Just Dance games often have a couple of seasonal offerings, of varying quality. For example, Wham's 'Last Christmas' from Just Dance 2017 is a good one, while Big Freedia's 'Make It Jingle' from Just Dance 2018 was not.
With the sad news of Avicii's recent passing, a track from the late DJ might be another possible inclusion for the track list - especially as Wake Me Up was one of the most popular tracks on Just Dance 2015. Possible contenders include 'You Make Me', 'Broken Arrows' or 'Lay Me Down'.
And, as a random final pick, we'll go for Jason Derulo ft Nicki Minaj & Ty Dolla $ign - Swalla, as it combines two Just Dance favourite artists in one song, making it a perfect fit with Just Dance 2019.
How did we come to learn about Just Dance 2019?
Back when Just Dance 2019 was just a glimmer in the eyes of dance-loving journalists everwhere, we did our own bit of sleuthing and stumbled on a few interesting tit bits that suggested it was in the works, or at least in Ubisoft's mind. It's worth noting that this will be the tenth main-line Just Dance title, marking ten years since the humble series began - and with gaming companies always loving a good anniversary, perhaps we can expect Ubisoft to do something special with this iteration.
Though Ubisoft themselves had been very quiet on the Just Dance front for a while, the dancing franchise was clearly a series that still matters to them, with Just Dance Unlimited, their subscription streaming service for extra songs, still very much being updated, with new songs added on a regular basis. More interestingly, Ubisoft hosted a Just Dance-themed party for one of their developers (the studio formerly known as Reflections, up in Newcastle), with entertainment provided by the dancing agency Encore Dance Entertainment. Fact fans might be interested to know that's the same dance agency that were involved in the auditions for Just Dance 2014 - although no adverts for Just Dance 2019 dancers made an appearance this time.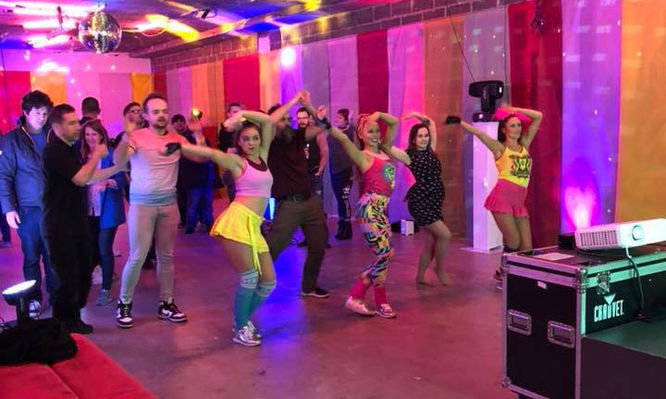 In Conclusion
Though the game's expected release may still be a good few months away, it can't be long until we know more about Just Dance 2019, with the first few snippets revealed at June's E3 conference - and a release due in October. We'll be updating this article as and when new information comes out, so make sure you keep checking back for all your Just Dance 2019 gossip!