Seasons are a new idea for free-to-play tank fest Armored Warfare. Rather than rolling out incremental updates with the odd tank here and there, studio Mail.ru have instead had the idea of grouping everything together into themed - and excitingly, story driven - mega updates called Seasons.
Play quizzes, win prizes! Test your knowledge with our quizzes, and you could win £/$/€ 20 of PSN/XBL/eShop/Steam credit!
After much anticipation, the first official Season for Armored Warfare, known as Black Sea Incursion, launches today on PC, with further updates adding new and additional stuff as the season progresses - and here's all you need to know.
What's new for Black Sea Incursion?
Arguably the biggest new addition for Armored Warfare's first Season is its all new story missions, which come under the banner of the game's Special Operations. Letting a team of up to five players blast their way through a story driven mini-campaign, the Black Sea Incursion story picks up the tale in Georgia. With private military contractors being hired by corporations to do battle on their behalf, the Black Sea story tells the tale of Magnus Holter, a war criminal, as he explains the mystery of his past.
What you really need to know is that there are now three brand new, co-op, story driven missions available for you and your team to play through, each with two difficulty levels, and with a host of rewards on offer. More missions are expected to go live as the Season continues.
What new vehicles come in the Black Sea Incursion update?
New vehicles are at the heart of any update, but at the moment, Black Sea Incursion offers just one - the Kornet-EM, a Tier 10, four wheeled vehicle that's sadly not an armoured ice cream cone, but is essentially a jeep with two massive four-cylinder rocket launchers strapped on top (ah, Russia). Firing guided anti-tank missiles, and as currently the fastest vehicle in the game, it's easy to see why this sits at the top of the tech tree.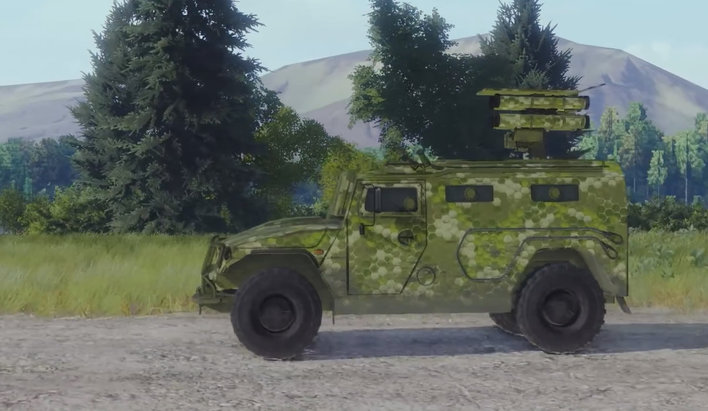 What makes the Kornet-EM unique is that it comes with two different modes of fire. For maximum damage, you can play with both rocket launchers popped up on top, meaning you can fire off all eight rockets within about 11 seconds, although you can only fire in a roughly 90 degree arc in front of your vehicle. For greater manoeuvrability, however, you can retract the one rocket launcher pod, giving you a 360 degree arc of fire - great for firing when on the move. However, with just 5mm of armour all round, this is the very definition of a glass cannon - and while you can change mode during battle, you can only swap once every 30 seconds.
Sadly, the long awaited (and long promised) Israeli main battle tank line still has yet to make an appearance - although we have been promised that it is still coming soon, and will be part of the ongoing Black Sea Incursion season. Unfortunately, those of you who've been holding out for a Super Sherman will have to wait a little bit longer yet.
What are the new Contract Missions, and how do they work?
One of the more involved upgrades for Black Sea Incursion, Contract Missions are essentially a series of linked objectives, giving players a reason to keep coming back. With rewards including a free premium tank on the line for those who complete the Contract Mission "campaign", it's well worth trying your luck at.
At the moment, just one series of Contract Missions are available, with the series itself being divided into three stages. In order to clear each stage, you'll need to earn a certain amount of stars, with tougher objectives rewarding you with more stars. Mixing together challenges that take in Player vs Player, Global Operations and Player vs Enemy modes, the game's official website provides a sample selection of missions, to give you an idea of the flavour they're going for:
Example Stage 1 mission: Destroy 1 vehicle in PvP while driving a Main Battle Tank
Example Stage 2 mission: Destroy 3 player vehicles in GLOPS and win
Example Stage 3 mission: Win, deal at least 10,000 damage and receive at least 10,000 potential damage (damage prevented by armour) in a single PvE battle
What changes can we expect in the Global Operations mode?
Global Operations is arguably Armored Warfare's flagship mode, mixing real players, AI players, and a wide variety of objectives, powers, and systems to create one heck of a battlefield. Due to the scale and complexity, this is usually only available to those playing at Tier 5 or higher - but with the Black Sea Incursion update, newer players can get in on the fun too.
Offering a more limited selection of maps, and a more streamlined approach to objectives, players can now start playing Global Operations - albeit in a stripped down form - from Tier 1, as the developers hope to create a kind of interactive tutorial mode for Global Operations proper. As you unlock higher tier vehicles, you'll in turn get to play on more complex Global Operations maps, with the most complex maps being reserved for those playing at the highest of tiers.
Will Seasons be coming to PS4 and Xbox One?
Yes they will - but perhaps not for a few months. Unlike World of Tanks, Armored Warfare on console is kept at more or less a "delayed parity" with the PC version, with the game getting all the same updates as the PC version, only consistently running a few months behind. So while the Black Sea Incursion isn't out on console yet, it will be launching at some point in the near future.