The LEGO games may have moved on a lot since the original LEGO Batman game of 2008 - there's voices now, for starters - but it's still one of the LEGO games we remember most fondly. A Christmas present a few short months after we'd bought the Xbox 360, it was (give or take) the first LEGO game we'd played, and the one that made us fall in love with its light-hearted, silly, slapstick style. Arguably the best part of the LEGO Batman package was that, once you'd finished the game as Batman/Robin, you could play through the story all over again, this time from the side of the villains - which was a lot of fun, and one of the features that made it a bona fide fan favourite. Sadly, it's also something developers Traveller's Tales haven't really dabbled in since - but the latest announcement from the house of LEGO, LEGO DC Super-Villains, looks set to change that.
Play quizzes, win prizes! Test your knowledge with our quizzes, and you could win £/$/€ 20 of PSN/XBL/eShop/Steam credit!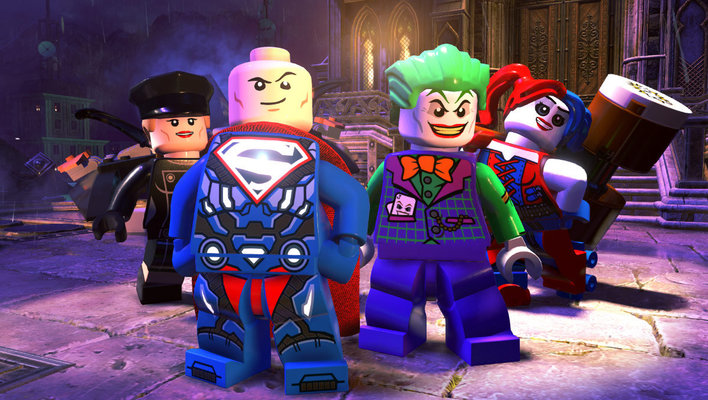 What is LEGO DC Super-Villains?
The next addition to the extensive stable of LEGO-themed games, LEGO DC Super-Villains brings some bricktackular bad ass-ery to the franchise, putting you in the shoes of villains from the popular DC comic book universe. In a story that flips the usual DC universe on its head, you'll meet with memorable villains and play through notable DC locations, beating up bad guys (and they really are bad guys, as we'll see later), smashing up scenery and solving simple puzzles, all in traditional LEGO style.
What's the story in LEGO DC Super-Villains?
Promising a "hilarious and original story written in collaboration with DC", LEGO DC Super-Villains is set in a world where the Justice League has disappeared, and Earth's protection has fallen to a new group of heroes from a parallel universe - the self-proclaimed Justice Syndicate. Playing as the renowned DC Super-Villains from the 'Legion of Doom', the idea of having a whole new band of do gooders in town obviously has you worried - but then, you discover that these new heroes may not be quite what they claim...
As the leader of the Legion of Doom, it's up to you to bring together your band of misfits and lawbreakers, as you join forces to thwart the evil plans the 'Justice Syndicate' have up their sleeves. Because there's only room for one band of bad guys in this game, or something.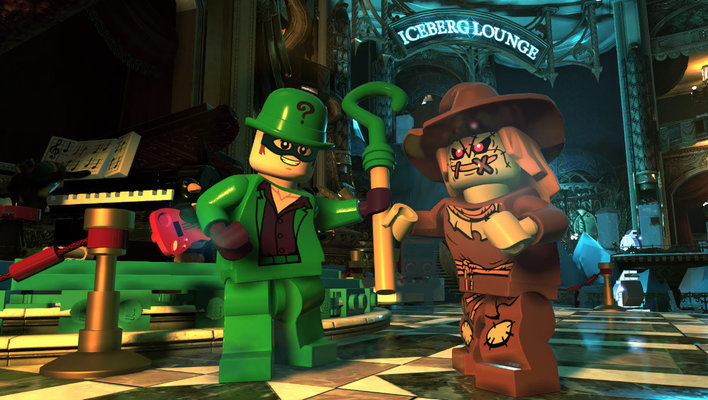 Having done a bit of digging, and based on the appearance of many of the characters shown in screenshots and the reveal trailer, we wouldn't be surprised if the 'Justice Syndicate' from another dimension is actually the 'Crime Syndicate' of Earth 3. For those not so well versed in DC Universe lore, they're a team of evil counterparts to the Justice League, which explains why, at first glance, the trailer seems to have the familiar faces of Superman, the Green Lantern and Cyborg - only if you look closer, you'll notice their emblems, colour schemes and the like are all subtly different. We'd hazard a guess that, story-wise, you're looking at a kind of heroes-actually-turn-out-to-be-bad-guys angle, and the DC villains have to out-villain the real villains to save the day.
Creating your own villain is a big part of LEGO DC Super-Villains
In a bit of an unprecedented move for the folks at Traveller's Tales, the create-a-character mode is more than just a nice additional touch here - it's actually essential to the story, as the whole plot will revolve around the character you create. When starting the story mode, you'll be prompted to create your own unique villain, and as you progress through the game, you'll unlock new abilities, powers and customisation options, letting you tweak your villain as you see fit.
Pretty much every LEGO game since the beginning of time has had its own character creator, but it was mostly just a fun little extra to mess around with - so the idea of putting them front and centre in the story in DC Super Villains is certainly an interesting development. Suddenly, the massive overhaul of the character creator that came with the recent LEGO Marvel Super Heroes 2 makes sense, and was perhaps a bit of a testing ground for a new, more creation-centric approach.
Which characters will be in LEGO DC Super-Villains?
Based on the announcement trailer and accompanying screenshots, the following characters have so far been confirmed for LEGO DC Super-Villains, many of which are based on the alternate universe evil counterparts to the Justice League, the Crime Syndicate (whose name is suspiciously similar to the 'Justice Syndicate' mentioned in the LEGO DC Super-Villains story):
The Joker
Harley Quinn
Lex Luthor
The Riddler
The Scarecrow
Wonder Woman
Poison Ivy
Brainiac
Gorilla Grodd
Darkseid
Deathstroke
Livewire
Mercy Graves
And as for the potential Justice Syndicate/Crime Syndicate members: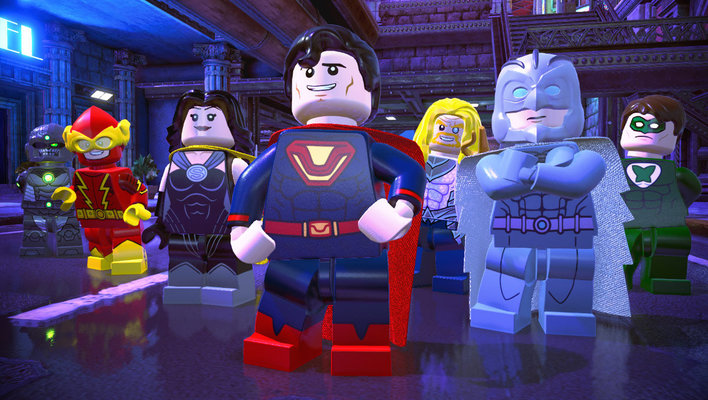 Ultraman
Green Ring
Johnny Quick
Grid
Sea King
Owlman
Reverse Flash
Superwoman
Is there going to be a Season Pass for LEGO DC Super-Villains, and what will be in it?
Currently, all we really know is that there will be a Season Pass for LEGO DC Super-Villains - but what it will contain is mostly a mystery. However, in the reveal press release, there are references to two separate character packs, as follows:
DC Super-Villains: TV Series DLC Character Pack
Justice League Dark DLC Character Pack
Are there going to be any special versions, pre-order bonsues or deluxe editions of LEGO DC Super Heroes?
In a word, yes! A Deluxe Edition of the game is planned, which includes the main game and all the Season Pass content, as well as early access to the aforementioned DC Super-Villains: TV Series DLC Character Pack. An exclusive Lex Luthor Superman LEGO minifigure will also come with all physical versions of the Deluxe Edition, while those opting for a digital download version of the Deluxe Edition will get the Justice League Dark DLC Character Pack instead.
LEGO DC Super-Villains - Release Dates and Platforms
LEGO DC Super-Villains will be hitting the Playstation 4, Xbox One, Nintendo Switch and PC (via Steam) later this year, on the 19th October 2018.
---
And that's your lot so far! Given that the game has only just been announced, and that the release date is six months or so away, we're imagining plenty more information will creep out of the woodwork in the coming months, so stay tuned! In the meantime, why not hype yourself up a bit with the fun reveal trailer below: