Now the advent calendars are being opened, presents are being wrapped, and the trees are lighting up for Christmas, the most wonderful time of the year is just a few weeks away - and if you've got any little gamers in your household, you're likely wondering what games are worth buying. And no wonder - with so much choice out there, it can be really tricky to know what's a Christmas cracker, and what's a Christmas crapper. Luckily, we've played almost every major new release this year - and we've come up with a handy list of recommendations for each age group.
Play quizzes, win prizes! Test your knowledge with our quizzes, and you could win £/$/€ 20 of PSN/XBL/eShop/Steam credit!
For more on each pick, be sure to check out our trusted parent's guide for each game, which give parents everything they need to know in a handy bite-sized format. Every parent's guide also includes our revolutionary EPAL rating, which gives games a rating based purely on its complexity alone. Taking into account everything from the amount of reading involved, to the simplicity of controls; from the frequency of save points to the adjustable difficulty level, we roll almost everything a child may struggle with into one easy number, so you can be sure your child will actually be able to do the game you're buying.
So, without further ado, here's our list of the very best games for each age group this Christmas - "for the youngest", 5-7, 8-10, 11+, and a few picks for the moms and dads. As always, be sure to check out our easy family Game Finder for many more great suggestions!
For the youngest
Mike the Knight and the Great Gallop and Fireman Sam: To The Rescue
Available on: 3DS
Choosing games for the youngest of children can always be something of a challenge. If your child isn't yet the strongest of readers, that automatically rules a lot of games out - but there are some great picks out there if you know what to look for. On the 3DS, both Mike the Knight and the Great Gallop and Fireman Sam: To The Rescue are TV tie-in mini-game collections aimed at squarely at the youngest of players. Taking you through a TV-style storyline, your child will get to play a selection of nine simple mini-games, from easy matching games like pairs, through to slightly more complex games, like one where you control what's essentially a trampoline, and have to bounce an object (in Fireman Sam's case - a cat!) from one side of the screen to the other. Easy to pick up and play, fully voiced, with simple controls and a cheap and cheerful price tag, these are great picks for the little 'uns. Perhaps the only thing we should note is that the two games do share roughly half their mini-games with each other, only character swapped.
> Read our full Mike the Knight Review
> Read our full Fireman Sam: To The Rescue Review
> Read our Parent's Guide to Mike the Knight and the Great Gallop
> Read our Parent's Guide to Fireman Sam: To The Rescue
Buy Fireman Sam: To The Rescue from Amazon.co.uk
Buy Mike the Knight and the Great Gallop from Amazon.co.uk
Ages 5-7
LEGO Star Wars: The Force Awakens
Available on: PS4, Xbox One, Xbox 360, PS3, PS Vita, PC, Wii U and 3DS
LEGO Star Wars: The Force Awakens is, quite simply, one of the best LEGO games ever made, and is easily up there with our favourite games this year. Bringing the same winning LEGO formula, and polishing it to perfection, LEGO Star Wars lets you and a friend play through a plastic-y retelling of the events of the blockbuster film, all told in a traditionally slapstick style.
With gameplay that sees you either beating up baddies, solving simple puzzles, or smashing up anything that looks even slightly LEGOy, before rebuilding into something useful at the touch of a button, what makes LEGO Star Wars stand out is its sense of humour. From the disguise machines that litter the levels, which let you put Chewbacca in a Princess Leia haircut, to the co-op vehicles you can ride around the game's open world hubs, which somehow let the film's legless droid hero BB-8 drive, this is a real tour de force of what makes a LEGO game great, and comes incredibly highly recommended. After all, this is a game that lets you and a friend man the turrets on the Millennium Falcon - it doesn't get much cooler than that!
> Read our full LEGO Star Wars: The Force Awakens Review
> Read our Parent's Guide to LEGO Star Wars: The Force Awakens
Buy LEGO Star Wars: The Force Awakens from Amazon.co.uk
Buy LEGO Star Wars: The Force Awakens from Amazon.com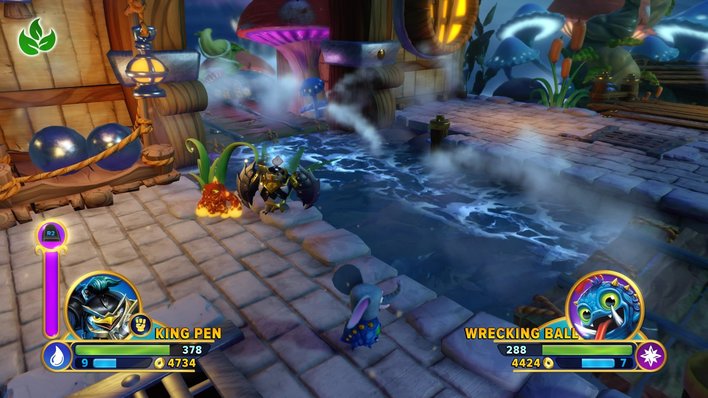 Available on: PS4, Xbox One, Xbox 360, PS3, Wii U
The best toys-to-life game out there, Skylanders Imaginators builds on the successes of the prior instalments, and adds a whole bunch of new features. The concept here is simple - by placing your real life Skylanders toys on the bundled "portal of power", you get to play as that character in game, and take on a co-op adventure that'll see you fighting to stop the dastardly Kaos from taking over the Skylands once more.
Not content with simply rehashing the old formula, Imaginators brings with it one heck of a new feature - the ability to make your very own Skylanders from scratch. By placing a "creation crystal" on the portal (you get one in the pack), you can use the game's extensive character creator to piece together your very own hero, part by part. Letting you determine absolutely everything about your character, from the size of various body parts, to the weapons and moves your Skylander will use, easily the highlight here is the ability to create your very own catchphrase, choosing from a number of "beginnings" and "ends". Our currently cries "Make way for!" "....Nothing!" in a cowgirl accent. It really is a lot of fun - and co-op out the box too. If you're playing on PS4, keep an eye out for the Crash Bandicoot special edition, which comes with two extra characters in the box, and gets you access to an extra level which is otherwise sold separately.
> Read our full Skylanders Imaginators Review
> Read our full Parent's Guide to Skylanders Imaginators
Buy Skylanders Imaginators from Amazon.co.uk
Buy Skylanders Imaginators from Amazon.com
Ages 8-10
Available on: PS4, PS Vita
If you love the creative freedom of games like Minecraft, but wish it had a little bit more of a story, then Dragon Quest Builders could be right up your street. A world-building adventure, this is a game is set in cutesy fantasy world, where a nasty demon lord has stripped the entirety of humanity of its ability to build - everyone, that is, apart from our hero.
As the only person in the entire world who knows how to actually make things, it's up to you to venture across the blocky world, helping its residents out by building the things they really need, from cosy homes to fully functional sick rooms where they can recuperate. Driven by quests and story, you'll visit various destroyed towns, gather resources, and use them to craft buildings of your own design, turning a pile of rubble into a gorgeous city, complete with houses, stylists - and, most importantly, defences, as you'll need to help them out when monsters attack too!
> Read our full Dragon Quest Builders Review
> Read our Parent's Guide to Dragon Quest Builders
Buy Dragon Quest Builders from Amazon.co.uk
Buy Dragon Quest Builders from Amazon.com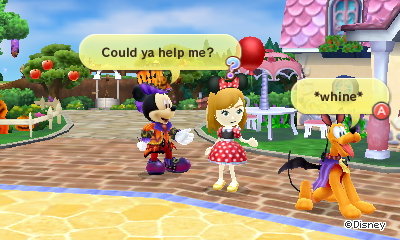 Available on: 3DS
If you've ever dreamed of living next door to Mickey Mouse, then Disney Magical World 2 could be the game for you. Essentially a "life sim" along the same lines as Nintendo's amazing Animal Crossing, Disney Magical World 2 sees you move into the village of Castleton, where you'll can start your new, and typically fantastical life. Letting you do everything from decorate your house, and choose a stunning outfit, to going on dungeon crawling adventures, and meeting your favourite Disney characters, this is a thoroughly family friendly lark.
Unlike other similar games, there's also plenty of structure here too. Generally speaking, your life in Castleton revolves around running the town's cafe, as you venture out into nearby Disney worlds to harvest ingredients, before making them into food and drinks to sell in your cafe. As you've done all the hard work, you also get to keep the money you make, which you can then spend on furniture, outfits, accessories, and much more. With an in-game achievements system that sees you earning stickers for completing certain objectives, from throwing themed parties, to greeting a certain number of villagers, or creating a certain number of outfits, there's plenty to keep you coming back for more. Free form, and with little to really "fail", this is a great pick for kids.
> Read our full Disney Magical World 2 Review
> Read our Parent's Guide to Disney Magical World 2
Buy Disney Magical World 2 from Amazon.co.uk
Buy Disney Magical World 2 from Amazon.com
Age 11+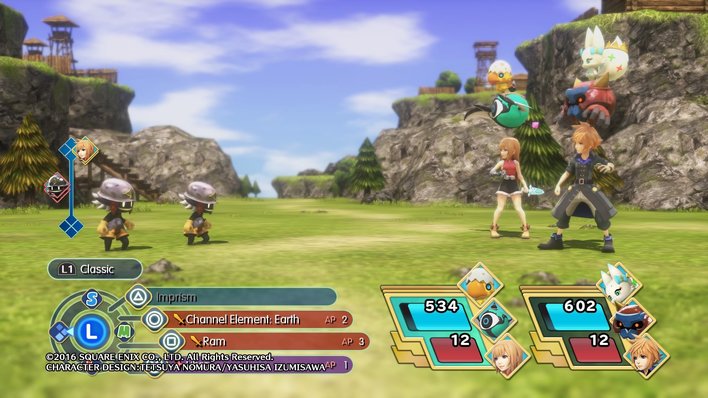 Available on: PS4, PS Vita
World of Final Fantasy is a light-hearted role-playing game that packs in all the fun and exploration of a traditional Final Fantasy game, and makes it accessible to a younger audience. Mixing the traditional turn-based battles of a Final Fantasy game with the monster collecting of Pokemon, the game follows the stories of twins Reynn and Lann, who awake in a distant land to find they've lost their memories. Taking control of the twins, it's up to you to help them recover both their lost memories, and their lost 'Mirages' - a wide range cutesy monsters that will help you along the way, whether you're summoning them in battle, harnessing their powers to solve puzzles, or simply hopping on their back for a quick ride around.
But perhaps the most remarkable element of World of Final Fantasy is its battle system - in keeping with Final Fantasy tradition, both you and your enemies take it in turns to attack, defend and sling spells - but World of Final Fantasy adds its own cutesy twist. You see, each of the Mirages you befriend during your adventure comes in one of three different sizes - small, medium and large - and in battle you can choose to stack one on top of the other to create three-person-high towers. Not only does piling up together give you three times the health, depending on the mixes of characters you choose, you'll have access to different powers in battle, adding an extra layer of strategy to the proceedings as you decide whether to stack like-spells to get a more powerful version or stick to a wider variety to cover all bases.
> Read our full World of Final Fantasy Review
> Read our Parent's Guide to World of Final Fantasy
Buy World of Final Fantasy from Amazon.co.uk
Buy World of Final Fantasy from Amazon.com
Available on: 3DS
Rhythm Paradise Megamix is a kooky musical rhythm action game that's sure to hit all the right notes this Christmas! Here, you'll find yourself catching pineapples, playing badminton whilst flying a plane, and plucking an onion's facial hair, all in time to the beat of oodles of catchy tunes.
Generally controlled with a simple button press or two, all you really need to do is hit the button at the right time and in the right rhythm - which is sometimes more of a challenge than it sounds! Whether it's pressing a button at the right moment to launch fruit through a basketball hoop, holding down a button and releasing to sing in time, or a simon-says style repeating-a-rhythm-back game in order to shoot down some space ships, it's a game which you really need to play with your ears rather than your eyes. There's even an oddball story mode tying it all together, as you work on restoring the 'groovy flow' to a number of mini-game-filled towers in order to blast a pink afro-ed space dog, Tibby, back to his home in Heaven World.
Seriously addictive, you'll find yourself constantly going back for 'just one more go', as you try your best to perfect each of the mini-games, and see what new, crazy game you'll unlock next!
> Read our full Rhythm Paradise Megamix Review
> Read our Parent's Guide to Rhythm Paradise Megamix
Buy Rhythm Paradise Megamix from Amazon.co.uk
Buy Rhythm Paradise Megamix from Amazon.com
For the parents...
Available on: 3DS
If you're anything like us, you'll love a good puzzle - and Picross 3D: Round Two is a flipping good puzzle game. Coming with the seal of approval from both our editor's mom, and our editor himself, it's a game that can cross generational boundaries - and one that's guaranteed to get the old grey matter ticking.
If you've ever played a picross game before, you'll be on familiar footing here - although the shift to 3D does make things a tad different. You start out presented with a huge cuboid composed of tiny blocks - and it's up to you to chisel away at those blocks to form a 3D model. Scattered across the monolith block will be a selection of numbers - and those numbers tell you how many blocks in that row/column need to be coloured in, and what colour you'll need to slap on them.
It may be tricky to explain, but once you've got your head around its intricacies, there's a huge amount of fun to be had here - and a genuine challenge too. Armed with only a block and some numbers, you'll need to rely on your wits, and a huge helping of logic if you want to make your way through the game's puzzles, and reveal the object that hides within. On the plus side, with no time limits, and no real penalty for making mistakes, you can take as long as you need to get it right - there's also a really helpful hint system if you do get stuck, and no penalty for using it!
> Read our full Picross 3D: Round 2 Review
> Read our Parent's Guide to Picross 3D: Round 2
Buy Picross 3D: Round 2 from Amazon.co.uk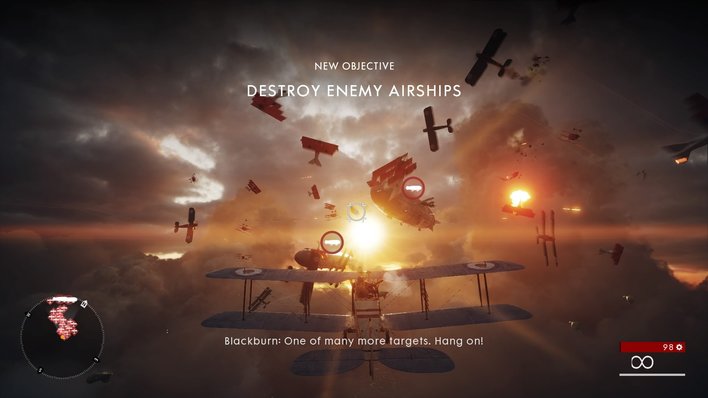 Perhaps a game that's more for the dads, Battlefield 1 is a thrilling trip back in time to the Great War, with an incredible single player story mode that puts you in the boots of a handful of the men who fought in it. From taking to the skies in a Bristol Fighter bi-plane, to manning the world's first tank as you trundle across the battlefield (and straight through people's houses!), this is a game that brings history to life in the most incredible of ways, and it's hard not to feel your adrenaline pumping as you sneak through the trenches under cover of night.
Pairing its fantastic story mode with a substantial multiplayer offering that'll let you and your friends man the gunner turrets on a plane, or all bundle into a tank together, Battlefield 1 is a game that practically churns out memorable moments. And while the online mode is far from easy to pick up and play (aimed squarely at experienced shooter players, there's next to nothing in the way of explanation as to what's actually going on), the single player mode is thankfully a lot easier to get to grips with. Much like that final episode of Blackadder, Battlefield 1 is a stocking filler that won't fail to move you.
> Read our full Battlefield 1 Review
> Read our Parent's Guide to Battlefield 1
Buy Battlefield 1 from Amazon.co.uk
Buy Battlefield 1 from Amazon.com