The end is nigh for Disney Infinity fans - this Friday, the 30th September, marks the beginning of The Great Switch Off, as the company begins a phased shut down of the game's online services (you can see the full timetable here). While the ability to upload your own levels will be taken away today, by far the biggest change is that all online and community features will be turned off as of the end of next March - meaning you won't be able to play online multiplayer, or download any community created Toy Boxes after this date. And as such, there are a few trophies, feats and achievements in each game that will be unobtainable in just a few months' time.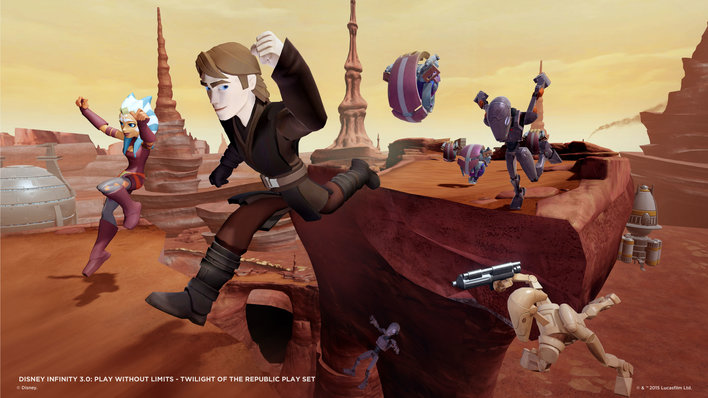 As such, if you're as much of a completionist as we are, you may want to take the opportunity to clear up the last few online-specific achievements, trophies and feats now, while you can, before they're rendered forever inaccessible by the switch off. We've rounded up a full list of the ones you'll want to make sure you've got, as follows.
Achievements/Trophies
Disney Infinity 1.0
It's a Party - Play a four player game
For this you'll need a friend (or four) - the minimum set up is two separate consoles, with two controllers each, two figures each, and two copies of the game, as only a maximum of two can play together on one device. Hook up with a friend by bringing up the start/pause menu, selecting the Online/Multiplayer option and choosing Invite To Game, making sure that you both have two characters in each game before you join up.
Acrobat - Stand on top of a stack of four characters
Once in a four player game, have one character pick up another to create a stack of two, then get a third to pick up the pair, before getting the final fourth player to lift the stack for a four player-high totem. Only the player on top will get the achievement, so make sure you all swap around until everyone's unlocked it!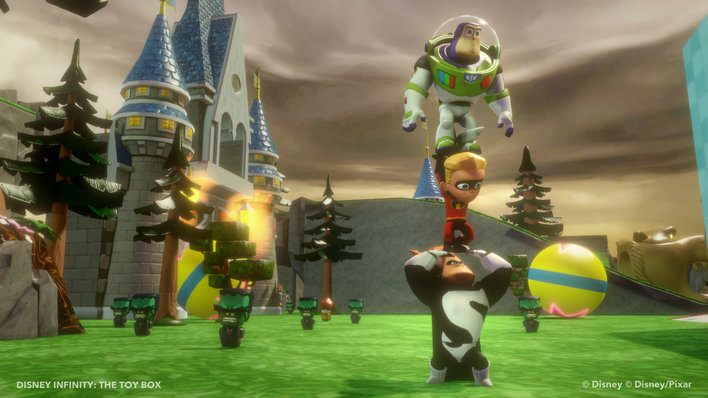 Disney Infinity 2.0
World Traveller - Download five user-generated games
From the main menu, scroll down to Community Content, then Disney's Toy Boxes and pick whichever of the categories takes your fancy, such as Developer Picks or Most Liked. Then, you simply download any five of the Toy Box creations found in there, and Bob's your uncle.
Toy Box Master/Maker - Publish your own Toy Box game
Much like above, from the main menu of the game, head to Community Content, then scroll down to the bottom, to Submit to Disney. From the list of your created Toy Boxes, pick the one you want to upload and voila. If you haven't stepped foot in the Toy Box creator yet, you'll need to do that and save your level before this one will work - and you could simply save and upload the default one if you're feeling particularly lazy.
All Four One - Play a four player game
As before, you need a minimum of four players split across two different consoles with two controllers each. When in a Toy Box, with both of your characters on the base and in play, bring up the start/pause menu and scroll down to Online/Multiplayer, then down to Invite Friends and pick your buddies from the list. They should make sure they have two 'players' in their game before they join too, and once you're all together the trophy/achievement should pop.
Disney Infinity 3.0
Outside Concessions - Play a downloaded UGC in the theater
Head to the Toy Box Hub, then down the pink path towards Main Street, and head through the pinky portal on the front of the golden El Capitan Theater, on the right of the fountain. Once inside, download and play one User Generated Content level (accessible via the posters/stands inside) to unlock the achievement/trophy.
Friendly Competition - Participate in an Arcade match
From inside the Toy Box Hub, go down the pink path to Main Street, and head to the left of the fountain, to the red brick Flynn's Arcade, opposite the El Capitan Theater. In the middle of the room are around half a dozen arcade machines where you can join other Disney Infinity players in a number of mini games. You don't have to win either - it's the taking part that counts for this achievement/trophy.
Arcade Ace - Participate in 10 Arcade matches
Simply play in Flynn's Arcade ten times, as above. Found on the left hand side of Main Street, head inside and boot up one of the arcade machines in the centre of the room to launch each match against random opponents online. And bear in mind you don't even have to win for this one, just join in!
Feats
For those with Disney Infinity 3.0, there's an extra layer of online-specific things in the form of a few of its Feats. These bonus objectives are entirely optional, and although there are achievements/trophies linked to completing a proportion of them, there are plenty more you can get in their place, should you miss them. However, if you're a bit of a completionist, the eight below will be forever unobtainable come Friday:
Disney Infinity 3.0 Toy Box
Flicking the Joystick - Play 5 Arcade matches
Nimble Thumbs - Play 15 Arcade matches
Killer Combos - Play 25 Arcade matches
Theatrical Visitor - Visit the El Capitan Theater
Featured Presentation - Play a featured Toy Box in the El Capitan Theater
Multiplex - Play 10 featured Toy Boxes in the El Capitan Theater
Disney Infinity 3.0 Toy Box Takeover
All Four One - Defeat a Toy Box villain with four players connected
Disney Infinity 3.0 Toy Box Speedway
Teaming Up - Complete a race with 3 other players
So don't forget to boot up your Disney Infinity games and get these last few achievements, trophies and feats before it's too late!
In fact, if you need a hand with getting any of the four player feats, trophies and achievements, we'll be holding regular sessions as the end approaches, to help you get the last few ones you're missing! We'll be putting a full post up on our Facebook/Twitter regarding the details tomorrow, so don't be shy - send us a message/comment/tweet, and we can exchange information to get you those last few bits!