At Outcyders, we've set out to create the internet's very best gaming quizzes. With mid-quiz leaderboards that let you compete with your friends, a persistent XP system that tracks your progress, and monthly giveaways, you'll be earning entries by simply playing quizzes, as everything you do, and every quiz you play counts. Here's how.
Play quizzes, win prizes! Test your knowledge with our quizzes, and you could win £/$/€ 20 of PSN/XBL/eShop/Steam credit!
Win Prizes
With every quiz you play, you'll earn XP. The better you do, the more XP you'll get, but you'll never leave empty handed, even if you totally flunk it. Not only does XP level up your profile, but every 100 XP you earn will net you a competition entry. With a maximum of 100 XP on offer in each quiz (or 25 XP for personality quizzes), if you really know your stuff, you could be picking up a new competition entry with every quiz you play.
The only thing to keep in mind is you need to log in for your quiz entries to count!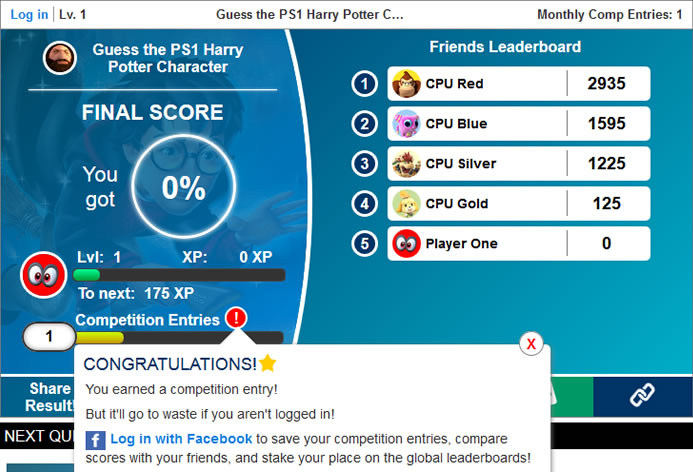 This month's giveaway
We don't have any big money sponsors at Outcyders, but we still want to give you something to play for. That's why we'll be giving away £/$/€20 of credit for a virtual store of your choice* each and every month. Whether you want to pick up a new Xbox game from the Microsoft Store, fancy having a flutter on an eShop game, have your eye on something on the Playstation Network, or want to tick something off your Steam wish list, all you have to do is log in, play some quizzes, and you could be in with a chance of winning. Entries tick over at midnight GMT on the last day of the month, when the winner will be drawn and your competition entries will reset to zero. If you win, we'll be in touch!
*It may not be possible to offer gift vouchers for all stores in all countries. We will try and stick to your preference where possible, but we reserve the right to offer a substitute of equal value.
Compete with Friends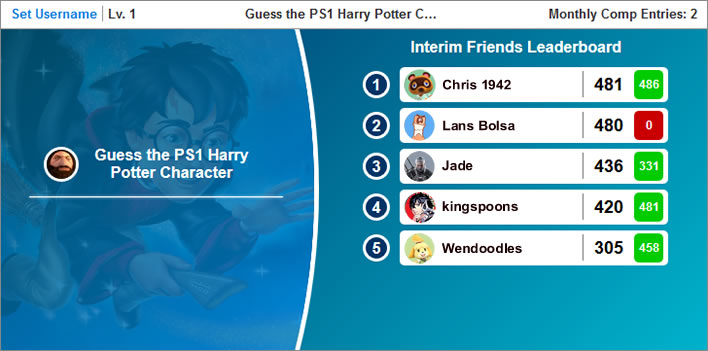 We all love knocking our friends off the top of the leaderboards - and now you can do it in our quizzes, too. All you need to do is log in with Facebook, and if any of your friends have played that quiz before, you'll see their scores as you play - including whether they got the answer right or wrong. Think you know more than they do? Can you knock them off the top of the charts? Only one way to find out - get stuck in.
If you don't have any friends who've yet played that quiz - don't worry! You'll be playing against AI characters instead - and no-one wants to lose to CPU Gold... Want to carry on playing against your friends? Be sure to check out the "Next Quiz" box below each quiz, where you'll be able to see which (and how many of) your friends have played each quiz.
But how do I choose which friends I compete with?
If you're anything like us, you might have a handful of close friends you really want to compete with. That's why we've added a way to choose your "preferred friends", letting you only play against - and compete with - the select few. Head over to your profile page, where along with the ability to set your profile picture and username (which will earn you an extra competition entry), you'll also find a list of all your friends who play our quizzes. All you need to do is click the friends you want to compete with (up to a max of 7), then press save, and the friends you chose will be the only friends you see in the leaderboards.
The Schedule
It's one thing to make a handful of good quizzes, but it's another thing entirely to keep that momentum going. We're not going to spam you with crappy clickbait - we want every quiz to be a quiz worth doing. That's why, to start off, we'll be running a minimum of three brand new quizzes every week, based around everything you can think of in the gaming world. From the latest releases to the retro games of yore, we'll test your knowledge in ways you never thought possible, with plenty of fun along the way - so make sure you keep checking back.
Stay in the loop!
For the best chance at winning (and to have the most fun!), you'll want to play as many quizzes as possible, so make sure you follow us on Facebook, Twitter, Tumblr, Pinterest, or even with RSS to be notified as soon as a brand new quiz goes live.
Having spent far more time than we probably should have developing the systems behind these quizzes, we're going to be working hard to keep coming up with new, cool, and innovative features that let you test your gaming knowledge, compete with your friends and win yet more prizes.
If you have any suggestions, feedback, or there's anything you'd like to see, please do get in touch, as we take every message on board.
In the mean time, happy quizzing!