As a great man once said, "Every puzzle has an answer" - and if your question was "what's next for the portable puzzling series, Professor Layton", then do we have an answer for you! Revealed at Japanese developer Level-5's recent 'Level-5 Vision 2016' event, where the studio outlined their plans for the next year or two, the team lifted the lid on a brand new Professor Layton adventure - except without the titular top-hatted scholar himself. Lady Layton: The Millionaire Ariadone's Conspiracy as it's called looks set to turn the series on its head in more ways than one when it hits the West late next year.
Play quizzes, win prizes! Test your knowledge with our quizzes, and you could win £/$/€ 20 of PSN/XBL/eShop/Steam credit!
Switching from everyone's favourite gentleman Hershel Layton to a new female puzzle specialist, by the name of Katrielle Layton, or Kat for short, Lady Layton looks set to kickstart a new chapter in the Layton legacy. Said to focus less on puzzle-solving and more on getting to the bottom of the multiple mysteries happening across London, it promises to be a faster paced and "more comical" addition to the series. Of course, puzzles are a key component of the Layton experience, and a whole host of new puzzles and brain-teasers are promised - as put together by an all new puzzle-making team - although it sounds like they'll take a bit more of a back seat to the story.
From the (Japanese) reveal trailer, we see young Kat pointing at various London landmarks, speaking with her talking dog side-kick, and accusing a parrot - as you do. Towards the end, we also see her setting up what appears to be her own 'Layton Detective Agency' in town, presumably to help tackle all these mysteries that keep cropping up. A handful of different-looking puzzles are shown too, which involve plotting a trajectory for a laser beam to take out four UFOs in a single shot, shuffling bunnies diagonally around a field to eat some flowers, and one that involves shooting numbered blocks with a series of cannons to make them disappear - as well as a less clear puzzle that involves Kat shining a torch on some chests.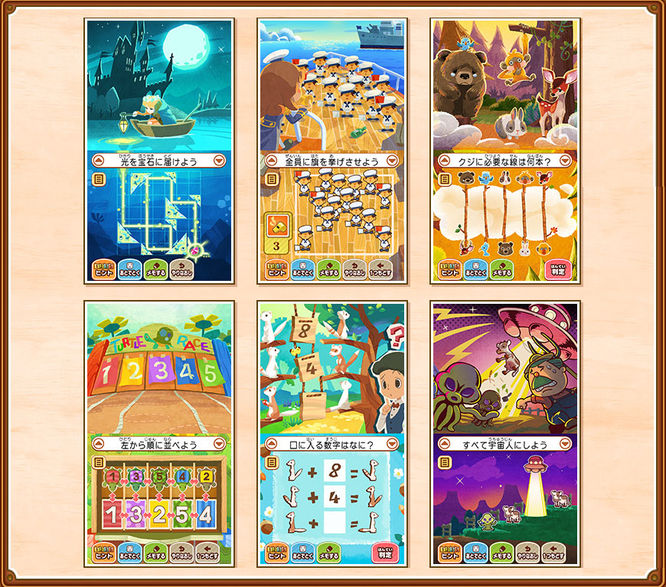 And speaking of puzzles, part of Level-5's reason for breaking off the Professor Layton series and starting again with a new protagonist is may well be a result of the death of the series' previous Puzzle Master, Akira Tago earlier this year. Having written all the puzzles for all the previous Layton games, it has been said that the entire series owes it's existence to the real-life puzzle professor - and now, the torch has been passed to a Kuniaki Iwanami instead. This means that we can probably expect a new take on the series' traditional puzzles, with the new lease of life bringing with it some new kinds of puzzles. It's a sad event without doubt, but adding a breath of fresh air to the traditional Layton puzzles will be no bad thing - the umpteen 'divide this awkwardly shaped piece of chocolate/land so that every sibling gets an equal share' puzzles, and ones which required you to shuffle Tetris-style pieces around to free a ball were both pretty common ones that started to grate after a little while. And not just because we have the spatial awareness of a dead fish, either.
Lady Layton: The Millionaire Ariadone's Conspiracy will be hitting Japanese 3DSes - and, weirdly, mobiles - in Spring 2017, with a Western release following later that year. Promising to be funnier than ever, with a fresh new set of puzzles and characters - and a motherflipping talking dog for a side-kick - we're more than a little hyped for this one! Why not check out the all-Japanese reveal trailer for yourself below: