While Skylanders Imaginators may have given you the freedom to make your very own Skylander, the character creation team at studio Toys for Bob have done more than just sit back and rest on their laurels, trusting that you'll do the hard character creation work on your own. In fact, perhaps sensing they had their work cut out for them, Imaginators launched alongside a wide range of cool Sensei figures - the latest brand new Skylander type - which in traditional Skylander fashion, you can plonk on the base to play as in game, as you take the fight to the evil Kaos. And the new figures just keep coming.
Play quizzes, win prizes! Test your knowledge with our quizzes, and you could win £/$/€ 20 of PSN/XBL/eShop/Steam credit!
For those keeping score at home, we're just about up to Wave 3 of the figure releases now - and with Christmas fast approaching, one of the hottest new releases amongst them is Bad Juju. A dreadlock clad, skull wearing, sword wielding mom on a mission, we have the UK exclusive details, shots, and gameplay footage of this cool new character.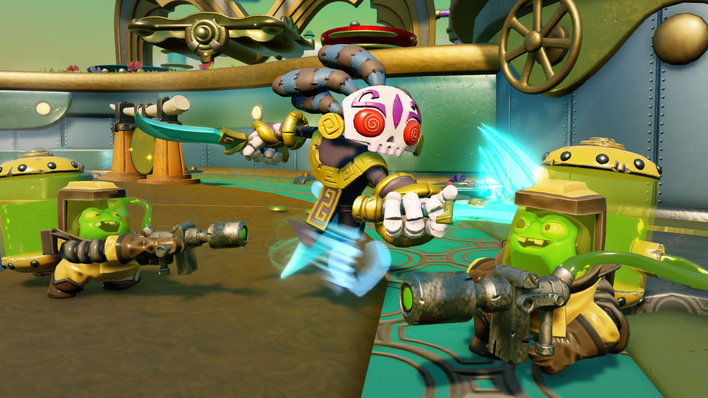 Those who've played Trap Team may be familiar with Bad Juju already, as she was actually one of the villains featured in the game. Found towards the latter half of the game, as the Golden Queen's right hand girl, Bad Juju was a character probably best described as something of a genie, or a witch - a powerful foe with a penchant for voodoo style trickery. Yet as with the other villains that have made their way across to Imaginators, for the new game, she's turned over a bit of a new leaf.
With a cool, translucent-liquid style base, Bad Juju has transformed into an air type Sensei of the Swashbuckler class, meaning she gets to dual wield a pair of equally cool see-through swords - although sadly, we don't think any of her will glow like the Creation Crystals. With bold colours, and an equally stand out design, though, Bad Juju is one of the nicest-looking Senseis we've seen so far (bar Chompy Mage, of course) - and she's got a bit of a sob story to boot:
Just like her name suggests, Bad Juju had always been bad. From her humble beginnings as a witch doctor, where she put curses on her patients instead of curing them, to being the Golden Queen's right-hand sorcerer, she had spent her entire life as a villain.  Being captured by the Skylanders didn't do much to change her attitude either.  At least, that was the case until the day she conjured up more than she bargained for - a son named Juju Junior.  That was when she finally decided it was time to come to change her lifestyle.  She didn't want to raise Juju Junior inside a prison thinking that his magical mother was a criminal.  So she asked Master Eon to give her a chance to be a hero instead.  As luck would have it, Eon was a looking for a Swashbuckler Sensei who could help train Imaginators the value of being good.  Not bad for Bad Juju.
In-game, Bad Juju looks set to offer yet another innovative combat style, as she actually plays alongside her son, Juju Junior. Taking the fight to Kaos' baddies using either her formidable dual swords, or by summoning giant lightning bolts to rain down from the sky, it actually looks like she uses poor Juju Junior as something of a lightning rod, sending him off into the midst of her enemies, before casting her bolts at him! That's one way to make sure her son behaves...
Bad Juju will hit shelves on the 28th November - or as it's otherwise known, next Monday! - as the latest in a long line of recent releases that have added to the Imaginators line up. With our personal favourite, Festive Chompy Mage hitting the shelves just a few days ago, there's a fantastic range of Imaginators out there - so why not check out our complete list of Skylanders Imaginators characters, and find your favourite! For more on Imaginators, be sure to check out our full review, while parents can find all they need to know over on our parent's guide.