It's the news Skylanders fans have been waiting for - as of today, 10th March, Wave 4 of the new Skylanders Imaginators figures are available at all good retailers. With five figures in the line-up, Wave 4 brings with it a Tae Kwon Crow colour variant, two gorgeously coloured Easter figures, a giant mummy called Grave Clobber, and, most excitingly for us, Pain-Yatta.
Play quizzes, win prizes! Test your knowledge with our quizzes, and you could win £/$/€ 20 of PSN/XBL/eShop/Steam credit!
When Skylanders Imaginators first launched, there were two figures we desperately wanted. The first was Chompy Mage, particularly the Christmas themed Jingle Bell Chompy Mage - partially because he's the very best villain out there, and partially because the Christmas get up just suited him so well (for more figure pics and details of how he plays, be sure to check out our full Jingle Bell Chompy Mage review). The second, and arguably our most wanted of all the figures, was Pain-Yatta, a giant hippo type piñata villain-turned-goodie that's perhaps the most brightly coloured Imaginator of all time. Almost literally since the game launched, we've been counting down the days until we could add him to our collection - and finally, that day is here!
Launching today are five figures, two of which are brand new, and three of which are colour variants - although the Easter variants particularly are really, really swish. While we're hoping to bring you a full review of each over the next few weeks, in no particular order, here's a quick run down of what's out now:
Pain-Yatta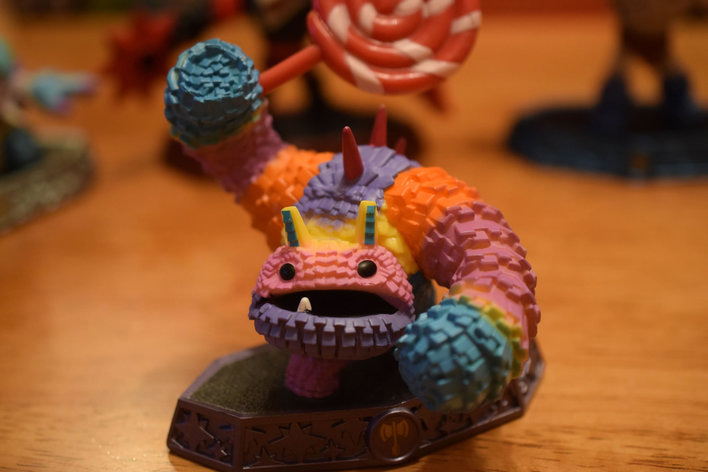 A giant rainbow hippo carrying a whopping great lollypop to whack things with, Pain-Yatta is easily one of the best looking, and most detailed Skylanders ever made. A smasher class magic Sensei, Pain-Yatta is 10/10, must buy.
Grave Clobber
Another brand new figure for Wave 4, Grave Clobber is a giant, almost Aztec inspired mummy that first appeared as a villain in Trap Team, before being reformed and striking out as a good guy Sensei for Imaginators. Grave Clobber is a water type brawler Sensei.
Egg Bomber Air Strike
The first of the Easter limited edition variants, Egg Bomber Air Strike was previously only available in the Gryphon Park Observatory level pack - but now you can buy him on his own. That's probably a good thing, as the level pack isn't all that easy to find nowadays. Egg Bomber Air Strike is an air type brawler Sensei.
Hard Boiled Flare Wolf
Easily up there as one of the best designed Imaginators, Flare Wolf has also been given a bit of a limited edition Easter make-over, ditching his usual firery red colour scheme in favour of pastel shades of blue, green, and pink. A fire type bazooker Sensei, we're still unsure if he's a fox or some sort of cat, but that rocket launcher still looks really, really nice.
Mystical Tae Kwon Crow
And last, but certainly not least, is Mystical Tae Kwon Crow - a colour variant of the previously released Tae Kwon Crow. While it may not be a very major palette swap, if you haven't already picked up Tae Kwon Crow, this Mystical variant could the perfect excuse to jump on board, as he's actually a really fun figure to play as. One of the stand outs amongst his moves is the ability to summon a giant, fat bird (and we literally mean giant - it's about ten times the size of you), that goes into battle and attacks enemies for you, thanks to a giant propeller on its head. While he may not look it, Tae Kwon Crow is actually one of the funniest characters to play as, and, for completion's sake, is a fire type ninja sensei.
---
While previous waves have been a bit hard to find, Wave 4 seems to have pretty good availability at most retailers - both GAME and Argos have the full range available, while Smyths are selling everything bar Grave Clobber (for some reason?) EDIT: They now have the full range. Even better, at Argos, most of the new releases appear to be in a 3 for 2 offer, letting you save money. Amazon have listings for Egg Bomber Air Strike, Hard Boiled Flare Wolf, and Pain-Yatta but none of the other figures. Tesco Direct also have listings for all the new figures, but at the time of writing, they're all down as coming soon - which they're most certainly not, as they're actually out TODAY!
So, if you were as keen to get your hands on Pain-Yatta as we were, now you've got no excuse. Leg it to your nearest retailer as quick as you can, and get your hands on the new Wave 4 figures while you still can! And for more on the latest Skylanders releases, be sure to give us a follow on a social media platform of your choosing using the buttons below!