Perhaps it was just us and our over active imaginations, but as kids we were forever trying to catch a glimpse of our toys coming to life, well before Toy Story cemented the notion in our heads. All too often we'd find toys in places we'd forgotten we'd put them, convinced that they must have found their way there on their own, and all too often we found ourselves sneaking upstairs as quiet as a mouse for a covert peek through a keyhole trying to catch them in the act, but to no avail. Still, that was in the days before handheld consoles could make the dream a reality, and now, this summer, kids everywhere can really bring their bears to life, with the help of Teddy Together, on 3DS.
Play quizzes, win prizes! Test your knowledge with our quizzes, and you could win £/$/€ 20 of PSN/XBL/eShop/Steam credit!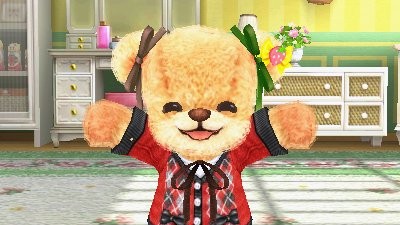 Following in the footprints of other virtual pet-style games such as Nintendogs, the story begins when a teddy bear is delivered to the player's house, along with a mysterious key. Things quickly take a turn for the magical when the bear springs to life and starts talking with the player - all you need to do next is give teddy a name of your choosing, and begin a tale of two newfound friends. Unfolding bit by bit each day, children will learn more about teddy, his purpose and the mysterious key that came with him, "making it an ideal interactive bedtime story that parents and young children can enjoy together", according to the press release. Although if you ask us, letting kids take their handheld consoles to bed is a recipe for restless nights, as our young cousin's late night Mario Kart binges proved…
Inquisitive by nature, teddy will often ask the player questions such as "What do you do for fun?", "How do you make friends?" and "What's your favourite food?", using the answers in later conversations to help build "a unique relationship between Teddy and the player". Combined with his cute reactions and "encouraging personality", Teddy is sure to bring a smile to any child's face, and worm his way into their heart. Kids can also introduce teddy to their friends, who can also have a go at answering teddy's questions, with their answers being brought up in later conversations too.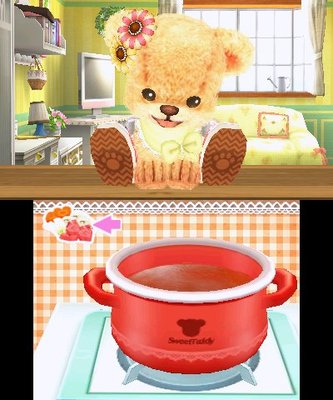 Like all the best people, teddy loves to eat, and as his chief carer/friend/slave kids can play various Touch Screen games to prepare food, then feed their creations to the hungry bear. Feeding your bear seems to come with it's own unique set of perils too, as food that's too hot could burn the poor guy's mouth (blow in the microphone to cool it down!), while paws aren't the cleanest of eating utensils either, often leaving ted in a bit of a mess after a good meal and in need of a good bath. Players can also dress teddy up in a wide range of outfits and accessories, and even switch the colour of his fur to create a truly unique bear. As you play, you'll earn coins that can be exchanged for more clothes, colours and seeds to plant in the garden - while bonus coins can be earned by tapping a compatible amiibo figure to the console once a day.
Teddy Together will be waddling onto 3DSes everywhere in a month's time, on the 1st July.