Here at Everybody Plays, we know finding games for your children can be tough. While they may be the first thing you notice on the box, the PEGI ratings are only good for judging the content, and don't give information about the difficulty, making it hard to find a game that you can count on being both good, and easy enough that your child will be able to enjoy it. That's why we've put together our official Family Christmas Gaming Gift Guides, which give you several recommended games for each age category. We've played every game we recommend below, so we can vouch for their quality, and their accessibility, giving them our seal of approval. So why not choose the age you're looking for below, and see what the Xbox 360 has in store!
Play quizzes, win prizes! Test your knowledge with our quizzes, and you could win £/$/€ 20 of PSN/XBL/eShop/Steam credit!
Jump to age:
Xbox 360 Christmas Gifts for a 3-5 Year Old
Sesame Street: Once upon a Monster
Cute, colourful, and full of fun, Sesame Street: Once Upon a Monster may be more than a year old now, but it's every bit as impressive as it was then. One of the best games for Kinect, Sesame Street is a game that takes your child on an adventure through a range of stories about (you guessed it) monsters - with all their favourite friends from the show making an appearance, from Cookie Monster to Elmo, and even Oscar the Grouch. Part interactive TV show (you'll find your child being prompted to wave, or say hi to the characters a lot), part simple mini-game collection, whether you're controlling Elmo dressed as a bee as he goes flying, throwing balls of rubbish into a bin, or simply choosing an outfit for one of the characters to wear, everything here is incredibly intuitive, and equally importantly, fully voiced. Keeping its target audience in mind, perhaps the most impressive thing here is that the game doesn't have one specific thing in mind it's looking for you to do - instead, it can adapt itself to suit. For example, when you're trying to make Elmo fly, and steer him left and right, whether you step to the side, tilt one arm higher than the other, or simply flap one arm harder, the game will interpret them all in the same way - it knows you're trying to move Elmo - and will react accordingly. While they may need a bit of help getting started, this is a game the little ones will love - although you will need a Kinect sensor to play, and your child will need to be over 3' 3" to be picked up by the sensor. For more on Kinect, see our set-up guide.
Get this if they like: Sesame Street, mini-games, muppets.
For more, read our review or for more on the suitability, read our Parent's Guide
Buy Sesame Street: Once Upon a Monster from Amazon
Kinectimals: Now with Bears
An updated version of Kinect launch title Kinectimals, Kinectimals: Now With Bears is essentially a virtual-pet-come-mini-game collection that lets you pick a furry companion from a selection of big cats and bears - from tigers and pandas to grizzlies and leopards. With incredibly realistic (and well animated) pets, Kinectimals is a game that can feel like magic to children, as they see their new friend bound over to say hi, and realise it'll respond to both their voice, and their gestures. Besides letting you hold your hands out and tickle your happily purring tiger cub behind the ear, there's tricks to teach, obstacle courses to run and catch to play, as well as fishing mini-games, climbing trees, digging for buried treasure, driving a remote control car and many, many more, all controlled through simple body gestures tracked via Microsoft's Kinect sensor. As you and your furry friend bond, new areas of the island begin to open up too, giving you more and more mini-games and toys to play with, while the whole thing's tied together by a vague 'explore the island to find the buried pirate treasure' story. Designed with little kids in mind, it's hard to get truly stuck here, and with a full voice over provided by the little fairy/ferret-type creature that pops up from time to time to lend a hand, there's no reading required either - but this is one that's still probably better for the older end of the age bracket. You'll need a Kinect sensor in order to play this one, and as with all Kinect games, your child will need to be taller than 3' 3" to be reliably picked up by the sensor.
Get this if they like: Cute furry animals, Nintendogs, hugs from tigers.
For more, read our full review of the original game, or for more on the game's suitability, read our Parent's Guide.
Buy Kinectimals: Now With Bears! from Amazon
Just Dance Kids 2014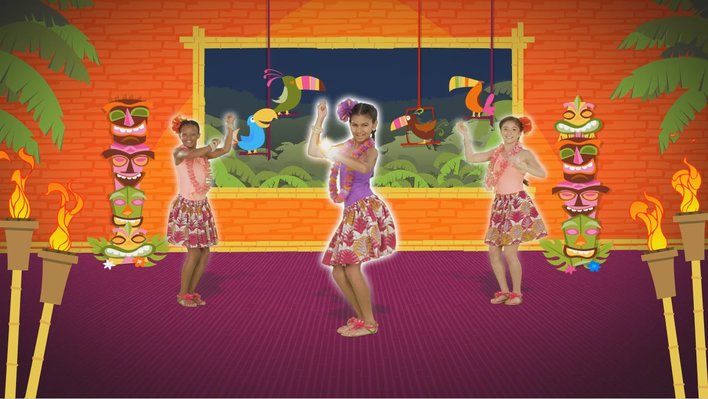 Perfect for the little ones who want to join in with Just Dance 2014, but may find the routines that little bit too challenging, Just Dance Kids 2014 takes the same winning formula and swaps in some child-friendly songs, simplified dance routines and a few different modes to create a game aimed at the youngest of the young. With a definite kids TV bias, the song list is a mix of Disney Channel and Nickelodeon favourites Selena Gomez, Victorious and Yo Gabba Gabba, alongside a selection of nursery rhymes and covers of famous songs, from Pat Benatar's 'Hit Me With Your Best Shot' to 'Walking On Sunshine' by Katrina and the Waves. The simple premise of the game makes it easy even for little ones to pick up and play - all your child has to do is choose a song, and then copy the (often cheesy, silly or over the top) moves of the dancers shown on screen to score points. As another motion game, you will require Kinect to play this one, and with support for up to four people playing at the same time, it's possible the dance floor could get pretty busy at times, too - so you'll need to make sure you have plenty of space to play in too.
Buy this if they like: Dancing, songs from kids TV, flailing
Buy Just Dance Kids 2014 from Amazon