Stop it, Skylanders. You had us already. We thought we'd resisted your charms for long enough, but then Swap Force was the game that finally broke us. All it took was a drop in price to £20, and we were hooked. Suddenly, we understood. Since then, we'd dread to think the amount we've spent on Skylanders - and the latest game in the series, Trap Team, looks set to drain our wallets all over again.
Play quizzes, win prizes! Test your knowledge with our quizzes, and you could win £/$/€ 20 of PSN/XBL/eShop/Steam credit!
It wasn't enough to release a whole new game with a rather intriguing portal. No, at gamescom, you decided to take the cute route instead.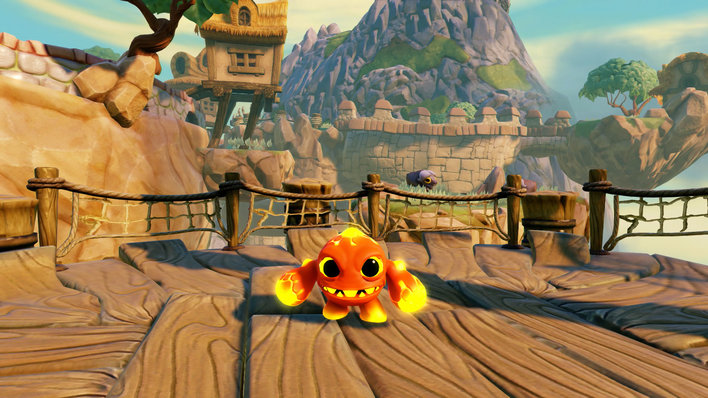 These are the Skylanders Minis, a previously unavailable-in-the-shops range of figures that have been given a massive revamp for Trap Team - and at the recent games show, gamescom, we got to go hands-on with them. While previously the only way to get the minis (previously called 'companions') was to participate in various contests, or go hunting on eBay, Trap Team marks the first time they'll be available to buy on their own - and we're not sure we'll be able to resist.
Coming in double packs for a price we've been assured will be less than the cost of a single Skylander (from the mouth of the President of the development studio himself, Paul Reiche - check out our Trap Team Interview for more), these are no nerfed figures - in fact, they may even have some advantages over their bigger brothers. Coming with exactly the same stats as the full size figures, and a fully upgradable move set, about the only differences are that a) these are smaller, so can avoid attacks a lot more easily, and b) are a heck of a lot cuter. They even come with puntastic names, too. I mean, just look at Weeruptor's big eyes. How can you resist a face like that?
But the minis are just one of the new features coming to Skylanders Trap Team - the latest in the "games to life" two player co-op action series. While the basics of the game remain the same - placing your real life toy on the bundled portal lets you play as that character in the game - there's a lot of new technology in the latest box of tricks.
As you can probably guess by the name, the big new feature this year is traps, which are integral to the game and the new portal itself. Essentially, traps are a new kind of toy you can buy (two traps - water and life - come bundled with the game), which let you "trap" special in-game villains inside. That's cool enough - but the best thing here is that, once caught, the villains have a change of heart, and can be used for good in the game. Fully playable, every villain you catch becomes a playable character in their own right - and you can switch between your Skylander and the newly-conquered baddie at any time.
Of course, there's a bit of a catch, as much like Skylanders, the baddies have an element of their own, and can only be caught in a trap of the right elemental type - so water villains can only be caught in a water trap, and life villains can only be caught in a life trap. Perhaps a bit worryingly, pricing has yet to be revealed for these traps, but with a much simpler design than the Skylander figures, we're hoping they'll be significantly cheaper - because as ever, the pricing of the figures and extras is hugely important for a game like this. But while not every type of enemy can be caught (it's only the mini-bosses that can be trapped), if you ask us, some of the character designs here are almost better than the Skylanders themselves.
We have a rocket launching sheep called Sheep Creep, a pinyata that whacks people with a giant lollypop, known as Painyata, and a harp-axe wielding death metal werewolf called Wolfgang. Perhaps our favourite so far is the fat pirate walrus, Brawl and Chain, who comes complete with cannonball hooks for both hands, but perhaps sadly, no pirate hat or eyepatch. While they won't be available as figures themselves (at least, not yet - Paul did drop some hints that figures may be in the pipeline at some point), being able to play as bad guys is still a pretty cool feature - and although you can only have one villain inside your trap at any time, villains you aren't currently using get deposited in a central store called the villain vault, and can be swapped back in at any time. Perhaps best of all though, when you catch the villains, there's a really cool effect, where they'll shout out loud, and cry out as they're sucked from your TV to the portal - and thanks to the portal's built in speaker, it sounds like they're really being moved from one to the other. Having a villain yelling at you from inside the trap is a pretty cool feature.
As with every Skylanders game, every Skylander you've bought up until now will work with the game, from Spyro's Adventure to Swap Force. However, in something of a change from the norm, there's no increased level cap with Trap Team. Using your figures, beating enemies and collecting experience will let your figure level up, increasing their health, but only up to level 20, like with Swap Force. While we'll miss the chance to dust our old figures out and make them even stronger, we'll be hoping there'll be other reasons to go back to our old posse.
Of course, perhaps one of the biggest reasons there's no increased level cap is because there's a whole host of brand new figures coming. Over 50 new Skylanders are promised for Trap Team, including new Trap Master Skylanders (large figures with a translucent plastic weapon which, sadly, doesn't glow like a light core), re-posed versions of old favourites, and many more.
Set to launch on the 10th October in the UK, the 5th in the US, and the 2nd in Australia, Trap Team is shaping up to be another great installment in a series that we've fallen in love with - and one that's great for getting family and friends together. Due for release on PS4, PS3, Xbox 360, Xbox One, Wii, Wii U, 3DS (the 3DS game will be a totally different game to the console versions) and for the first time in the series, iOS and Android, keep an eye out on the site for our full review soon!