With The Year of Luigi now in full swing, and following starring roles in Luigi's Mansion 2 and New Super Luigi U, it's time for Luigi to revitalise the role he's best known for - Mario's little brother. While plenty of emphasis is placed on 'the green guy' in this new 3DS adventure from developer AlphaDream, it's the latest in a series that celebrates the brotherly love between Nintendo's two famous plumbers, and hinges on them working as a team. The Mario Role Playing Game (RPG) series, beginning way back on the SNES in 1996 with Super Mario RPG, has gone from strength to strength over the years, quietly refining its formula alongside the more well-known Mario platformers. The genius of the series is that it takes the well-worn hallmarks of the Mario series (pipes, blocks, coins etc.), flips them deftly on their head, and repurposes them as RPG elements with a real sense of fun and humour. 
As the title suggests, dreams and sleep are the overriding themes in the latest instalment, and the game begins with the hardest working plumbers in gaming escorting perennial abductee Princess Peach on an excursion to the mysterious Pi'illo Island. Of course it's not too long before Peach is spirited away to a dream world by new baddie Antasma, and Mario finds that he can enter Luigi's dreams thanks to the green-clad hero's handy knack for dozing off on command. To recover Peach (one of several objectives that get revealed as the plot thickens), the Bros. must traverse two worlds; the 3D environs of Pi'illo Island, complete with park, mountain, castle and resort town, and the surreal 2D landscape of Luigi's subconscious.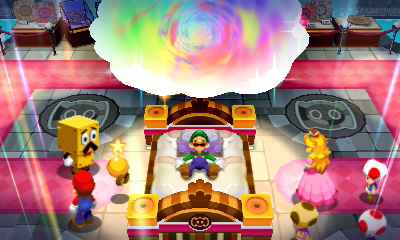 In gameplay terms, this is a minor update on what's come before, with a few new twists on the formula. Known in the US as simply Mario & Luigi: Dream Team, the addition of 'Bros.' to the game's European title is fitting, as the game requires you to control both characters simultaneously, with Mario's actions mapped to the 'A' button, while Luigi is controlled with 'B'. Using this control scheme will become second nature by the time you're a short way in to your quest thanks mainly due to a deeply ingrained tutorial which holds your hand pretty tightly for the first few hours of play. Every time there's a new gameplay element or battle technique introduced, the game takes great pains to make sure you fully understand it before continuing. While this is great for players new to the series, perhaps more used to the comparatively straightforward platforming of the New Super Mario Bros. series, returning role players could be frustrated at having to sit through old lessons as many of the controls and moves are carried over from previous games, and the constant interruptions do start to grate after a while. 
So, as you explore Pi'illo Island indulging in some mildly taxing environmental puzzles and running errands for various characters, you'll soon start bumping into enemies roaming the area ready for a fight. When you initiate a scrap by jumping on the enemy's head in true Mario style this initiates a turn-based battle not unlike those in the Pokémon or Final Fantasy games. With the Mario Bros. on the left of the screen and their opponent(s) on the right, you'll be offered a selection of moves from a menu, including a jump attack, hammer smash or special move (using both Mario and Luigi together) with more becoming available as you progress. Each of these is dished out with a simple tap of the 'A' or 'B' button (depending on which brother is performing the move) and is further enhanced by a well-timed second press; hit the appropriate button again just as your attack is about to connect and you'll get an 'Excellent!' rating and deal more damage. When it's the opponent's turn to attack you're given the chance to avoid their attack or even counter their moves, getting in a quick hit as you do so. Each type of enemy has its own 'tell' too; a little visual clue as to what attack they're going to unleash next. Learning these can be vital, as successful counters enable you to avoid taking damage in battle. It's a simple system compared to some of the more 'serious' RPGs out there, but it's easy to learn and a well-timed attack feels incredibly satisfying which means you'll most likely be on the lookout for more enemies to battle as you explore rather than trying to avoid confrontations. Of course, the further you progress, the stronger your foes become, so it's fortunate that the more battles you fight, the more experience points you gain and the stronger the brothers become. There's far more depth to the battle system to be uncovered as you progress, including special collectable badges that grant various effects, and a customisable levelling system which allows you to decide which skills develop fastest, but suffice to say that there is a remarkable level of detail to the gameplay for a relatively simple looking game.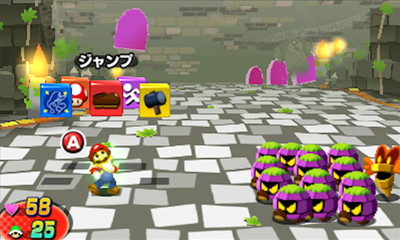 Of course, these battles are only part of the game, and things get much more interesting when you explore the other world that's on offer. After a couple of hours play you'll meet the star of the show, Dreamy Luigi. This is the more confident side of Luigi as he sees himself in his dreams, and it's here in the dream world that Luigi steps out from his brother's shadow. Accessing the dream world, and Luigi's subconscious, is done by finding the imprisoned Pi'illo people (the island's original pillow-shaped inhabitants) and having Luigi fall asleep on them. Once inside the dreamscape, Dreamy Luigi follows Mario around the slightly surreal environment (each visually inspired by the Pi'illo Island location that Luigi has dozed off in), controlled again by the Circle Pad and 'B' button. However, Luigi's alter-ego can learn some pretty nifty tricks that take advantage of dream logic, and using these 'Luiginary Works' is the key to solving the 2D sections of the game. It's here that the 3DS's lower screen really comes in to play, too. While it usually acts as a map, and provides shortcuts to menus, in the dream world it displays a charmingly animated snoozing Luigi along with the Mario Bros.' helpful companion Starlow. By interacting with Luigi on the touch screen, perhaps by tweaking his nose and making him sneeze, you can affect the dream world; in this case causing a huge gust of wind that changes the position of blocks and other objects. Enemies roam the dream world too, and battles follow the same pattern as before, although the addition of special 'Luiginary Attacks' spices things up a bit, requiring you to tilt the 3DS to move Mario for example. There are loads of different Luiginary Works and Attacks to be found in the game, each with a unique effect, and some even have you turning the 3DS on its side and engaging in some impressive Godzilla-style giant battles. Exploring Luigi's subconscious is a great addition to the game, and the 2D sections in general are a refreshing change of pace from the overworld sections.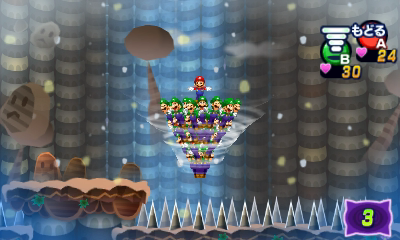 With so much content, this can be a tricky game to get to grips with, especially if you're a newcomer to the series (or RPGs in general). The amount of information you need to learn and remember is quite bewildering at times, but thankfully it's dished out at a steady rate and done so in a player-friendly manner so you should find yourself ploughing through the game without too much trouble. The game does run in to a few difficulty spikes along the way however, usually concerning boss battles. These are tricky partly because you won't have an opportunity to learn all of their attacks and tells so you'll probably end up taking a lot of damage and suffering a few 'Game Over's until you get the hang of it. Thankfully though, in an effort to make the game more accessible, AlphaDream has given the option to retry battles in 'Easy Mode' following a defeat. The easy setting boosts Mario and Luigi's stats, making them stronger but only for that battle. It's a handy addition, similar to the 'Super Guide' feature found in Super Mario Galaxy 2 and New Super Mario Bros U, but of course you can skip it if you want more of a challenge.
Taking the edge off the uneven difficulty slightly are the charming visuals. The game uses a combination of 2D sprites on a 3D backdrop and, when played with the stereoscopic 3D mode on, the effect almost resembles a moving pop-up book. The designers have structured some of the battle elements to take advantage of the added depth, with enemies attacking from far in the distance for example, but it's equally playable (and good-looking) in 2D. The animation is top notch, particularly on the Mario Bros. themselves, and the tiny sprites manage to convey a wide range of emotions even without speech (although the bros. communicate with some mildly Italian-sounding chatter on occasion) Music is a strong point too, with some remixed classic Mario tunes rubbing shoulders with some very catchy new pieces. We particularly liked the musical call-backs to Super Mario 64 and the jazzy lounge bar rendition of the original Super Mario Bros. theme that plays while new techniques are being explained. Battle themes are impressive too, which is handy as you'll be hearing them multiple times throughout the 30 hour-plus adventure. Mario & Luigi: Dream Team Bros. deserves top marks for presentation, as you'd expect from a high profile Nintendo release.
All in all, it's a great game full of content and a worthy addition to a deservedly popular series. The minor niggles we had are far outweighed by the solid gameplay, huge depth to the combat system and the clever writing (although it's arguably not as consistently funny as previous entries). If you're looking for a game to sink some serious hours into, it's an easy recommendation and another winner for Weegee.
Format Reviewed: Nintendo 3DS