If you've picked up a 3DS, or even the recently released 2DS for your family for the Christmas, it can be a bit of a job figuring out what to get next. The first thing you need to know is that both the 2DS and the 3DS can play all DS and 3DS games. There's no such thing as a 2DS game, and DS or 3DS games will work in both. The next thing is that there's an incredible variety of 3DS software out there, with a range of genres, suitability, and styles that would make most other consoles blush. The odds are you already know about the Mario Karts and the Mario platformers - which are all awesome, and all worth picking up - but beyond that, where do you go next?
Play quizzes, win prizes! Test your knowledge with our quizzes, and you could win £/$/€ 20 of PSN/XBL/eShop/Steam credit!
When it comes to finding age appropriate games that a) your kids will be able to do, and that b) you'll be happy with them playing, Christmas shopping isn't as easy as it should be - and that's why we've put together our 3DS Christmas Family Buyer's Guide. Divided into our recommended age groups, our guide highlights a handful of the 3DS's best games for that age, whether you're after a simple mini-game collection for a young child or something that's slower paced and story-orientated for yourself. So why not choose the age you want from the options below, and see what the 3DS has in store this year?
Jump to:
Around the World with Hello Kitty & Friends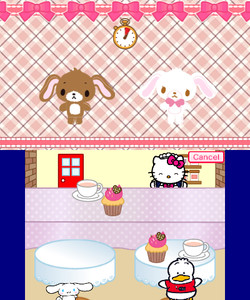 Around the World with Hello Kitty & Friends takes your child on a journey across the globe, from the USA, to Japan, Brazil, and even cosy old England, in an internationally themed mini-game collection. Whether they're baking and decorating cakes in Great Britain, river-rafting in Kenya, or mashing potato for a diner in America, young children will have a lot of fun with this - and perhaps even learn a bit about each country at the same time. With jigsaw puzzles of each country's flag, and a number of random geographical facts included as unlockables, there's a decent amount of educational value here to go along with the child friendly fun. For a title that's primarily targeting little girls, it should come as no surprise that this is a sugary sweet, cute, and very, very pink outing - and often your reward for completing a game is simply a new outfit or accessory with which to dress up your Kitty. With controls that rely almost entirely on using the Touch Screen or tilting the 3DS, and with instructions for each game being read aloud, Around the World with Hello Kitty & Friends is a game young children will love - and, most importantly, will be able to play on their own.
Buy this if they like: Cooking Mama, Mini-games, Geography, Strangely named cats
For more, read our full review, or for more on the game's suitability, check out our Parent's Guide
Buy Around The World with Hello Kitty and Friends from Amazon 
Mario & Sonic at the London 2012 Olympic Games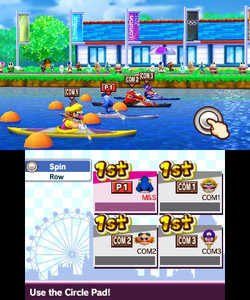 While the all-new Mario & Sonic at the Sochi 2014 Olympic Winter Games hasn't managed to make it in time for Christmas on the 3DS (although it is out now on the Wii U), thankfully there's more than enough sports-based mini-game fun to be had with its more locally themed predecessor. Letting you play as a whole host of characters from the worlds of Sonic and Mario, you'll compete in a number of bite-sized, sports-inspired mini-games, using the 3DS in a number of different ways, whether you're tapping and tracing on the touch screen in time with music for rhythmic ribbon dancing, pressing the B button at the best time to leap over a hurdle, or even sliding the stylus left and right in time with some music in order to power walk. Yes, power walking. With just under 50 games on offer, Sonic and Mario at the London 2012 Olympics is suitably simple fun - and as an added bonus, friends with 3DS' of their own can join in with the fun even if they don't own a copy of the game themselves, thanks to 3DS Download Play. With minimal reading and generally easy to follow mini-games, the Mario & Sonic series has always been a big hit with younger audiences - and this game is no exception.
Buy this if they like: Wii Sports, Mini-games, Nintendo/Sega rivalries
Buy Mario & Sonic at the London 2012 Olympic Games from Amazon 
Cooking Mama 4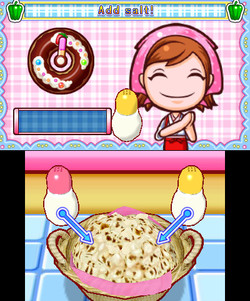 Another big hit with the kiddies thanks to its simple controls, Cooking Mama 4 is the latest in the long line of the food preparation mini-game series - and much like the others, it's a lot more fun than that description makes it sound. With easy to follow Touch Screen-controlled games where you slice, sauté and stir your way to success, cooking up everything from cherry pie and pizza to sushi and natto to cereals and instant ramen noodles, your child will be tapping the screen to chop veggies, drawing circles to stir cake mix or even balancing plates of pancakes by tilting their 3DS - and there's even the option for multiplayer cook-offs with friends to see who's the best chef. Much like Mario and Sonic, 3DS Download Play makes an appearance here too, letting anyone who owns a 3DS or 2DS join in the fun by downloading a temporary multiplayer-only copy of the game from their friends. When they're not sticking rigorously to Mama's cookbook, there's also a rather fun 'Let's Combine' mode, where you're free to choose a two recipes to serve together - leading to ice lolly pizzas, popcorn curry or gourmet cupcakes on toast. Once the cooking's all done, you can lend Mama a hand with the cleaning up, sorting out the recycling, and polishing the floor - but before too long, they'll be back for more.
Buy this if they like: Cooking, Mini-games, Unorthodox food combinations
For more, read our full review, or for more on the game's suitability, check out our Parent's Guide
Buy Cooking Mama 4 from Amazon