With Nintendo's 3DS almost upon us (tomorrow!) we begin our look at the 3DS's functionality, helping you to get the most out of your console when you get it home.
For the 3DS, Nintendo have specifically placed a great deal of emphasis on the system's wireless connectivity. Whether you're out and about, using StreetPass, or at home using SpotPass, your 3DS will be talking to either other 3DS users around you, or the greater void of the internet, delivering all sorts of new goodies to your console.
How to use SpotPass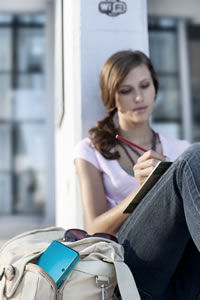 SpotPass, then, is Nintendo's name for its new online service, which is a similar sort of idea to the Wii's Connect24. Taking its name from Wireless Hotspots (that's how you tell the difference between the two), when the system's either turned on, or in sleep mode (which is what happens when you have the console turned on, but shut it), your 3DS will take advantage of either the wireless connection in your house, or any open wireless hotspot it finds, to contact Nintendo's servers.
From here, the 3DS will automatically download all sorts of new and exciting things. From ghost data for Mario Kart, to new levels for games, trailers, patches, add-ons, and even potentially demos, your 3DS will regularly receive cool new things from the world of Nintendo. It's also how the company will send out system updates, with the first being due in May, and set to offer a web browser, 3DS eShop, as well as the ability to transfer old DSiWare downloadable games from your DSi to your 3DS.
We've had our 3DS for a few weeks now, but as the console has yet to launch in the UK, we still have yet to receive anything via. SpotPass. In Japan, however, the system's already greatly in use - over there, users have already received a system update, which added a 3D video channel, letting people watch a video of a band performing a tune from Mario Bros - it's likely this will also support 3D film trailers over the coming months.
Another of their games, Dead or Alive: Dimensions, has also been revealed to use SpotPass, this time to download extra costumes for the characters in the game. With a costume available for people who buy on day one, and another 28 costumes to be released on a drip feed after that, there'll be new things constantly being added to your games - and that's one of the coolest things about it.
In the UK, we're not entirely sure what we're going to get via SpotPass, but that's at least part of the fun. All we do know is that, as of at some point this year, 3DS owners will get videos from Eurosport, Sky, and a series of Shaun the Sheep 3D shorts beamed straight to their 3DS - and all, hopefully, free of charge.
To use SpotPass, all you need is two things - a 3DS, and a wireless internet connection. If you receive anything new, via either StreetPass or SpotPass, the handy little notification LED will blink to tell you it's received something - all you need to do is head to the Notification menu to find out what! To help you get started, we've put together a handy guide to setting up the 3DS wireless (WiFi) connection, so why not give it a read!