Ah, Japan, the land where the games are weird, the TV is even stranger, and nerd culture is life, as the lines of games, anime and everyday life blur. Sitting alongside the Kirby-themed cafes, festivals dedicated to the Tales of series and of course, the amazing Pokemon Centre stores, comes a new case of games come to life - a musical based on the romantic visual novel, Code: Realize, which will be hitting the stage in Japan soon. Because of course.
Play quizzes, win prizes! Test your knowledge with our quizzes, and you could win £/$/€ 20 of PSN/XBL/eShop/Steam credit!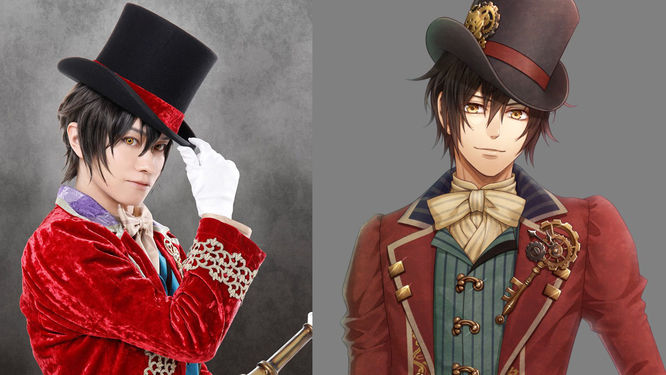 For those who are unfamiliar, Code: Realize follows the story of Cardia, a girl who awakens to find herself locked in a mansion, with no real memory of her past, save some orders from her father to stay where she is. But Cardia has a dark secret - thanks to a mysterious crystal embedded in her chest, her blood is a toxic poison, and her touch melts anything and everything she comes into contact with. A series of events see her broken out of her mansion prison by the self-proclaimed gentleman thief, Arsene Lupin, and before long she finds herself under the protection of various literary figures in a steampunk version of Victorian London. Surrounded by so many men, all helping her get to the bottom of her past and hopefully find a cure for her condition, it's only really a matter of time before love blossoms, despite her peculiar predicament.
With two shows taking place in Tokyo and Osaka, on the 17th-20th May and the 26th-27th May respectively, tickets to the Code: Realize musical will cost 7900 yen, which is around £53 - and when you factor in the plane ticket over there, it all works out at quite a bit for a musical really. Little is known about the musical besides dates and pricing, with the official website having just the cast list on so far, with official twitter accounts/blogs for all. This isn't the first time one of Idea Factory/Otomate's visual novels has been turned into a musical though - everyone's favourite samurai-seducer, Hakuoki, had a musical adaptation a while ago too. Here's a clip that YouTuber Haku Anime Otaku has kindly had a go at subtitling, for all its cheesy glory.
While it's not clear at the moment which story the Code: Realize stage show will cover - as the game itself has several different endings depending on the guy you're romancing - judging by all the publicity photos, we're expecting it'll cover the 'true' ending route with Arsene Lupin. However, the aforementioned Hakuoki musical did come in several parts, each one covering a different bachelors ending, so we suppose it may end up being less of a one off and more of a series - who knows?
For those of us stuck in rainy old Blighty though, the idea of a Code: Realize musical is a bit of a pie-in-the-sky. However, that doesn't mean you can't get your Code: Realize fix in other ways, as Aksys are bringing over both the fan disc-come-sequel Code: Realize ~Future Blessings~ for the PS Vita and an ultimate collection featuring both the original Code: Realize and ~Future Blessings~ for the Playstation 4 - which have both been stealthily launched yesterday. For more otome goodness, be sure to check out our guide to the otome games and visual novels of 2018.