Updated 29th June with new Twitter leak!
Play quizzes, win prizes! Test your knowledge with our quizzes, and you could win £/$/€ 20 of PSN/XBL/eShop/Steam credit!
Over the past eighteen years, with 200 million copies sold, across getting on for a hundred different games, expansions and spin-offs, The Sims has really carved out a niche for itself on the PC. On consoles, however, it's been a bit of a different story, as we've usually been left with a stripped down version of the main game, and then a stand alone expansion pack a few years later.
However, for the PS4 and Xbox One version of the game, things are a little bit different. Not only is the game a straight port of the PC edition, complete with all the same bells and whistles - but if you believe the rumblings from within EA, it's also going to be regularly supported with expansions, just like its PC brethren. And while everyone has their favourites - for us, the original game's Makin' Magic certainly ranks up there amongst the finest - the one expansion everyone is waiting for is the Sims 4's pets expansion, dubbed Cats and Dogs.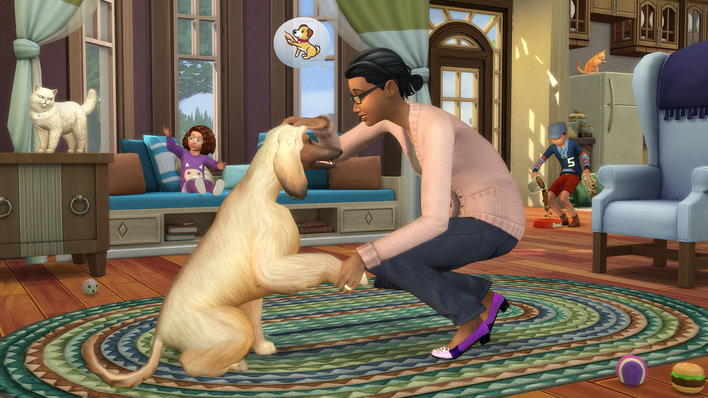 It's official!
Last night, SimGuruLegacy, a Sims-themed Twitter account that mostly covers the console games, posted a GIF of a Sims Corgi going for a little doggie paddle, subtitled "nothing to see here" - effectively teasing the fact that yes, The Sims 4: Cats and Dogs will indeed be coming to consoles, and fairly imminently.
The following day, The Sims official account tweeted the official announcement, that The Sims 4: Cats & Dogs will be coming to the Playstation 4 and Xbox One in just over a month's time, on the 31st July! Hype!
As you can probably guess from the name, The Sims 4: Cats & Dogs gives your Sims the option of adding a furry friend or seven to your family. The new Create-A-Pet lets you pick from a selection of pedigree cats and dogs, or mix breeds together to make your own custom mutt or moggie, with whatever crazy markings you desire. You can also dress your pets up in a variety of costumes - as per the swimming corgi in a shark outfit from the initial tease gif. Pets now have much more complex personalities and mannerisms too, whether it's watching as your cat prefers to hide from the dog on top of the fridge or teaching your pooch increasingly complicated tricks. Cats & Dogs also comes with it's own new town of Brindleton Bay, full of picturesque dog walks and birds to chase. Another fun addition is the ability to purchase the local Vet practice and send your Sim off to save some animal lives during the week. You'll be able to head to work with your Sim and help first hand, as they diagnose illnesses, perform surgeries and generally help care for the furry population, earning some Simoleons in the process. Why not check out the trailer below:
Rumours galore!
But luckily for you, seeing as we have nothing better to do are professional journalists, we decided to put our journalistic hat on, and do a bit of sleuthing. As regular readers of the site will know, our approach paid dividends in early March, as we stumbled upon a huge heap of release dates that prove EA are planning on bringing expansions, stuff packs and game packs to the Sims 4 on PS4 and Xbox One. But while we may have found dates for Outdoor Retreat,  Kids Room Stuff, Toddler Stuff and even Bowling Night Stuff amongst others, there was one expansion that was sadly missing from the list - you guessed it, Cats and Dogs. Luckily though, there are more than a few signs that the Sims 4's pets expansion will soon be coming to consoles - and here's what we found: 
EA France originally listed Cats & Dogs for release on PS4 and Xbox One on the 10th November 2017, the same day as the PC version (which obviously didn't happen).
The Games Rating Board of Brazil classified The Sims 4: Cats & Dogs on PS4 and Xbox One on the 30th November 2017 - something which wouldn't have happened if it wasn't coming.
Polish website Empik listed The Sims 4: Cats & Dogs on the PS4 and Xbox One in December.
And Swiss retailer Wog.ch gave the game a 20th March release date (courtesy of SimmerJohnny) - although now that's been and gone too.
While the individual dates may not be 100% certain, when taken as a whole, there's certainly more than enough evidence to suggest Cats and Dogs is coming - and in a best case scenario, it could be just a few weeks away. 
Various tweets from the 'SimGurus' on Twitter - key developers/mouthpieces for the game - suggest that something may be brewing, too, despite the lack of an official announcement. When asked in September, SimGuruDuke informed a fan that they were going to 'get to work [on Pets specifically] once PC is done' (possibly hinting at Get To Work coming soon too!). In October, he declared that they 'will be working on it', with 'it' being the Cats & Dogs expansion. More recently, on the 24th Feb, he essentially confirmed a new pack is in the works for consoles, and that 'you will know soon…' when/what it will be, perhaps adding further weight to something hitting the game next month. With EA having a habit for only announcing packs/expansions mere days before they launch (like the Romantic Garden Stuff Pack, which was only revealed a week before its release), anything could be possible...

All in all, then, while there's no date set in stone, you can be pretty confident that Cats and Dogs is coming, and soon we'll be able to live out our crazy cat lady dreams in our massive fancy pants mansion (paid for by hard work in the new vet career path) in the Sims 4 on console. In the mean time, be sure to give us a follow on your social media of choice, as we promise to do more journalistic sleuthing over the coming weeks and months!