As regular readers may have spotted, we have something of a soft spot for the LEGO games at Everybody Plays, with their addictive blend of pick up and play platforming and gotta-find-'em-all collectibles having already eaten away a few too many evenings over the past few years. Having explored the huge LEGO City, destroyed the ring in LEGO Lord of the Rings, and fought off he who shall not be named in LEGO Harry Potter, we've been counting down the days to until our next big LEGO fix, the incredible LEGO Marvel Super Heroes will be hitting the shelves - but publishers Warner Bros have been surprisingly tight lipped so far.
Play quizzes, win prizes! Test your knowledge with our quizzes, and you could win £/$/€ 20 of PSN/XBL/eShop/Steam credit!
While we actually went hands-on with the game at a recent event in London (and watch this space for our impression, which will be going live over the next few days), LEGO Marvel's release date has so far been kept tightly under wraps, with a vague "before the end of the year" being the best we could squeeze out of anyone at the show. However, a promotional magazine in German store GameStop may have given the game away somewhat, as it lists the release date as being the 18th of October. Matching up with the sort of window we were expecting (LEGO games usually release before the end of the year, in amongst the busy season), we've no reason to doubt it's legitimacy, especially as Amazon list the same date
.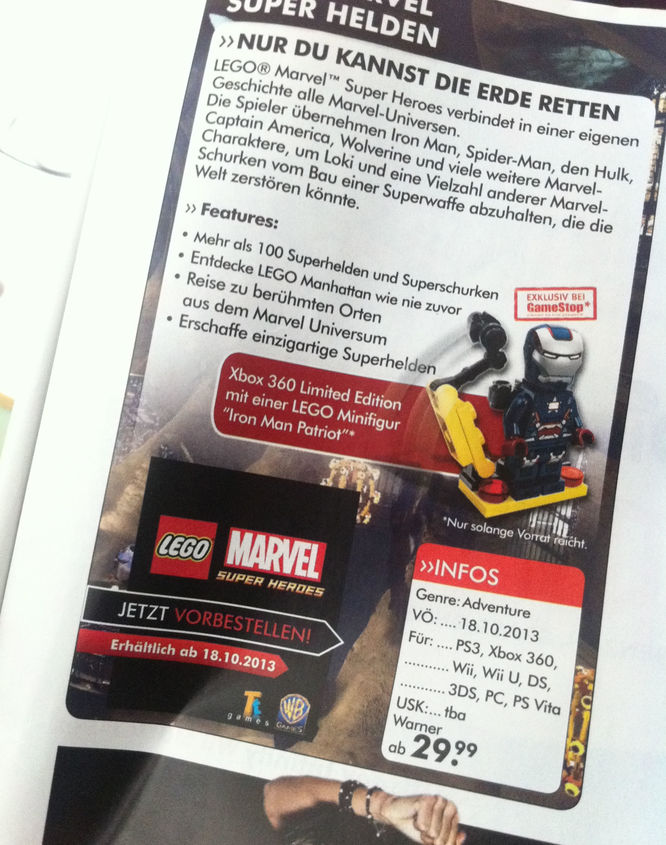 Bringing the same blend of platforming, smashing up enemies, and super hero fun to pretty much every console going, LEGO Marvel Super Heroes will feature over 100 of Marvel's biggest names, from Iron Man, to Thor, the Incredible Hulk, and even S.H.I.E.L.D's Agent Coulson. Whether you're a massive fan of the comics, or have only ever really seen the Avengers, the game's been designed to be as accessible as possible for novices, whilst being packed full of neat little references for bigger fans. With a heavy emphasis on co-op, you'll be able to have a friend drop in at any time to play alongside you as you solve puzzles, fend off the enemies, and protect the LEGO recreation of New York City in what's once again set to be a huge plasticy adventure that's best shared with a friend.
If the date that's been revealed is true, we could have but 14 short weeks until the game's launch. Make sure you check back in a few day's time for our full preview from the recent hands-on event in London, but in the mean time, why not get a taste of what's to come in the latest trailer: