While top-down, drift happy racer Mantis Burn Racing may have packed in hairpin bends, all terrain tracks, and four player split-screen chaos, there was one big thing it seemed to be missing - weapons. Now, however, that's a thing of the past, as Birmingham based studio VooFoo have just released "Battle Cars" - their latest budget priced expansion for the game, which adds machine guns, mines, and a handful of reinforced cars to the local multiplayer favourite.
Play quizzes, win prizes! Test your knowledge with our quizzes, and you could win £/$/€ 20 of PSN/XBL/eShop/Steam credit!
Adding three new (heavily armed) vehicles, an all new career mode branch with 26 battle-themed challenges, and six new trophies/achievements to collect, the Battle Cars add-on certainly packs in plenty of content for its wallet friendly £1.99 price tag. Each of the new cars comes equipped with a machine gun in the front, and a mine launcher in the rear, letting you deal with foes, no matter where they approach from. However, as with everything, there's a bit of a catch. For starters, your machine guns don't activate until you've passed the first checkpoint - and seeing as you have unlimited ammo, and everyone's guns activate together, it can turn into something of an explosive time. Secondly, your mines don't activate until you've finished the first lap - so if you're out in first place, you'll have no way of defending yourself until you've crossed that line for the first time.
In addition, there are three all new modes - 'King of the Track', 'Survival' and 'Accumulator Rumble'. Survival plays exactly as it sounds, and is every bit as tricky as you imagine. As soon as you cross that first checkpoint and everyone's weapons activate, you'll find 80% of the pack get wiped out in a few seconds - and you'll just have to pray you're one of the lucky ones. King of the Track, meanwhile, sees a random player start out as "the king", with a crown appearing above their car. The more checkpoints you drive through while holding the crown, the more points you'll earn - but being as the crown slows you down quite substantially, it'll be easier said than done to hold on to it, with whoever tops the king getting the chance to become king themselves. Finally, Accumulator Rumble sees everyone earning points as they drive, with those in higher positions earning points faster. As this is the Battle Cars take, blowing up your opponents will earn you a huge points boost, while being blown up yourself will take a similarly hefty chunk off, adding some extra complexity to the mix.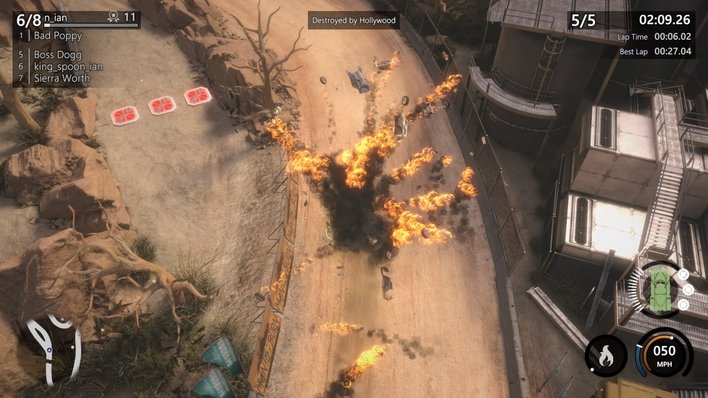 Out now on PS4, Xbox One and PC, Battle Cars has got to be worth a look for anyone who plays Mantis Burn on a regular basis. As a word of warning though, there doesn't appear to be an adjustable difficulty level on the game's new campaign stages (nor was there on the original), so be prepared for a hefty challenge...