Buying DS games for a young child can sometimes be nothing short of a mine field - you need to pick games that don't have too much reading, require little explanation and aren't too difficult, whilst still being fun for the child in question. Add to that the fact that some games developers grossly overestimate what their target audiences are capable of, and buying a DS game your kids can sometimes seem like an impossible task.
Play quizzes, win prizes! Test your knowledge with our quizzes, and you could win £/$/€ 20 of PSN/XBL/eShop/Steam credit!
Most games tend to stick with characters from well known TV shows, slap them onto a bunch of stylus-controlled mini-games, selling them for a bargain price in the likes of Tesco - and the results can be a bit hit and miss; there's everything from stellar attempts like Peppa Pig: The Game and Wonder Pets: Save The Animals, to the a-tad-too-advanced-for-their-target-audience Fifi And The Flowertots and Bob The Builder: Festival Of Fun, with plenty more in-between.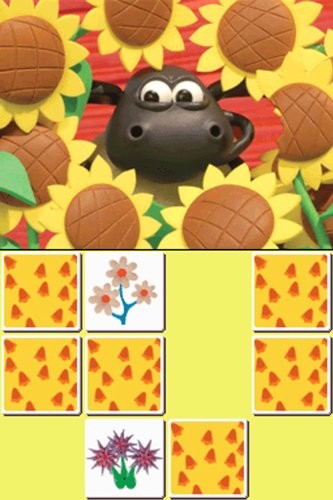 Timmy Time is one such attempt at a children's game - and a pretty solid one at that. Featuring Aardman's lovable little lamb Timmy and friends, you'll get to play through fourteen different mini-games, many of which will be fairly familiar to youngsters already. There's jigsaws, spot the difference and games of pairs, as well as counting, driving a car and a Guitar-Hero-esque rhythm game. While some may be trickier than others, by and large they should mostly be manageable by children within the game's target audience (4 and up) -  and just to be on the safe side, each one has a choice of three different difficulties too, so your child can find a difficulty that's right for them.
The fourteen mini-games are loosely divided into five categories - Music, Action, Memory, Observation and Puzzle. Music features two mini-games - the aforementioned Guitar-Hero-esque game, where you need to tap falling notes as they cross a line at the bottom of the screen, and one of those memorise-the-order-and-repeat-it games, where Timmy plays a selection of his CDs, and you have to play them back. Meanwhile, Action consists of a game that asks you navigate Timmy's go kart around a bunch of obstacles, and one where you need to tap on items of food as they pop up, while Memory features an obligatory reincarnation of the pairs card game, as well as a game for counting up paint splodges, and a third which asks you to memorise which toys pop up on the top screen before tapping them on the touch screen. It's the Observation category that has the most games, though, including: spot the difference; a game where you have to match characters to their shadows; another that asks you to spot Bumpy the worm in a series of pictures; and finally, a hidden-object style game that asks you to find the objects shown on the top screen amongst the clutter on the Touch Screen. Bringing up the rear is the Puzzle category, which features jigsaws, sliding tiles and a Pipe-Mania-esque game where you need to create a path for Timmy between two mountains.
On the whole, the vast majority of games here are entertaining enough that they held our test child's interest without too much trouble (it does help that Timmy's such a loveable character in and of himself, of course) - although, sadly, there are a few duds in the mix. 'Timmy Goes Skiing' is one such game - classed as a puzzle game, it's vaguely reminiscent of the old Pipe Mania games, as you need to create a path from one side of a grid to the other, making use of a series of pipe-like pieces, but it's a bit hit and miss whether you'll actually be able to create a path in the limited time you have. It's not broken as such, but may prove a bit too challenging for smaller children - the same goes for the 'Go Kart Timmy' game. Here you're moving Timmy's car left and right in order to avoid hay bales, puddles and other obstacles - but it requires some seriously fast reactions which, at times, may prove a bit too much. Things are complicated slightly by the fact children seem to have tendency to move their stylus up the screen as they're playing the game - which actually makes the car go faster.
With so many games in the collection though, having only two duds is approaching being something of an achievement. While it's not quite as good as Peppa Pig: The Game, as it tends to rely heavily on timed mini-games, which some children can find a bit intimidating, and also lacks some of the personality - there's no spraying characters in the face with hoses or chickens that sound like their farting when laying eggs, what Timmy Time does have is a dozen or so mini-games perfectly suited to it's target audience - so if your child is a fan of the Timmy TV series, you probably won't go wrong picking up the DS game, especially considering its bargain price of around £15. 
Format Reviewed: Nintendo DS