It's that time of year again - the decorations have been in the shops since mid-November, you've heard Slade's iconic festive tune so many times you're already sick of it, and you've stocked up on enough boxes of mince pies to sink the Titanic. With December passing by at a scary rate, the time has come to pick out the presents for our nearest and dearest - and when it comes to buying games for kids, it can be a bit of a nightmare. And so, to make your life that little bit easier, we've cornered our experts here at Everybody Plays, and come up with our picks for the best games for each console for every age group this Christmas - and few games consoles cater to as broad a range of tastes, ages and skill levels as Nintendo's Wii U. So, let's get stuck in!
Age 3 to 5
While Mario Kart may be the defacto Nintendo racer, it can be a touch too fast and complex for the littlest of players, which is where Hello Kitty Kruisers comes in! Purring onto the Wii U, it's a simple, brightly coloured and Sanrio-themed take on a traditional racing game, letting Hello Kitty and friends jostle for first place in a variety of vehicles. There's traditional kart style racing on land, airborne plane races and bumpy boat races to contend with, each of which puts a different spin on the traditional racing formula. With support for up to four players in split-screen, as well as a whole slew of single player missions, if you're looking for a sugary sweet present for the smallest of Hello Kitty fans, Kruisers fits the bill nicely!
Full Hello Kitty Kruisers Review
Hello Kitty Kruisers Parent's Guide
Buy Hello Kitty: Kruisers from Amazon.co.uk
Buy Hello Kitty Kruisers from Amazon.com 
Skewing more towards the older - or more confident - end of the age bracket, Yoshi's Woolly World is an adorably knitted platforming adventure for up to two players. Starring everyone's favourite green dinosaur thing, it's up to you to hop, lick and flutter jump your way through a myriad of levels, saving your dino brethren from the clutches of an evil Margikoopa, while solving some simple puzzles, unravelling enemies and platforming your way to victory. Generally a rather easy-going game, you can make things even easier by giving Yoshi a pair of wings to extend his jump, and buying badges at the start of each stage to make you impervious to fire, unable to fall off stages and the like, letting you tailor Yoshi's Woolly World to your skill level.
Full Yoshi's Woolly World Review
Yoshi's Woolly World Parent's Guide
Buy Yoshi's Woolly World from Amazon.co.uk
Buy Yoshi's Woolly World from Amazon.com 
Age 6 to 10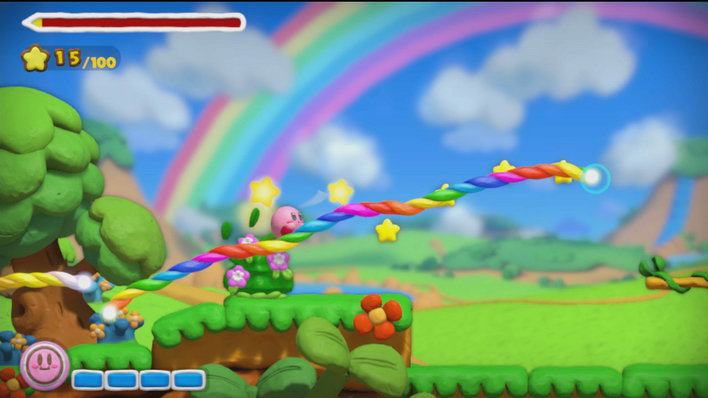 Kirby and the Rainbow Paintbrush
This one puts a bit of a twist on the traditional Nintendo platformer - for reasons not entirely explained, the titular Kirby decides he'd rather roll his way through the game's clay art inspired stages than go by foot, so it's up to you to help him on his way. By drawing rainbow paths on the Wii U GamePad for him to roll along, you guide him through each level, dashing into enemies to defeat them, solving a few simple puzzles and searching for collectibles galore. Every so often, a level will see the Kirbster transformed into a giant tank, a rocket or a submarine, each with their own unique skills that require a bit of a different strategy - whether its holding down the stylus to charge a missile-based attack or using your rainbow lines to divert his submarine torpedoes to their target.
Full Kirby and the Rainbow Paintbrush Review
Parent's Guide: Kirby and the Rainbow Paintbrush
Buy Kirby and the Rainbow Paintbrush from Amazon.co.uk
Buy Kirby and the Rainbow Paintbrush from Amazon.com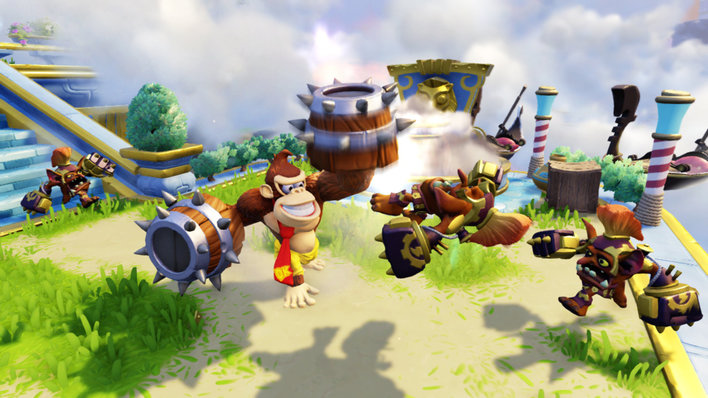 The definitive toys-to-life game is back for it's fifth entry - mixing real-life collectible figures with a platforming adventure, Skylanders is the gift that could potentially keep on giving, with all the extra figures, levels and vehicles you can buy to expand your collection further down the line. In Superchargers, series bad guy Kaos is up to no good once more, and his Doom Station of Ultimate Doomstruction threatens to swallow the sky itself, bringing an end to the Skylands as we know it. Of course, this requires a new breed of Skylanders to fight back, which this time are the Superchargers - elite figures who can harness the power of vehicles to take Kaos down. Combining a traditional Skylanders adventure with vehicle-specific sections that take you from land to sea to sky, it's perhaps the best game in the series so far, and, as always, the Starter Pack includes everything you need to get things off with a bang - including two Superchargers figures and a vehicle.
Full Skylanders Superchargers Review
Parent's Guide: Skylanders Superchargers
Buy Skylanders Superchargers from Amazon.co.uk
Buy Skylanders Superchargers from Amazon.com 
Another figure-collecting type game, Disney Infinity 3.0 is a distinctly Star Wars flavoured adventure this year, coming bundled with the 'Twilight of the Republic' Play Set and figures of Anakin Skywalker and Ahsoka Tano. With a story that takes in the key events of Episodes 1 to 3, it's a lightsaber swinging, galaxy-trotting trek as you infiltrate droid factories on Geonosis, pod race on Tatooine or help out folks in and around the steel jungle of Coruscant, and a game which will tick all the right boxes for young Star Wars fans. The game can also be expanded with more Play Sets, themed around the original (good) Star Wars trilogy and Pixar's recent Inside Out - with a Play Set to tie in with the upcoming Star Wars film and a new Marvel-themed one in the works too.
Full Disney Infinity 3.0 Review
Disney Infinity 3.0 Parent's Guide
Buy Disney Infinity 3.0 from Amazon.co.uk
Buy Disney Infinity 3.0 from Amazon.com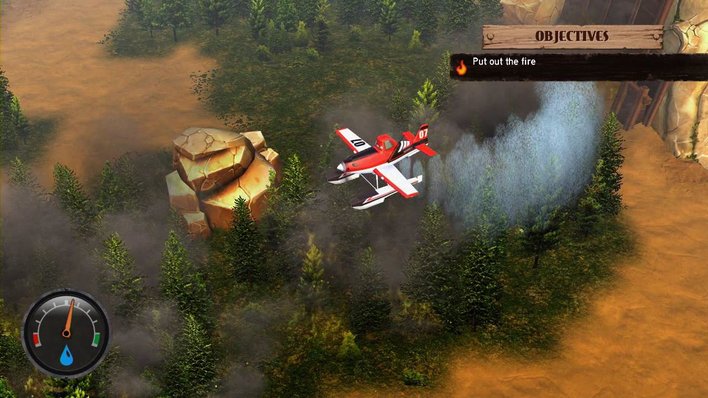 From one Disney game to another, Planes: Fire & Rescue lets you jump into the cockpits of the anthropomorphic aircraft from the Disney film of the same name, fighting fires, rescuing deers and generally tending to emergencies whenever they happen. Whether you're putting out fires as Dusty Crophopper, moving fallen trees from roads as Windlifter or rescuing some 'deers' from an encroaching fire, there's plenty to be going on with here, with some sixty or so missions and medals to chase based on how quickly you can complete each level. For slightly-bigger-little-ones, looking for another dose of the lovable Planes characters, you can't go far wrong with Fire & Rescue!
Full Planes: Fire & Rescue Review
Planes: Fire & Rescue Parent's Guide
Buy Planes: Fire & Rescue from Amazon.co.uk
Buy Planes: Fire & Rescue from Amazon.com 
Age 11+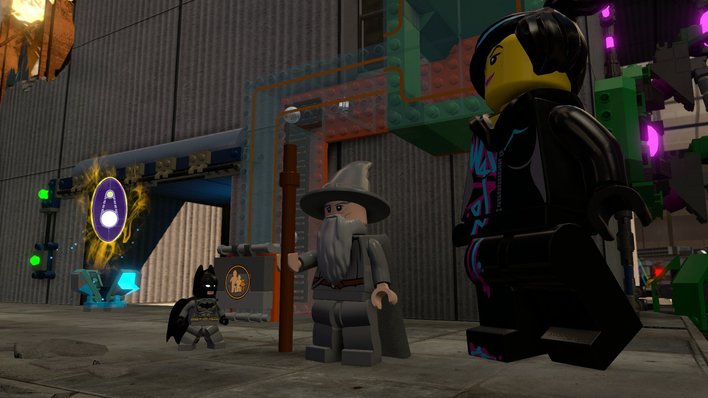 Adding a distinctly LEGO twist to the "toys-to-life" Skylanders/Disney Infinity style game, LEGO Dimensions mashes up worlds as diverse as Back to the Future, The Simpsons and Lord of the Rings in a rule-breaking LEGO adventure of epic proportions. Mixing the traditional puzzle solving, brick smashing and collectable hunting same-console co-op fun of pretty much every past LEGO game ever, with new collectable (and buildable!) figures and vehicles, it falls to Batman, Gandalf and Wyldstyle to help save the Lego multiverse from the evil clutches of Lord Vortech, who plans to become the supreme ruler of everything. The Starter Pack itself comes with the buildable Gateway portal (which you have to construct yourself, using real LEGO!), figures of Batman, Gandalf and Wyldstyle and the Batmobile, and can be expanded with a myriad of extra levels, figures and vehicles, sold separately. A word of warning though - an internet connection is required for LEGO Dimensions, in order to download the latest updates, worlds and characters.
LEGO Dimensions Parent's Guide
Buy LEGO Dimensions from Amazon.co.uk
Buy LEGO Dimensions from Amazon.com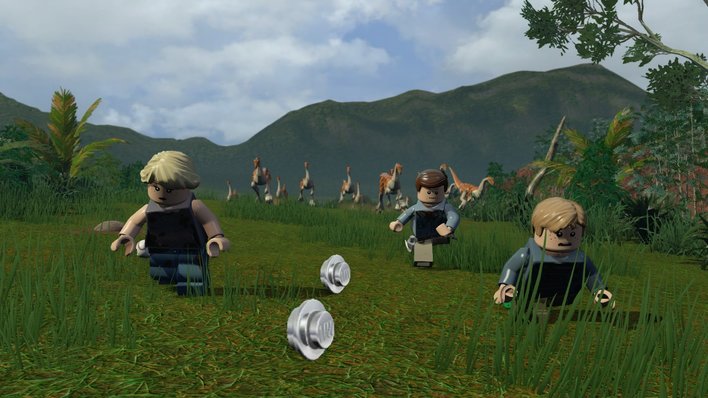 A more traditional LEGO game, LEGO Jurassic World takes you on a decidedly dino-themed adventure, taking in every Jurassic Park film ever made, all told in a cutesy, slapstick and silly style. Letting you bash bad guys, solve puzzles, and smash LEGO before reubilding it into something more useful, levels are a mixture of puzzle solving and button mashing, and using the right character for the right job - whether it's breaking some glass with a girl's scream, blowing up some silver Lego with an explosive or sneaking past a dinosaur as Owen/Star Lord/Chris Pratt. With oodles of collectibles to find, several massive hub worlds to explore and support for two player co-operative, Lego Jurassic World is a dino-tastic adventure sure to raise a smile on Christmas day!
Full LEGO Jurassic World Review
Parent's Guide: Lego Jurassic World
Buy LEGO Jurassic World from Amazon.co.uk
Buy LEGO Jurassic World from Amazon.com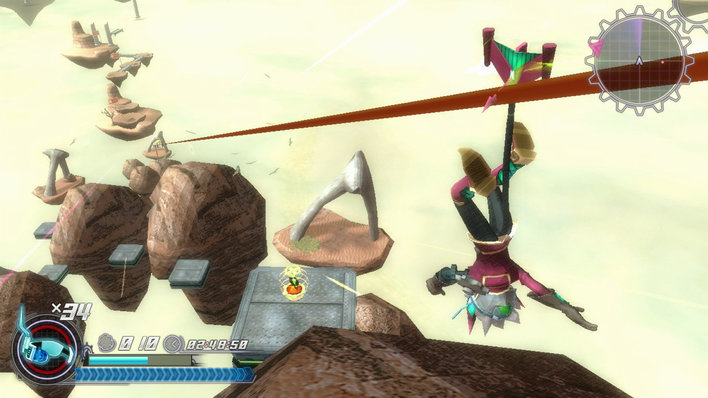 Part platformer, part aerial action game, Rodea: The Sky Soldier is a bit of a hard one to describe - one minute Rodea will be running and gunning along like your average action game, then the next he's launched himself into the skies, and you're flying through hoops, spinning through enemies and avoiding airborne obstacles, before landing again and carrying on on foot. Each stage has several different paths through it, with collectibles and such hidden off the beaten path, so replaying levels, experimenting and exploring along the way, is pretty much a given if you want to grab everything. It can be a little awkward to pick up the first few times, but once you get the hang of it, it can be a rather addictive airborne adventure unlike anything else out there.
Buy Rodea: The Sky Soldier from Amazon.co.uk 
Adults
We don't really have any specific suggestions for grown ups on the Wii U - not because their aren't any applicable games, but because most of the games we've already recommended for lower age groups would be equally suitable for adults too. Part of the charm of a Nintendo console is how they always manage to have something for everyone, and the Wii U is no exception, whether you fancy the latest toys-to-life collectible figure adventure, some Lego dinosaurs or a classic Nintendo platformer a la Yoshi's Woolly World or Kirby and the Rainbow Paintbrush, everything we've recommended so far is great for adults too - bar, perhaps, Hello Kitty.
Family
One of Nintendo's strongest suits is its reliance on local multiplayer, making the Wii U a great console to pull out when friends and family come over. It may be a few years old now, but Wii Party U, with it's gamut of board games, mini-games and the like, is a great crowd pleaser, whether you fancy a blast on the pictionary-esque Sketchy Situation; a go on the amazing Balldozer, the lovechild of a two penny fall machine and a mini-game collection; or a quick round of table football, played from either end of the Wii U GamePad. Literally jam-packed with party games, with varying numbers of players, control schemes and tastes catered for, it's one of the best multiplayer games for roping everyone in this Christmas!
Buy Wii Party U from Amazon.co.uk