Wooo! Get ready to dust off those moonwalking boots, as this Friday, the game every Michael Jackson fan's been waiting for hits the stores, and you'll be dancing along with the King of Pop in his very own game. In the same vein as Just Dance (in fact, it's made by the same people), all you have to do is copy the moves the little on-screen stick man does, and the better you do, the more points you'll get. If you fancy really showing off, there're even lyrics running across the screen for you to sing - and even though you don't get points in the game for singing, you'll certainly impress your friends if you can pull it off.
Play quizzes, win prizes! Test your knowledge with our quizzes, and you could win £/$/€20 of PSN/XBL/eShop/Steam credit!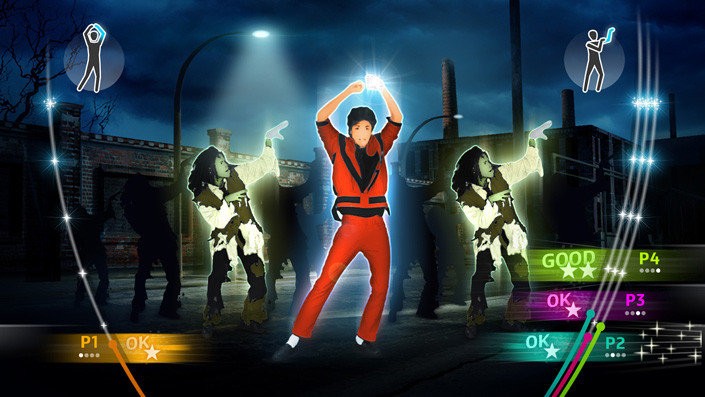 As with Just Dance, there's plenty of multiplayer - both co-operative and competitive. You can compete one on one, or in teams of two to see who's truly the King (or Queen) of Pop - and if working together's more your thing, your friends can become your back up dancers. And don't worry if you feel a bit intimidated by all the moonwalking - the 'Michael's School' mode takes you through all the dance moves step by step, so you'll be dancing like a pro in no time. Although we'd imagine it's unlikely to be voiced by the man himself.
The 26 songs for the Wii version are as follows, and are a mixture of ones everyone will know, and some hidden gems that die-hard Michael Jackson fans will appreciate:
Bad
Beat It
Billie Jean
Black Or White
Dirty Diana
Don't Stop Till You Get Enough
Earth Song
Ghosts
Heal The World
In The Closet
Leave Me Alone
Money
Remember The Time
Rock With You
Smooth Criminal
Speed Demon
Streetwalker
Sunset Driver
The Girl Is Mine
The Way You Make Me Feel
They Don't Care About Us
Thriller
Wanna Be Startin' Something
Who Is It
Will You Be There
Workin' Day And Night
And, if you're a proper speed demon and manage to make it down to HMV on the release day, you might be able to get your hands on a limited edition version of the game, which includes an exclusive extra song - "Another Part Of Me" - but you'll have to be quick, as there's only a limited supply.
Michael Jackson: The Experience moonwalks into stores this Friday, with an RRP of £34.99 (there's also a DS version for £24.99). The game will also be making it's way to the Xbox 360 and Kinect in early 2011 - so stay tuned for more info.