Arguably one of the most recognisable cats in history, the Japanese 'kawaii' icon Hello Kitty is nothing short of a phenomenon. Designed in the 70s, and given a name to reflect Japan's obsession with Britain at the time, the feline, now worth over $7 billion, probably has her face emblazoned on around that many items too. From kitchenware and clothes to handguns and nipple tassels and much, much more, she even has her own theme park, restaurant and maternity hospital in Japan - so it comes as no surprise really that she's had more than her fair share of Japan's other massive export - video games. And her world domination looks set to continue this year, with not one, not two, but three new Hello Kitty-themed titles coming to consoles, courtesy of our friends at Rising Star Games.
First off is the hilariously random sounding Hello Kitty and the Apron of Magic: Rhythm Cooking for the 3DS, which fuses musical rhythm action gameplay with some Cooking Mama-esque mini-games, letting you bake, baste and boil along to some funky beats. Essentially, simple note prompts move across the screen, and you need to match the timing of your peeling, chopping and stirring actions to them for the best score. The game itself appears to be based on a Japanese arcade game, where players can scan in collectable cards to unlock new characters, food and add 'magic' to their creations - something which looks to have been replicated in the game via a virtual card album, suggesting that, instead of having to buy packs of cards with real world money, you simply unlock them through playing the game.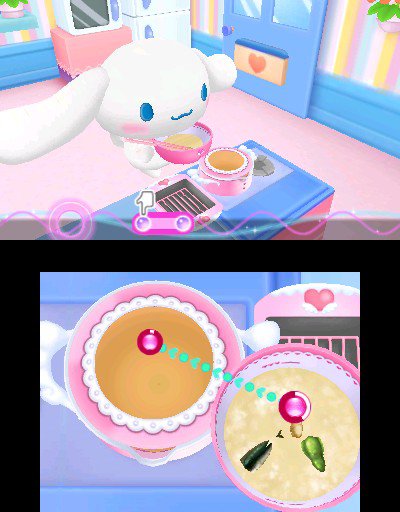 But if cooking isn't really your thing, then Hello Kitty has a second musical 3DS game that might be more up your street - Hello Kitty & Friends: Rockin' World Tour. Described as a 'musical puzzle game' where Kitty and co travel the world as a band, the game appears to be divided into two distinct sections. First, you play a short match three-style game to earn cash, which you can then exchange for oodles of outfits, accessories and such in the store, in preparation for your upcoming gig - at which points it falls to you to take to the stage and strum your way to world fame, tapping in time with the markers as they move down the screen.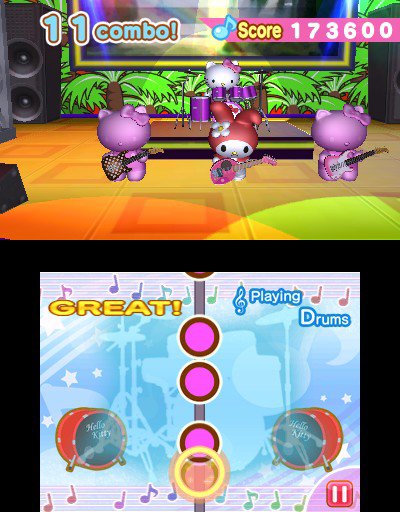 The final game marks the famous feline's first foray onto the Wii U, with Mario Kart-style racing game, Hello Kitty Kruisers. Rammed with bright colours, this saccharine racing game lets you hop in a car with all your favourite Sanrio characters, from Kitty herself to grumpy penguin Badtz Maru to the chubby dog Pompompurin, and race against up to three friends in a battle for Hello Kitty-themed supremacy. With races that take in land, sea and sky, as well as an adventure mode which sets you various missions, from collecting cupcakes to clearing gates to time trials, it's shaping up to be one of the cutest racers we've seen in a long time. 
While we have no fixed dates for any of the titles, Hello Kitty's domination of Nintendo platforms is due sometime this autumn, just in time for Christmas! However, Amazon does have the 16th October down for Hello Kitty Kruisers and the 23rd October for Hello Kitty and the Apron of Magic: Rhythm Cooking - but as we've heard nothing official, it's probably best to take that with a pinch of salt for the time being!