Just like clockwork, as soon as the dark nights roll in, and the temperature plummets more than usual, out comes the latest entry in the much-loved (and one of our favourites) series, Just Dance, the catchily-named Just Dance 2015. One of Ubisoft's biggest releases this Christmas, it's a game that promises more of the same accessible, Wii Remote wanging as before, but with a new stable of songs, and, as always, an embarrassingly good time for all involved.
Play quizzes, win prizes! Test your knowledge with our quizzes, and you could win £/$/€ 20 of PSN/XBL/eShop/Steam credit!
For those that have somehow missed the Just Dance-ing sensation, how you play is simple. For those on the Wii/Wii U/PS3, all you have to do is hold your Wii Remote/Move Controller in your right hand and copy the on screen stick men as they move across the bottom of the screen, from right to left. Those on the Xbox 360 or Xbox One, with their fancy pants motion-sensing cameras, have an even easier job, as they simply have to follow the on screen prompts without having to worry about doing anything, and let the console handle the rest - while PS4 owners get a choice between the two, either going with the camera fun of Kinect, or the waggle-tastic Move controller. The closer you follow the routine, the more points you'll score - and as the old adage goes, points mean prizes. Or at least, unlockable pictures for your profile.
As you'd likely expect, Just Dance 2015 is one of those games that really comes into its own in multiplayer - as fun as jigging about on you lonesome is, sometimes it's better when you have others to point and laugh at too. Provided you have a room large enough, having four friends struggling to keep up with the routines is as hilarious to be a part of as it is to watch, particularly for the more OTT and daft choreographies. Wii U players can even rope in a fifth player to caterwaul along to whatever chart-topper you've chosen (if you want to cheat, you can even leave the Gamepad near your speakers for pitch-perfect bonuses), or they can use the Gamepad to switch around the dance moves on the fly for their friends/victims with the returning Party Master mode.
In fact, in many respects, Just Dance 2015 is pretty much the same as previous instalments, just with a refreshed track list. With some 45 songs to get your groove on to, including 90s school disco favourite the Macarena, Let It Go from Disney's runaway Christmas classic, Frozen and Aerosmith's Walk This Way. For the tween crowd, there's the obligatory One Direction and 5 Seconds of Summer songs (Best Song Ever and She Looks So Perfect respectively), as well as Pharrell's Happy, Ellie Goulding's Burn and Bad Romance by Lady Gaga. There's even a rendition of the Tetris theme tune, with each person dancing like a Tetris piece, a neon caveman-esque super hero routine for Bonnie Tyler's Holding Out For A Hero and a rather bizarre Bollywood rendition of 'Oh Christmas Tree', complete with turbaned Santa Claus - (for the rest of the songs, see our full Just Dance 2015 song list). Of course, given the game's target demographic, the tracklist does lean more towards chart hits of the past decade or so, but each pick is suitably catchy and well choreographed, so that even the most reluctant players are likely to be tapping their toes before long. 
As always, there's a few unlockables to keep you playing too, beyond the late night multiplayer sessions the game's so well suited to. As you play songs, you earn 'Mojo' coins - the more stars you earn in each song, the more coins you'll get - which can then be used to unlock new avatars for your profile, or alternate choreographies for the game's many songs, with a handful of bonus tracks being unlocked as you play for longer. In total, there's some 227 profile pictures to unlock, and while most can be purchased with your Mojo coins, some have specific requirements.
There's an avatar tied to each song, unlocked by simply playing it, regardless of how well you do, and a whole range for reaching various online ranks or taking part in tournaments. A pack of Ubisoft-themed avatars, including Assassin's Creed guy and a Rabbid, can also be 'purchased' through Ubisoft's immensely irritating uPlay app too - a pointless program that awards you 'uPlay coins' for completing various objectives in their games, which can then be exchanged for in-game rewards. It might not be so bad if it wasn't an entirely separate app that forces you to quit out of whatever game you're playing to use it, but as it stands it's simply another layer of faff.
However, it's not just a re-run of 2014, as there are a few new additions here, in an attempt to try and keep things fresh. New additions include the ability to add real life 'challengers' to your games - random people from the internet who've set their own score on the song in question, who you can try and beat. When other people decide to take on your score, you'll get a notification to say AnAsianDude challenged you on Bad Romance or Brendada to a dance off on Happy, for example. It's an OK idea we suppose, but all it really does is highlight our ineptitude.
You can also choose to play a Community Remix version of a song, in which the neon dancers/super hero cavemen/human Tetris pieces are replaced by videos of real-life Just Dancers of varying abilities - it's more than a little bit creepily voyeuristic, watching folks you don't know dance in rooms in varying states of disarray. The World Dance Floor online mode also returns, letting you dance (and compete) in huge dance-offs over the internet, but as before, it's really nothing but a poor substitute for actual friends. All in all, none of the new features are likely to tear you away from the core game either, and all feel a little pointless.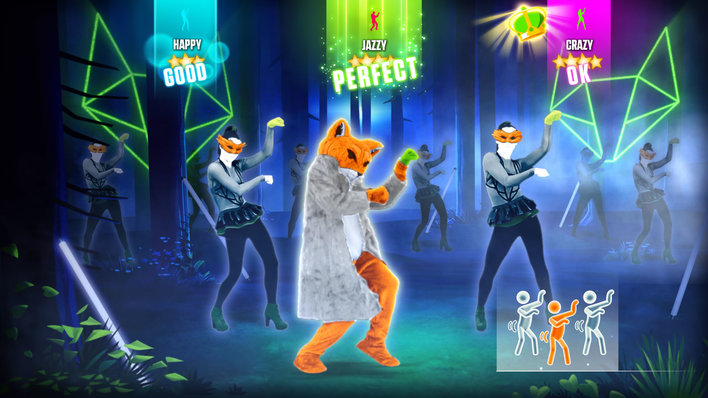 All in all, Just Dance 2015 is very much like it's predecessors. While that's not a bad thing, as there's still hours of fun to be had here, Ubisoft still clearly feels like it needs to add extra fluff to try to differentiate the newest games from the ones that came before. Unfortunately, none of the new features really add anything at all - but thankfully, they don't interfere with the core game either. For those that liked jigging around to the pop hits of previous games, Just Dance 2015 will hit the spot, but if you didn't get it the first time round, the chances are this one won't win you over either.
Format Reviewed: Xbox 360