All Mini Skylander Characters - Complete Figure List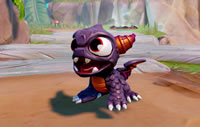 First introduced in Skylanders Trap Team, the minis come packing cute appeal in spades. With sixteen figures on offer, these pint-sized versions of other Skylanders characters come packing a surprising punch - even though they have little arms. With the same HP and moves as their bigger brothers, the minis are bound to go down a treat with anyone who appreciates all things kawaii. Available mostly in packs of two characters, here's a complete list of all 16 minis (plus variants), complete with pictures.
And now, take on our new Skylanders quiz for your chance to win £/$/€20 of Xbox Live/PSN/eShop/Steam credit in our monthly draw!
Trap Team Figures
Gnarly Barkley
Whisper Elf
Pet-Vac
Breeze
Barkley
Power Punch Pet-Vac
Eggsellent Weeruptor
Weeruptor
Thumpling
Small Fry
Gill Runt
Trigger Snappy
Terrabite
Spry
Mini Jini
Hijinx
Eye-Small
Drobit
Bop
Related articles
Disclaimer/disclosure: Product prices and availability are accurate as of the date/time indicated and are subject to change. Any price and availability information displayed on Amazon.com at the time of purchase will apply to the purchase of this product. Links to Amazon are affiliate links, and we will receive a small fee should you choose to complete the purchase using these links. This doesn't affect the price you pay for your product.