Updated 29th May 2018 with new Amazon UK leak!
Play quizzes, win prizes! Test your knowledge with our quizzes, and you could win £/$/€ 20 of PSN/XBL/eShop/Steam credit!
It may be approaching it's twentieth birthday, but The Sims series is still going strong - oodles of iterations, expansions and spin-offs later. While some of the expansions have been a bit… weirder than others, to say the least, what with their IKEA partnerships, Hillary Duff cameos and way too much Katy Perry merchandise, there's long been a steady stream of really interesting stuff coming out for the game - although thanks to our ageing computer, we haven't been able to enjoy the majority of it...
Thankfully, with the recent console edition of The Sims 4 on PS4 and Xbox One, EA have tried to rectify things a little, releasing more regular updates, stuff packs, expansion packs and game packs for us console players too. However, despite the best of intentions, the console game still a long way off from reaching parity with the PC version, with the question on everyone's lips being when their favourite expansions are coming.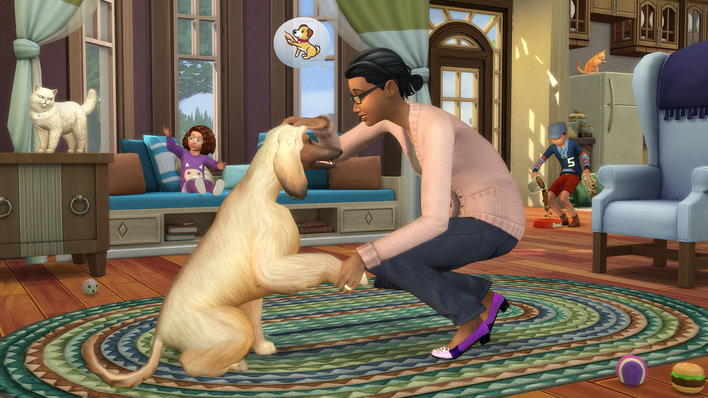 Understandably, EA have been fairly schtum on the whole situation, as they slowly start to move the gazillion Sims 4 Stuff Packs, Game Packs and Expansion Packs across to the new version, with little official word on whether everything will actually make it over. However, SimGuruDuke recently took to Twitter to assure fans that their favourite expansions will be coming to consoles - eventually at least:
Having done a little bit of detective work ourselves, though, it is possible to at least get a vague idea of which packs are coming - and when they might be launching.
The Sims 4 PS4 and Xbox One Expansion Pack Current Release Date List
Out Now
Launching Soon
Fitness Stuff Pack: 15th November 2018 (rumour - Amazon France)
Bowling Night Stuff Pack: 2nd February 2019 (rumour - Wog.ch)
Who knows?
Movie Hangout Stuff Pack: 15th August 2018 (rumour - Wog.ch)
Spa Day Game Pack: TBA
My First Pet Stuff Pack (Requires Cats & Dogs): TBA
Get Famous: TBA
The evidence:
A new leak appears!
While scouring Amazon UK for The Sims 4 expansion packs following the Whitsun bank holiday, we stumbled on listings for two new The Sims 4 packs, as Playstation 4 digital download codes, both of which have a June release date.
Given the family focus of the two packs, we wouldn't be surprised if they're hitting consoles at about the same time - and they follow the established pattern of releasing them in pairs, around the middle/end of the month, on a Tuesday. Add in the fact there's been a bit of a gap in the (rumoured) release schedule for June/July, and it's certainly a possibility.
And indeed, Parenthood and Kids Room Stuff did hit the Playstation 4 and Xbox One on the 19th June, as per Amazon's release date leak!
Big leaks
In possibly the biggest leak we've had so far (and not just because we were the ones who leaked it), Amazon France listed the release dates for a huge amount of stuff packs, game packs, and expansions. With leaks on sites like Amazon being fairly rare occurrences, this was a huge turn up for the books - and while several of the leaked dates weren't true, some of the others were, so there must have been at least a little bit of truth to it.
Other expansion related gossip
Earlier, rumoured release lists
Seemingly, we're not the only ones hunting down release lists, either. YouTubers SimmerJonny found a list on Swiss retailer wog.ch that covers everything releasing for the next year or so. This list has some credence to it, as in the case of Romantic Garden Stuff, it turned out to be true. As we haven't been able to verify the source, it's worth taking with a pinch of salt - while some of the dates matched what we found from Amazon, others have been proven to be untrue, so with this one, it's pretty much 50:50.

So far, from the list above, we've seen the following packs launch:
Romantic Garden Stuff: 6th February (release date was correct)
Get to Work: 20th March (list said 15th June)
Backyard Stuff: 22nd May (list said 15th August)
Toddler Stuff: 22nd May (Close! List said 15th May)
However, the following have since gone past their rumoured release dates, and haven't made it on to consoles yet:
And the following are still to come:
Outdoor Retreat: 15th July
Movie Hangout Stuff: 15th August
Fitness Stuff: 15th November
Spooky Stuff: 15th November
Bowling Night Stuff: 2nd February 2019
What about the other expansions?
While we've uncovered information about plenty of packs, there are still some that haven't made an appearance in any of the leaks so far. For example, the Get Together expansion, Spa Day game pack and the Laundry Day stuff pack are all out on PC, yet are notable by their absence in the console list (as is the most recent Jungle Adventure game pack, but that's kind of to be expected).
Similarly, the abundance of releases that seem to fall on the 15th (especially in the wog.ch list) strongly suggests that these are most likely placeholder dates, especially as the 15th doesn't always fall in line with the days of the week the various online console stores update. Equally, it probably doesn't make much sense for EA to release Spooky Stuff in mid-November, a fortnight after Halloween; it seems much more likely to us that it'll release around mid-October instead, especially as they don't have a pack pencilled in for that month at all.
We did reach out to the Sims PR to see if there was any more concrete news with regards to more console Sims 4 expansions, but were told they had "nothing to announce".
That's all we have for the moment, but make sure you keep checking back, as we'll be adding more rumours and release dates to the article as and when they come in! In the meantime, happy Simming!