While we were undeniably hyped for the console release of The Sims 4 - and ultimately were pretty happy with how it turned out - there were a few issues keeping it from being the definitive edition we'd hoped for. Since its release back in November, EA have been hard at work not only on bringing over all the expansion packs going (with rumours suggesting there are loads more on the way very soon), but also fixing the myriad of bugs and issues the game has had since launch. And now comes update 1.05, which finally fixes what was perhaps our biggest issue with the Playstation 4 and Xbox One port - the cursor and camera speeds being way too fast.
Play quizzes, win prizes! Test your knowledge with our quizzes, and you could win £/$/€ 20 of PSN/XBL/eShop/Steam credit!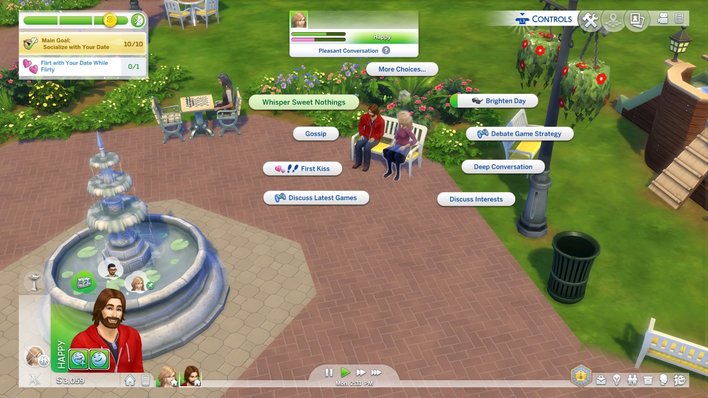 Check out the full list of updates and fixes below:
General Updates
Slowed down the cursor movement and camera speeds, with adjustable speeds in the options menu for you to tweak to your liking
New Clone Stamp feature lets you place multiples of objects without having to select it from the Build/Buy menu each time
General Fixes and Issues
UI fixes - fixes discrepancies between what you think you're controlling and what the game thinks you're controlling
Grim Guitar item gets its own limelight on the Main Menu, and can now look at it without needing to load into a world first
Hidden UI elements now show when they should
Warning that setting Sim count to Unlimited can affect your game doesn't leave you locked on the warning screen any more
Songs your Sim has written can only be named once before you license them
When transferring Sims between households, you can now select from unplayed households too
Personality Panel tutorial Tip 7 of 7 now added
Tool Tips for Options Menu added
Got rid of ghost previews when rotating roof tops
Can now back out of lots when moving families between them, rather than deselecting the family
My Library expanded from previous limit of 50 items
Can now scroll your descriptions in My Library, rather than just reading a short excerpt
Can now pin all Whims and fixed it so that hover tips for Whims won't show until the Sim has returned to active lot
Dine Out
Can now back out of a business deal if you change your mind
Purchasing a restaurant in Live Mode no longer causes graphical issues
Sims can now plan a social event while dining without getting you stuck in the UI panel
Editing your Host Outfit in Create A Sim no longer leaves the menu up
City Living
City apartments no longer obstruct your view of the city when you leave the apartment view
Can now take your kids with you when you move to the big city, without losing functionality
Sims can answer the call to work in the city without being stuck on the phone
Tooltips no longer cover UI icons so you can see what you're selecting
The Spire Apartment no longer hides a secret UI
And that's your lot! Unfortunately there doesn't seem to be any juicy tidbits referencing upcoming expansions this time, despite the fact there's fairly strong evidence out there that some new bits may be coming soon. Still, we're pretty happy they've fixed the cursor and UI issues, so that's good!