If you're anything like us, you're likely still busy getting stuck into LEGO Worlds, searching for the last few bricks, discoveries and elusive secrets - not to mention trying to find all the pieces of those mysterious QR codes. But did you know there's more hidden in LEGO Worlds than a few hundred LEGO bricks, a few hundred discoveries, and those darn bamboo lanterns (which we STILL haven't managed to find!)?
Play quizzes, win prizes! Test your knowledge with our quizzes, and you could win £/$/€ 20 of PSN/XBL/eShop/Steam credit!
As the game's gone on, the team at TT Games have hidden a load of promotional characters, vehicles and items in LEGO Worlds - and the only way to get your mitts on them is via a secret code, which can generally only be found on real-life LEGO sets. If you've been wondering what all those silhouetted vehicles are in your Discoveries list, and where the heck you're supposed to be able to find them, now you know the answer - the only way you can unlock them is through inputting a cheat code.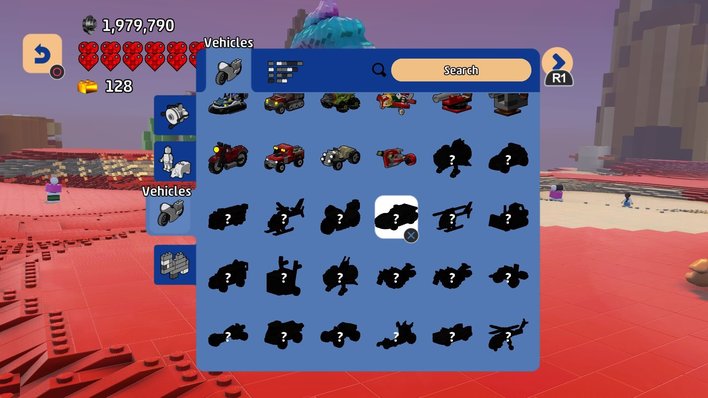 As we're nothing if not completionists ourselves, we've rounded up every single cheat code available, so you can unlock all the vehicles, items, characters and modifiers you could ever want.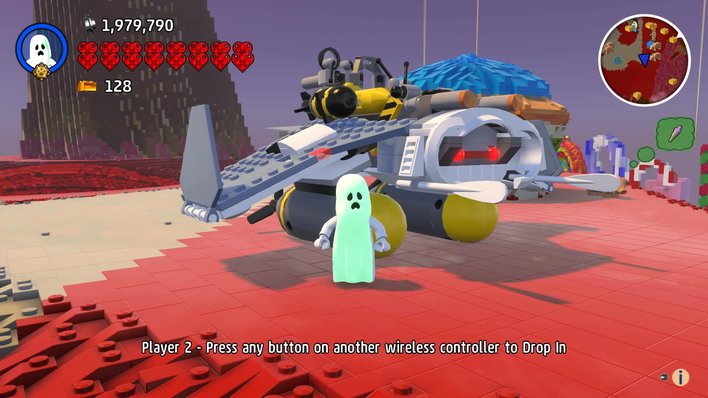 How to enter cheat codes in LEGO Worlds
The first challenge is to figure out where you have to enter the codes, which is actually a little bit harder than you might imagine. To enter a code, do the following:
1) Boot up LEGO Worlds and load your save.
2) Once loaded, the game will default to the galaxy map - we don't want that, so press Circle/B to go back to the main menu.
3) You should be on the screen where you find all the latest showcase models (Easter Egg houses, 50s Diners etc).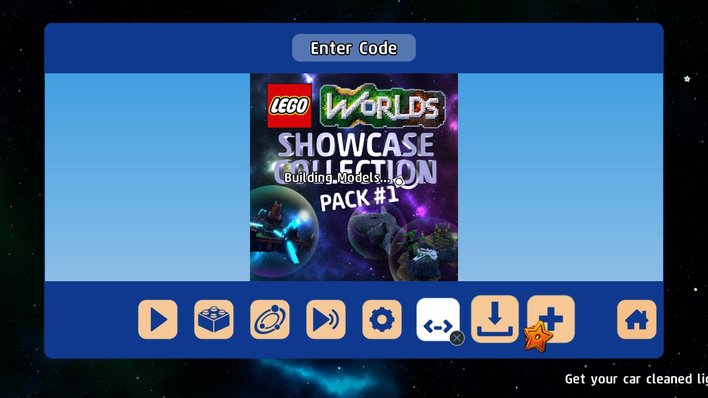 4) Scroll along to the sixth icon on the menu - the '<->', labelled as 'Enter Code' - and press X (or A) to select it.
5) You'll now be prompted to enter your code, which is a six digit string of letters and numbers. Once you've typed it in, click on the tick to confirm. When the game says 'Code Accepted', you know it's worked.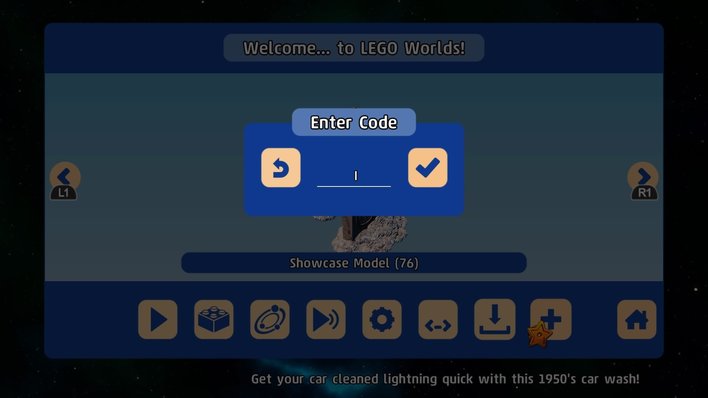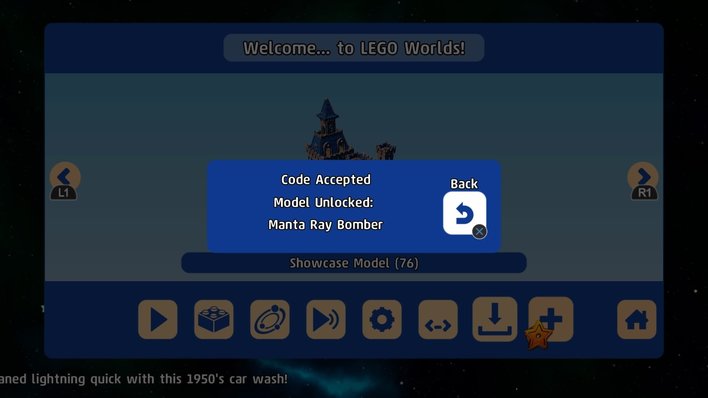 6) From there, simply load up a world as normal, and go about your LEGO Worlds adventures, with your fresh new unlocks, modifiers and characters to play with.
As a quick aside, although we're not 100% sure which LEGO sets came with which codes originally, we did come across one in the wild. The image below is a scan of a code we found on the back of the manual of the LEGO City Police High-Speed Chase set.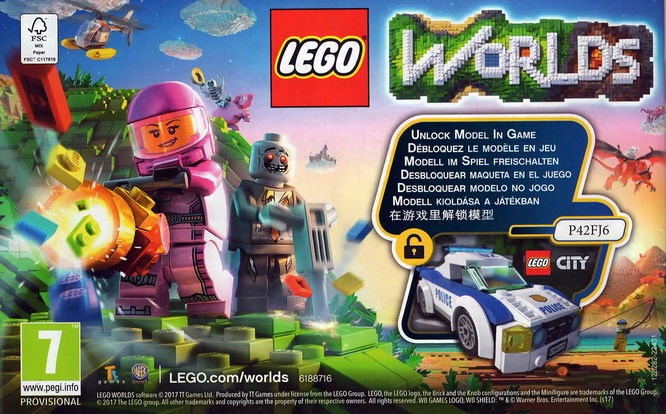 And now, on with the show! The current list of LEGO Worlds cheat codes and unlocks is as follows:
Exclusive LEGO Sets Cheat Codes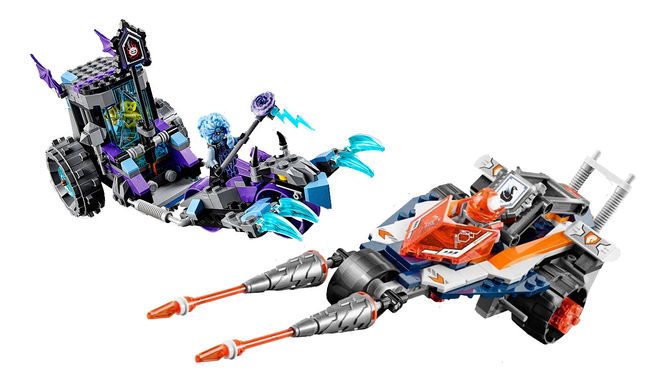 LY9C8M - Ruina's Lock & Roller from Nexo Knights
XP3BN2 - Lance's Twin Jouster from Nexo Knights
P42FJ6 - Police Car from LEGO City
BG7DWK - Getaway Car from LEGO City
U98BR2 - Pizza Van from LEGO City
YG43JH - Manta Ray Bomber from LEGO Ninjago Movie
PPA72V - Police Tuk-Tuk from LEGO Ninjago Movie
ND284C - Jungle Buggy from LEGO City Jungle
XP76VF - Jungle Cargo Helicopter from LEGO City Jungle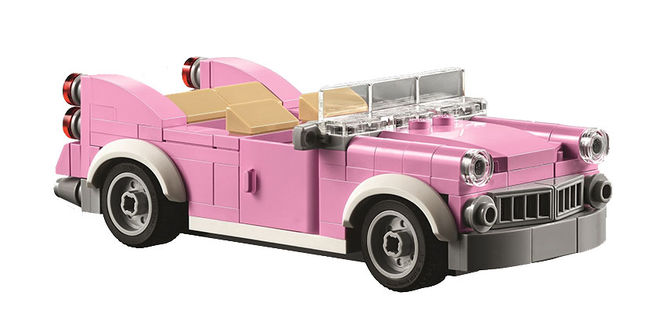 8B3VEQ - Pink Convertible from Downtown Diner
Misc. Characters Cheat Codes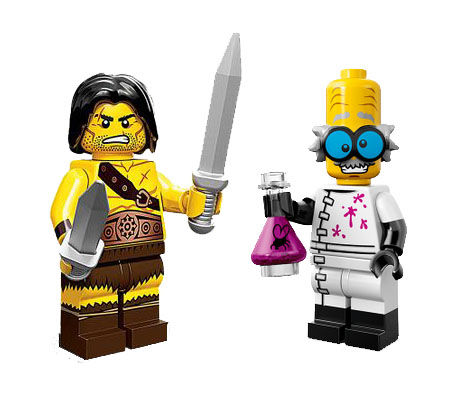 VN4MHZ - Barbarian
X29VTY - Monster Scientist (from Monsters Pack DLC)
2017 Seasonal Pack Cheat Codes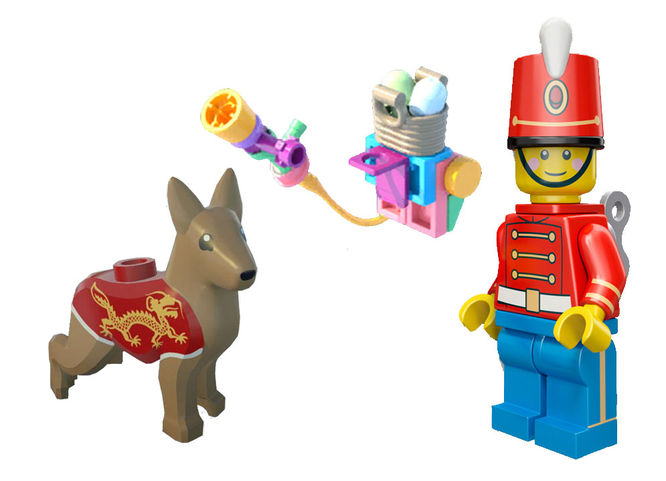 TJPZLV - Chinese New Year Dog
EF9GJ4 - Egg Blaster Weapon
NA3ZKE - Toy Soldier
Special Cheat Codes
BR1CK5 - Unlocks all bricks (possibly PC only)
F1XTR5 - Unlocks all windows and doors (possibly PC only)
SKELE+ - Temporarily gives dynamite to all skeletons
DRUMST - Unknown game modifier involving chicken drumsticks
CROISS - Unknown game modifier involving croissants
Unfortunately, try as we might, we haven't actually been able to figure out what the last two cheat codes do - DRUMST and CROISS. Though we put them in, and played for ages afterwards, we didn't see any chicken drumsticks or croissants anywhere - and nor did the ones we already had have any extra powers...
If you figure it out what those last two codes do, feel free to comment below and let us know, as we'd love to know ourselves! For now though, enjoy all the extra items, vehicles, characters and modifiers you've unlocked with our LEGO Worlds cheat codes!