You can't keep a good plumber down - despite having had two 3DS platformers in the space of a year, competed in the Olympics and found time for a few rounds of tennis, Mario's back again, this time in a selection of new downloadable levels for the recently released New Super Mario Bros. 2. With three packs waiting to tease you apart from your money, head over to our announcement article to find out more about what each pack includes - or read on, as we explain how to download the new expansions.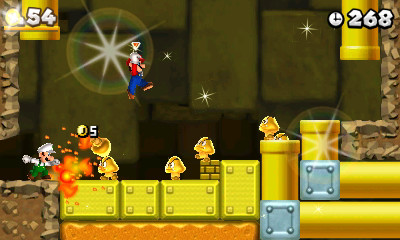 How to download
Instead of heading over to the eShop and purchasing the new level packs from there, as you may rightly have expected to do, things are handled a little bit differently in New Super Mario Bros 2. Instead of heading to the eShop, buying the new levels is handled in the game itself - and even then, you'll only be able to download them if you've received a special message from Nintendo.
In order to download the level packs, you'll need to load up the game, and choose 'Coin Rush' from the main menu. If you see an icon at the bottom of the screen that says "Shop", then you're ready to buy - simply click the button, and you'll be taken to a screen where you can choose the packs you want to download. But if you haven't got the icon, you'll need to do one of two things.
1. Connect your 3DS to the Internet
The shop icon is added to the game via a SpotPass message. In order to receive a SpotPass message, there are a few things you'll need to have done first. The first is to make sure your 3DS can connect to the internet via your router. The easiest way to test this is to open the web browser, and see if you can browse the net. If it doesn't work, then you may need to tweak your 3DS's connection settings to make sure it can talk to your router. If you're having problems, take a look at our handy how to set up your 3DS to connect to the internet guide, which talks you through everything you need to know. 
2. Set up SpotPass
Now that your 3DS can connect to the internet, you need to wait until you receive a SpotPass message from Nintendo. This message is effectively a tiny patch, which will enable the "Shop" menu in the game. However, unless you've enabled SpotPass in the game, you won't be able to receive this message, and so won't be able to access the shop. To enable SpotPass, launch New Super Mario Bros 2, and head into the options menu. From there, scroll down until you see SpotPass, and poke it to turn it on. From there, it's simply a question of waiting until the SpotPass message comes through - so take your 3DS back to the main menu, close it to put it into sleep mode, and go and make yourself a cup of tea - hopefully by the time you come back, the blue notification LED will be glowing, to let you know you've got a new message. From there, all you have to do is head back into the game, into Coin Rush, and the Shop option should now be available! 
Buying the packs
You can purchase the level packs in one of two ways - either by buying a pre-paid card from a shop, and redeeming it through the eShop, which will add enough funds to your wallet to let you afford the levels; or, you can choose to add just enough money to your account to buy that individual level pack, using either a debit or credit card, meaning you won't be left over with some awkward amount of money that it's tricky to actually spend. It's worth keeping in mind that the 3DS eShop doesn't automatically store your credit card details, unless you explicitly tell it do so - but if you're a parent entering your card details into a child's 3DS, it's worth double checking it hasn't stored them afterwards, by heading into the eShop, clicking "Menu" in the top left hand corner, scrolling down to Settings/Other, and then, in the next menu, scrolling to "View Credit Card Information"
Enjoy!
So there you have it! Once you've navigated the not-quite-as-user-friendly-as-it-could-be set up for downloading Mario's new levels, it's a matter of waiting a few seconds for the pack to download, and setting off on your quest to earn as many coins as possible. Or, if you've downloaded the Nerve-Wrack Pack, simply trying to survive until the end of the level. With new packs set to launch for the rest of 2012, there's plenty more Mario yet to come, too!